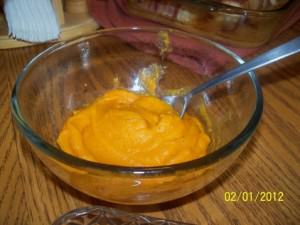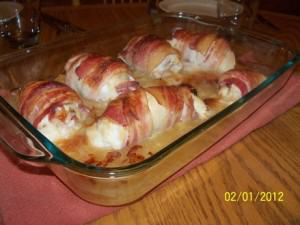 Yay! My first post on my new food blog! Tonight for supper we had Bacon Wrapped Chicken Cordon Blue and a new side dish recipe I made up: Rosemary Carrot Puree! Here's the link to the recipe we used for the chicken: http://fastpaleo.com/bacon-wrapped-chicken-cordon-bleu/. We all agreed it was AMAZING! It does have cheese in it, but some fresh spinach would be nice if you don't do dairy. As for the carrot puree, it is flavorful velvety goodness incarnate, I promise! You could easily change it up by using some fresh ginger, curry powder or even cinnamon instead of rosemary.
Rosemary Mashed Carrots
Ingredients
carrots - 8, peeled and cut into chunks
dried rosemary - 1 teaspoon
Black pepper - to taste
canned full-fat coconut milk - 1/4 cup
Instructions
Add the carrots to a small sauce pan and sprinkle on the rosemary and pepper.
Steam with just a bit of water until the carrots are very tender and the water is completely evaporated.
Place the carrots in a blender or food processor and pour in the coconut milk.
Puree until completly smooth. Serve hot and enjoy!