Affiliate Disclosure: If you buy something through one of the links in my sidebars or posts, I may receive a small commission to support my blogging activities, at no extra cost to you.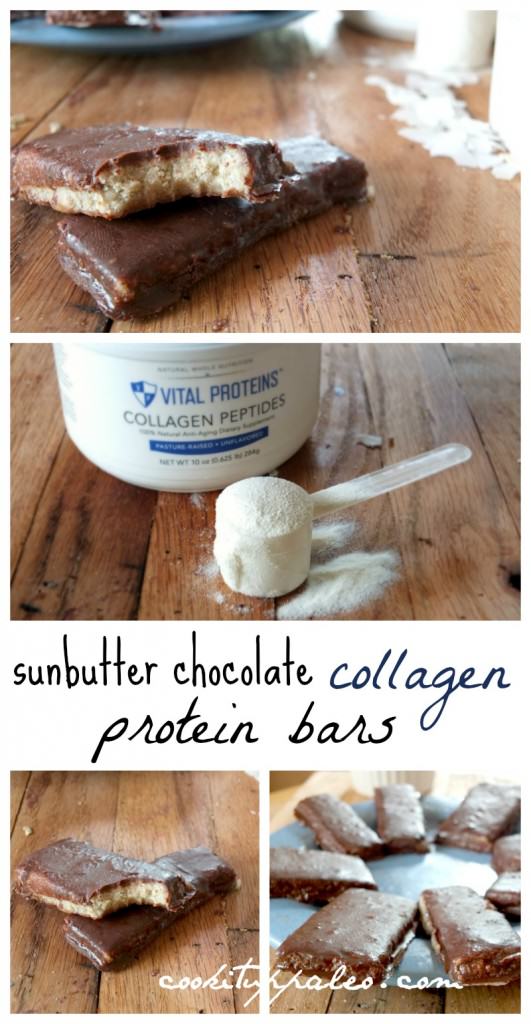 You guys.  I am so excited about these bars.  I have been trying for a long time to make the perfect paleo protein bar.  I do have some really good recipes, but there was just something missing.
I guess you could call me a protein bar connoisseur. (Try to spell that without spellcheck!) My favorite "treat" has been Think Thin protein bars for a while (terrible ingredients; beware! They are my splurge), but I also really like the Evo Hemp brand bars (good ingredients although no animal protein) There are some other brands that I've tried that, while being nutritious, taste absolutely terrible.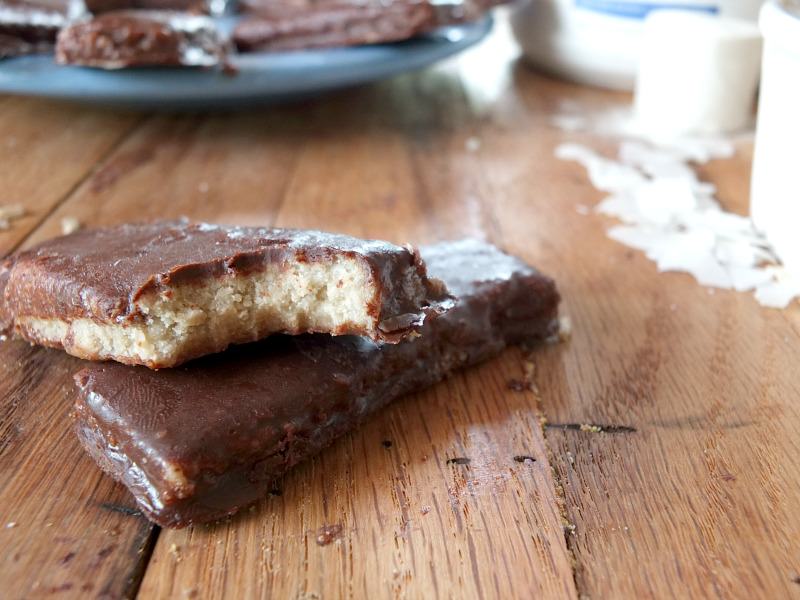 My goal with this recipe was to create a protein bar that wasn't a big wad of fruit and nuts (sorry Larabar…) and didn't have a ton of sugar in it, but also didn't use artificial sweeteners, eggs, nuts, or dairy.  I also wanted my protein bar to have animal protein in it, as well as antioxidants and good fats.  So I made a collagen protein bars recipe!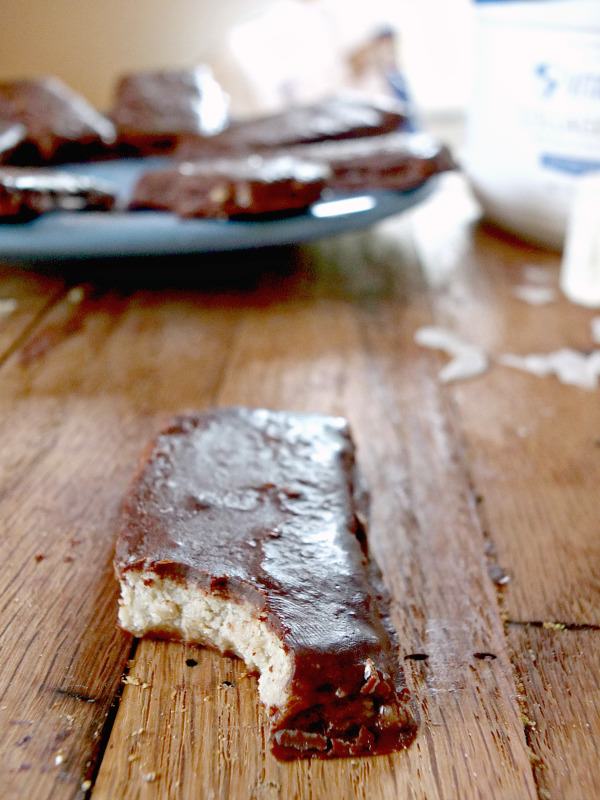 Phew! That's a tall order, but this recipe fills the bill.  I brought them to work to share (aren't I generous?) and everyone loved them.  My dad loved them too, even though he initially thought I was super weird for putting collagen in a bar with chocolate.
Speaking of collagen, I want to talk about one of my new favorite paleo companies.  So let's talk about Vital Proteins.  They have two products, Beef Gelatin and Collagen Peptides.  Beef Gelatin is collagen that "gels" in liquids.  Which means that I need to make a gummy bear recipe.  Collagen Peptides doesn't gel; it's a powder that you can mix with any liquid and drink it down to get your collagen awesomeness.  Or do what I do and put it in pancakes.  #becauseican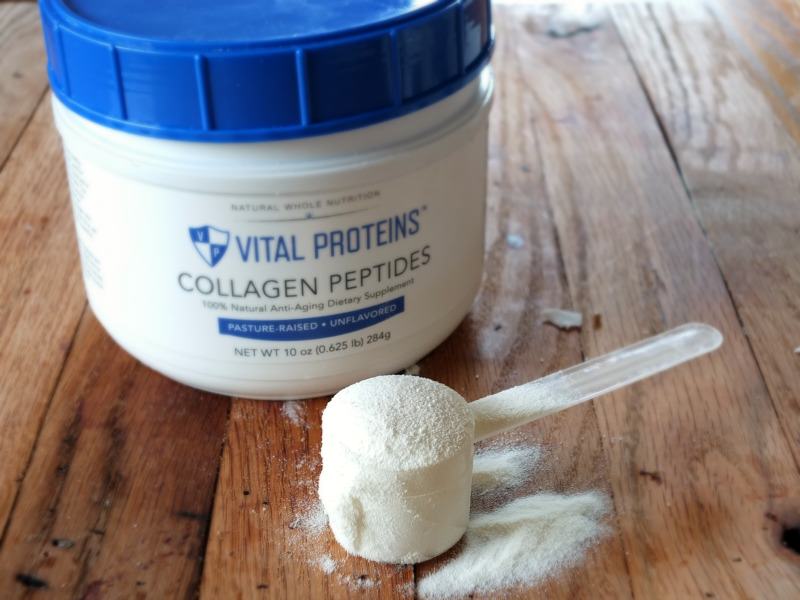 Why do you need collagen? Well, for one, it's amazing for gut health because it helps repair the gut lining.  So if you have digestive issues or leaky gut, collagen is what you need!
It's also amazing for skin health.  The skin has a lot of protein in it, and collagen is a main ingredient.  Collagen is wonderful for youthful skin.
It's also great for joints because it's the stuff that cushions the joints!
You can read a lot more about collagen health benefits here: Vital Proteins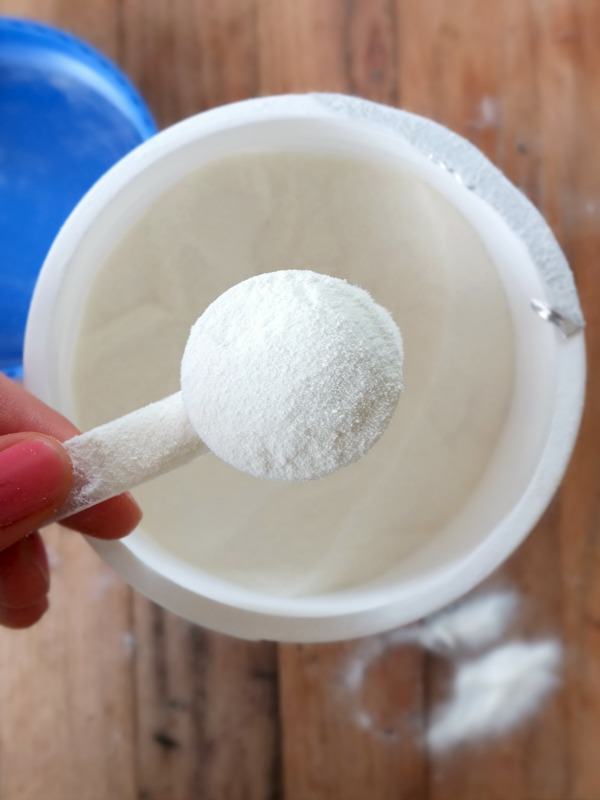 Why am I using collagen? Well, I love that the amino acid profile can balance the normal profile of muscle meats (which I eat  a lot of), and I also have had a very busy fall and winter, so I'm getting back to basics and making my health a priority.  On a culinary note, collagen and gelatin can yield some really fun results in the kitchen!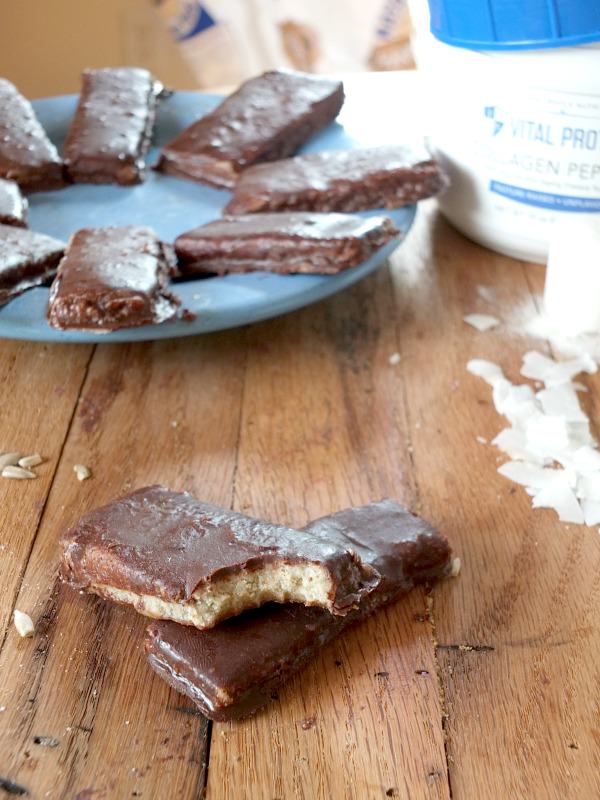 Which brings us back to these bars.  What more can I say; who wouldn't want to nourish his/her skin, gut, and joints while eating chocolate?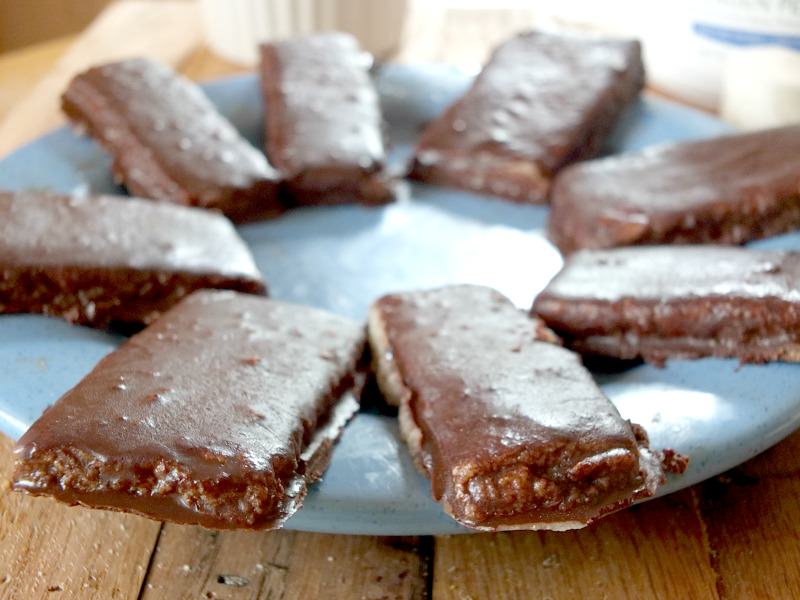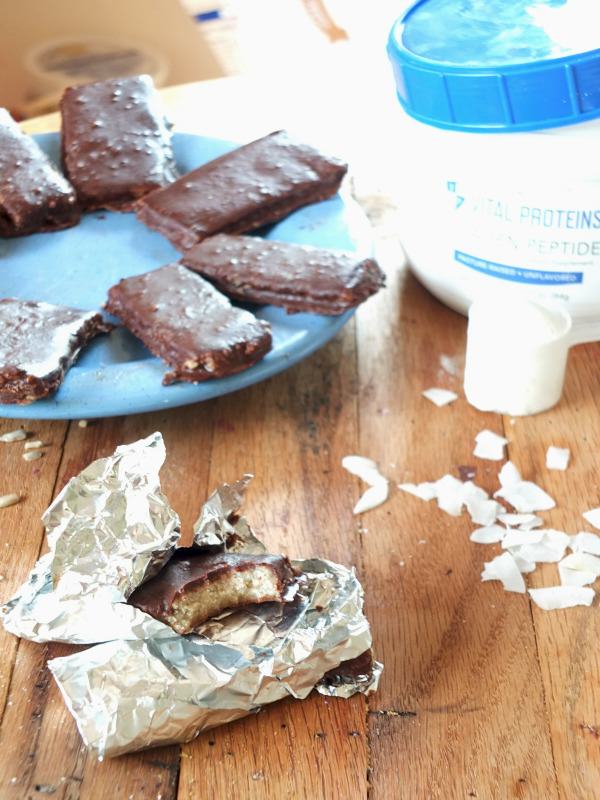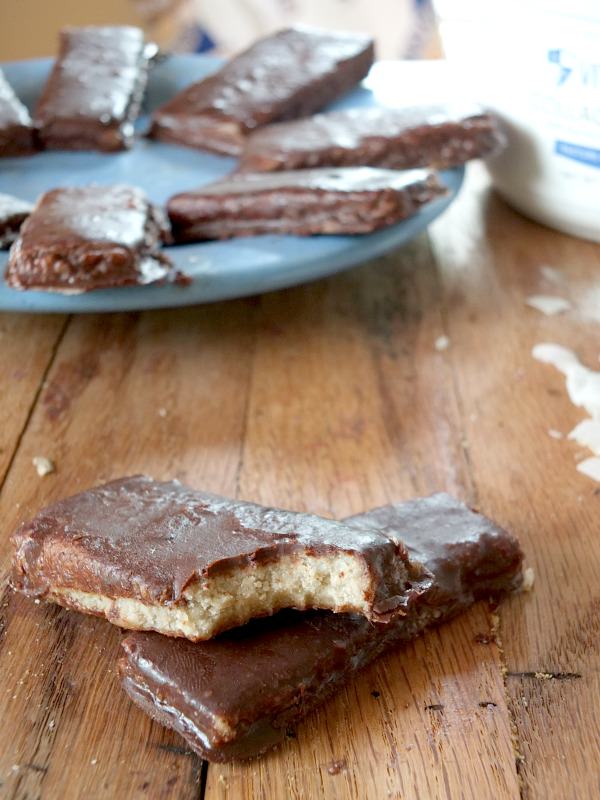 Shared at Fat Tuesday 
Where to find:
Sunbutter Chocolate Collagen Protein Bars
Author:
Prep time:
Total time:
Ingredients
Bars:
raw sunflower seeds – 1 cup
unsweetened coconut flakes – 1 cup
coconut oil – 1/2 cup, melted
collagen peptides – 3/4 cup
pure maple syrup – 1/4 cup
salt – 1/2 teaspoon
vanilla extract – 1 teaspoon
Coating:
coconut oil – 1/3 cup
raw cacao powder – 1/4 cup
salt – dash
pure maple syrup – 1 tablespoon
vanilla extract – 1/4 teaspoon
Instructions
In a food processor, combine the sunflower seeds, coconut flakes, and coconut oil. Process until a smooth butter forms. This will take 5-10 minutes.
Scrape the coconut sunbutter into a bowl and add the collagen peptides, maple syrup, salt, and vanilla. Mix well.
Form the mixture into a 1/3 inch thick rectangle on a parchment-lined baking sheet. Freeze for a few minutes.
Meanwhile, make the coating: to a small microwave-safe bowl, add all the coating ingredients. Microwave a few seconds, just until melted, and stir.
Use a knife to cut the the sunbutter and coconut rectangle into bars. Then coat them in chocolate. I did this by spreading a thin layer of coating on a plate, then placing the bar on top and spooning the coating over the top of the bar to cover. Then transfer the bars back to the baking sheet and pour the rest of coating over them.
Freeze just until set, then store in an airtight container in the fridge.