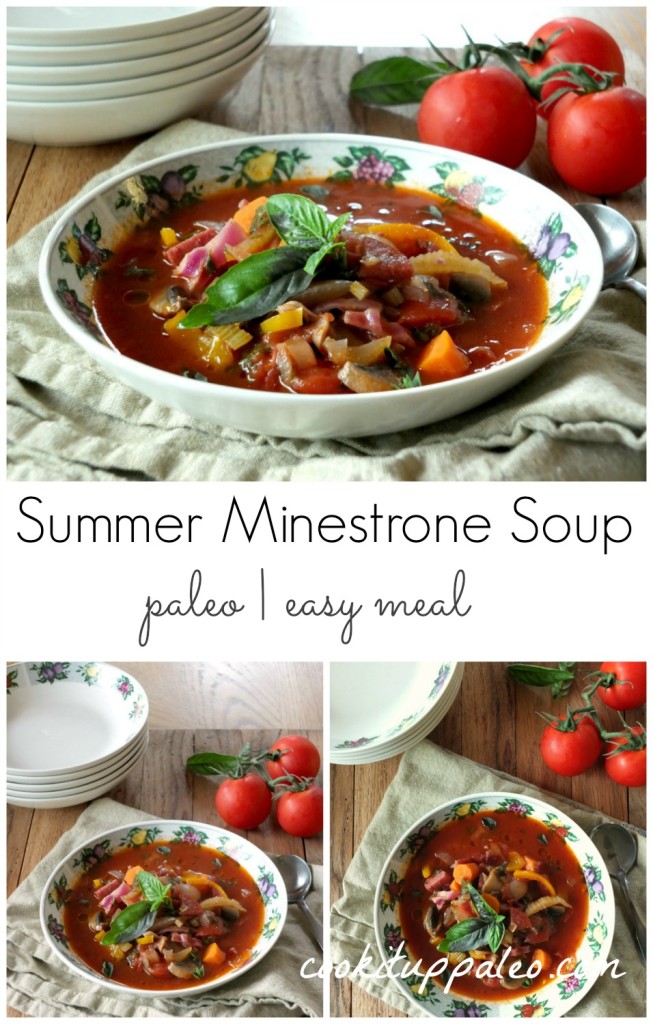 Minestrone soup brings back a lot of memories for me.  I remember the first time I went to Olive Garden.  I went with my mom and we ordered their minestrone and amazing salad.  Then we ate.  And ate.  Their minestrone is so delicious.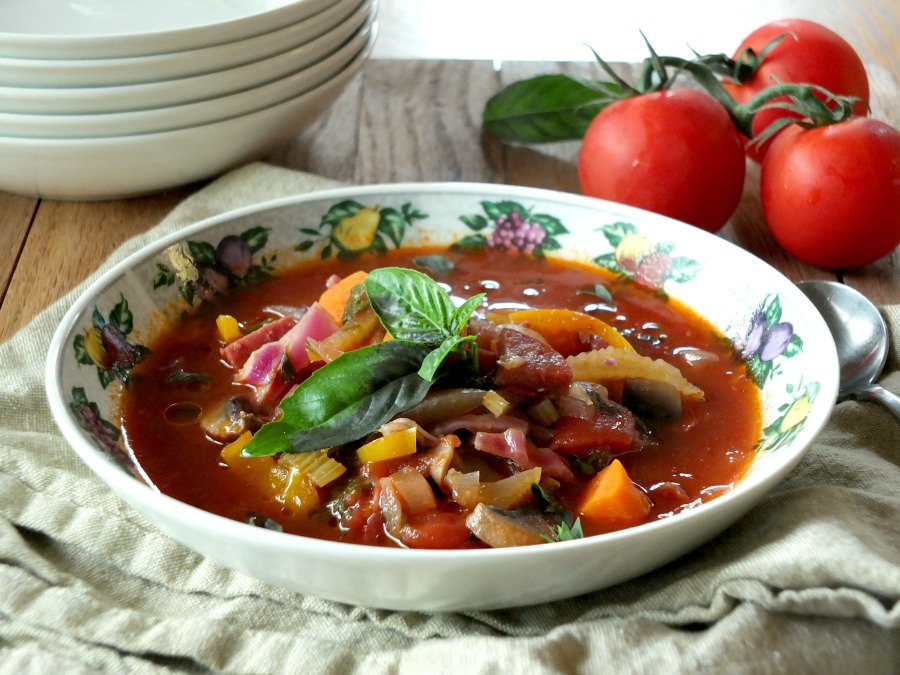 After the delicious minestrone meal we went to see The Nutcracker ballet.  It's an amazing memory.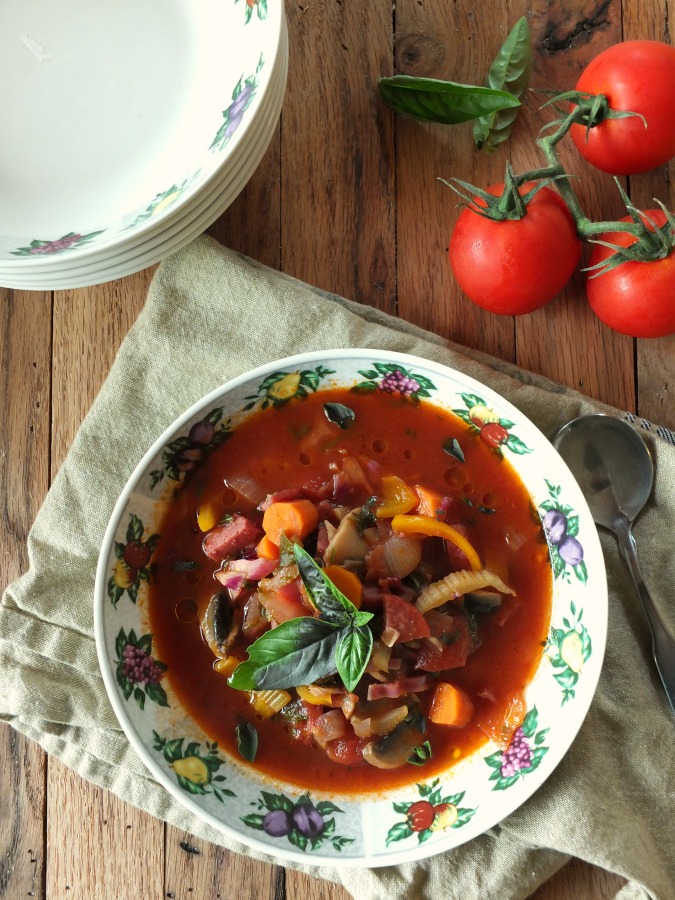 I can't say that this recipe is a copycat of Olive Garden's amazing soup, but it recreates those flavors without the pasta and with lots of delicious veggies.  Mom and I ate bowl after bowl of this soup while we watched While You Were Sleeping, and I must say both the soup and that time with my mom was amazing.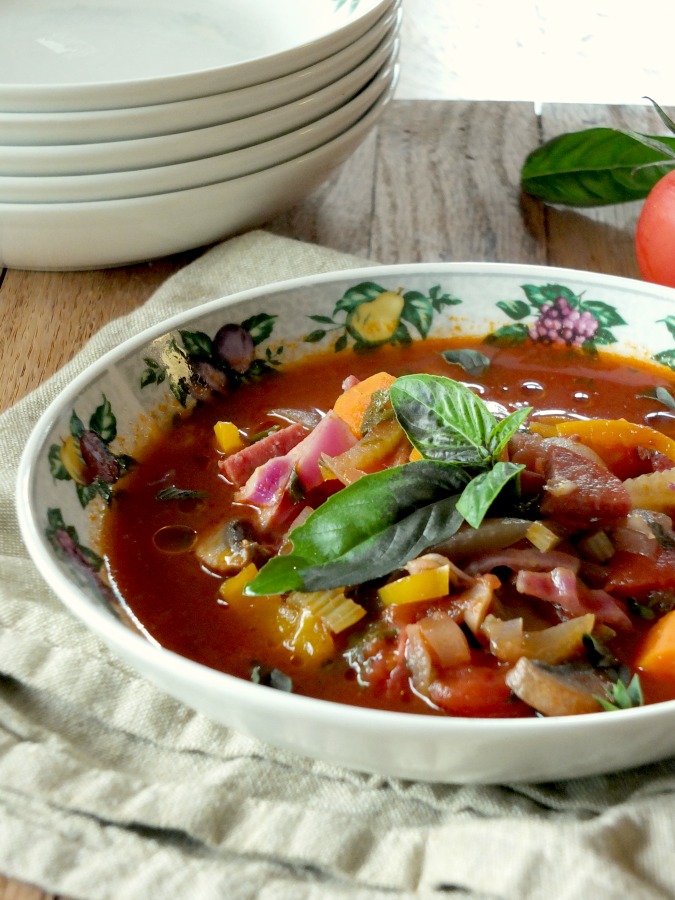 If you buy something through one of the links in my sidebars or posts, I may receive a small commission to support my blogging activities, at no extra cost to you.  Thank you for your support 🙂
Shared at Fat Tuesday
Where to buy:
Summer Minestrone Soup
Author:
Prep time:
Cook time:
Total time:
Ingredients
ghee – 1 tablespoon
onion – 1, chopped
garlic – 4 cloves, minced
carrots – 3, sliced
celery ribs – 3, sliced
fresh basil – handful, minced
fresh oregano – handful, minced
fresh parsley – handful, minced
chicken broth – 4 cups
water – 2 cups
diced tomatoes – 15 oz. can
tomato paste – 6 oz. can
dry red wine – 1/3 cup
mushrooms – 12 oz., sliced
red cabbage – 1 cup sliced
sweet bell peppers – 2/3 cup diced
cooked protein of choice (sausage, chicken, beef, etc.) – 1-2 cups diced
salt and pepper – to taste
Instructions
Heat the ghee in a large soup pot and add the onions, garlic, celery, carrots, herbs, and salt and pepper to taste. Saute until the onions are translucent.
Add the remaining ingredients with some additional salt and pepper and simmer for 30 minutes.
Serve garnished with fresh herbs and fresh grated parm if you do dairy.