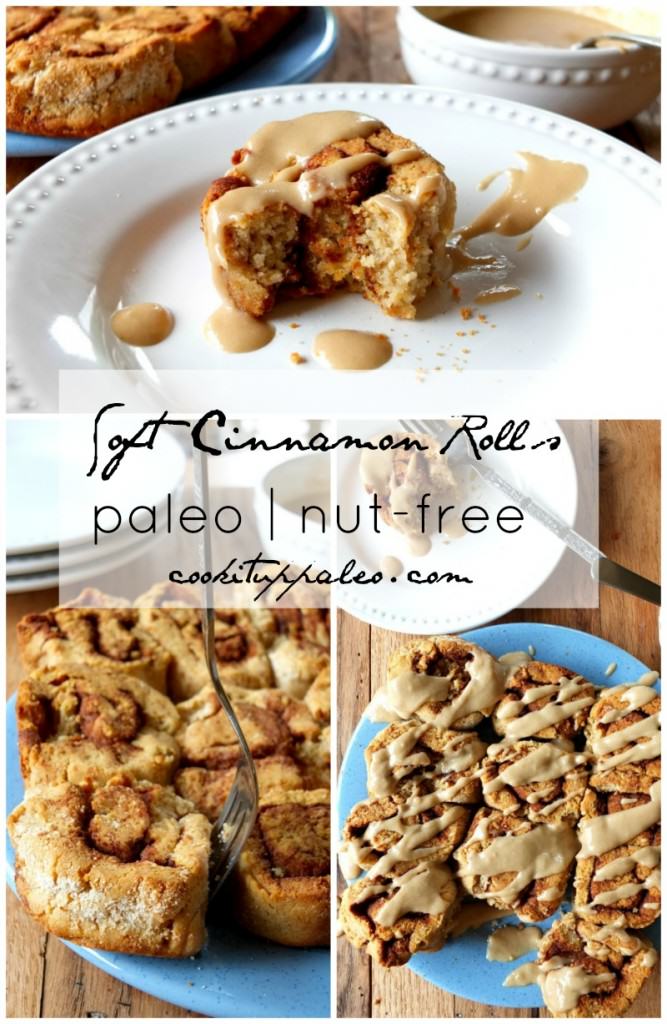 AAAAAAAAAAAAAAHHHHHHHHHHHH Sorry about that, I am just so excited about these paleo cinnamon rolls! I have tried and tried to make cinnamon rolls without grains.  Dozens of times.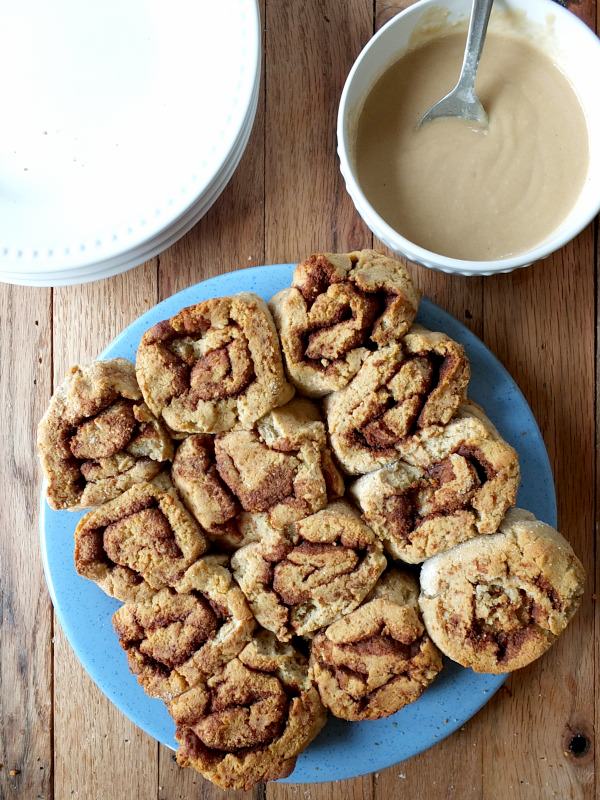 It's been hard because I have high standards for a paleo cinnamon roll.  If you're going to eat a treat, it should taste like the real thing or it's not worth it, if you ask me.  The other paleo cinnamon roll recipes I have tried either don't cook through or they are like a cinnamon biscuit.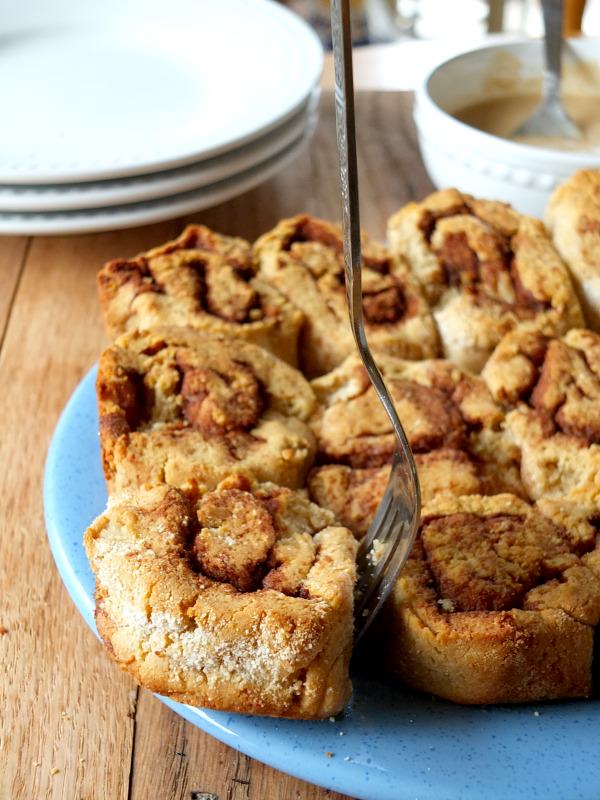 Now I love biscuits, but when a recipe is for a ROLL I want it to taste like a ROLL.  I could just say something like: "These paleo cinnamon rolls have the perfect texture", but how about I just show you the inside of one after I took a massive bite: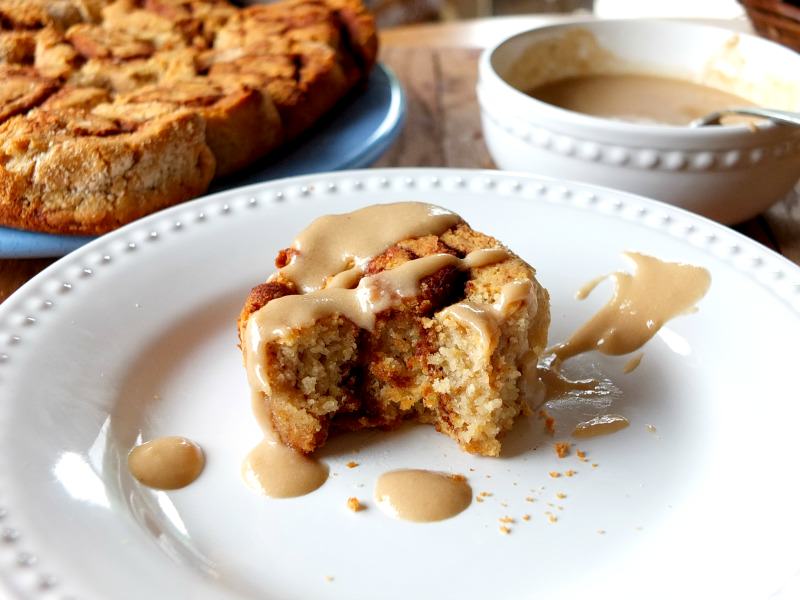 I'm going to say it anyhow: These paleo cinnamon rolls have perfect texture.  They are SOFT, but they are also COOKED THROUGH and light like a roll with a cinnamon filling and creamy topping!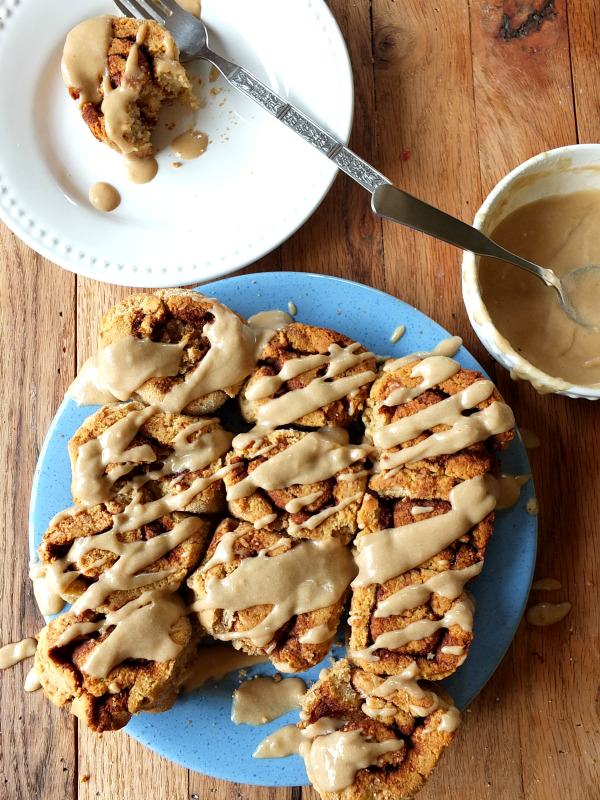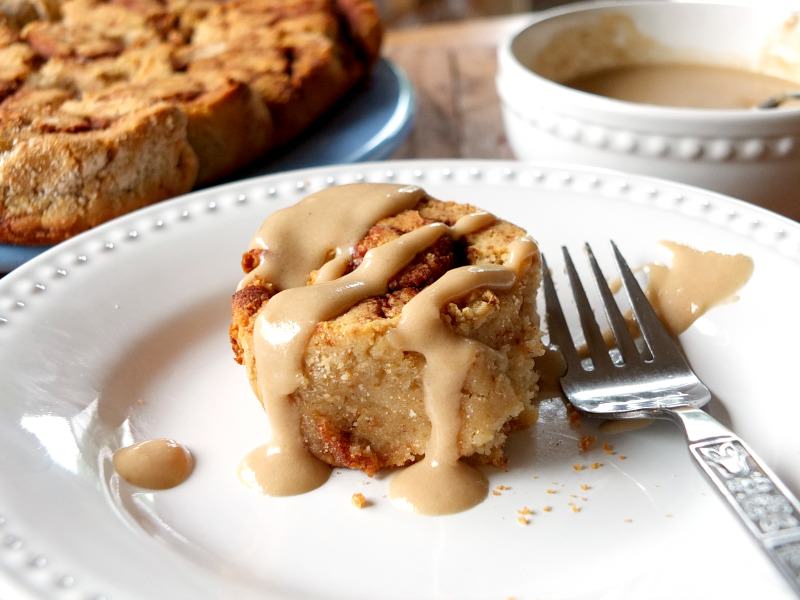 These rolls are definitely not as sweet as their conventional counterparts owing to the fact that I did not put cup after cup of sugar in the frosting.  If you like your rolls sweeter, either add more sugar to the icing or drizzle the iced rolls with maple syrup.  You won't be disappointed.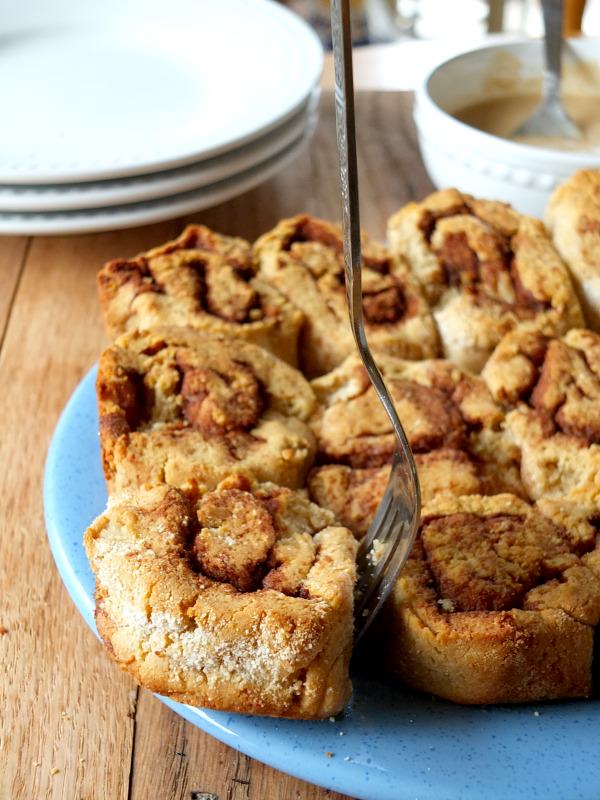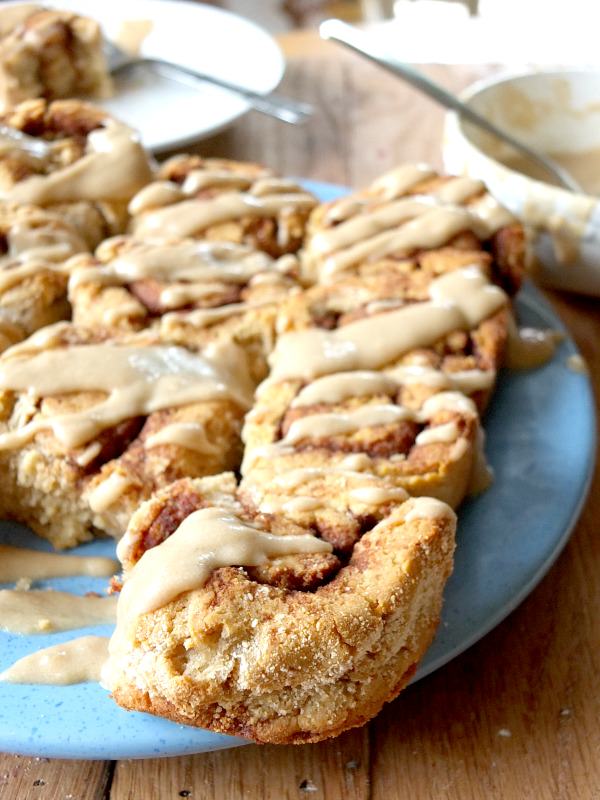 Why are you still reading this post??? Go make some paleo cinnamon rolls! 🙂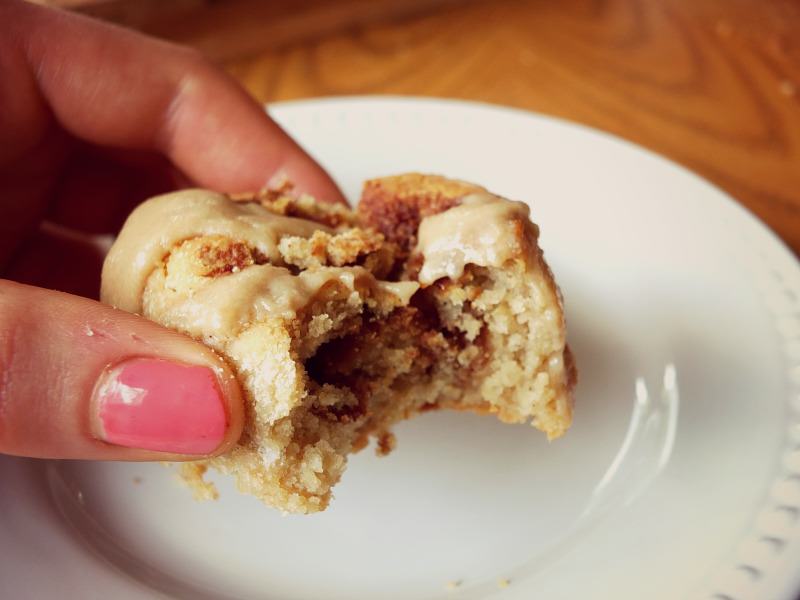 Shared at Allergy Free Wednesday, Fat Tuesday, Waste Not Want Not Wednesday,
Soft Paleo Cinnamon Rolls (Nut-free)
Ingredients
Dough:
warm water - 1/3 cup
active dry yeast - 2-1/2 teaspoons
coconut palm sugar - 1/4 cup
palm shortening - 1/3 cup, melted
eggs - 2
egg whites - 2
pure vanilla extract - 1 teaspoon
cassava flour - 1-1/2 cups
coconut flour - 6 tablespoons
salt - 1/2 teaspoon
baking powder - 2 teaspoons
Filling:
Ghee or coconut oil - 3 tablespoons, melted
coconut palm sugar - 1/4 cup
ground cinnamon - 1 tablespoon
Icing:
canned full-fat coconut milk - 1/2 cup
coconut palm sugar - 2 tablespoons
cassava flour - 2 tablespoons
Instructions
Preheat oven to 375 degrees Fahrenheit and grease an 8 "x8" glass baking dish with some coconut oil.
In a large mixing bowl, add the water and yeast. Let sit a minute.
Whisk in the eggs, shortening, coconut sugar, and vanilla.
Add the flours, salt, and baking powder and mix well. Let stand a couple minutes to let the dough firm up.
Roll out the dough between two pieces of plastic wrap to 1/4 inch thick.
Brush with ghee.
In a small bowl, mix together the coconut sugar and cinnamon. Sprinkle liberally over dough.
Carefully roll up the dough, starting from one long side. Don't rush it, and pat with your hands to fix any tears.
Cut the dough into 1 to 2 inch slices and place face up in the baking dish. Press them down a little.
Bake for 30 minutes.
In a small bowl, combine the coconut milk and coconut sugar. Microwave 20 seconds or so and then stir in the cassava flour. Drizzle over warm rolls and devour.