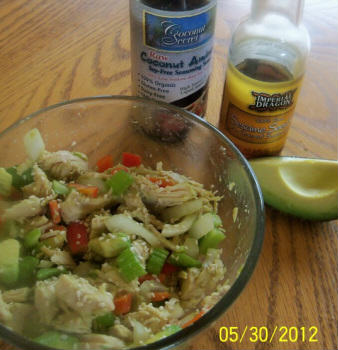 This sinfully simple salad (hey! an alliteration!) is perfect for a quick lunch or emergency dinner. It's full of yummy chicken, crispy veggies, creamy avocado and Asian flavor. And I'll bet you have all the ingredients in your pantry! Enjoy!
Simple Asian Chicken Salad
Author:
Prep time:
Cook time:
Total time:
Ingredients
boneless skinless chicken breast – 4
celery – 2 ribs, chopped
avocado – 1, diced
onion – 1 small, diced
sweet bell pepper – 1, diced
sesame oil – 2 tablespoons
coconut aminos – 2 tablespoons
sesame seeds – for garnish
lettuce leaves – 4 large
Instructions
To cook the chicken, place the breasts in a saucepan. Cover with water and simmer until cooked through. Drain and chop. In a mixing bowl, combine the chicken, celery, avocado, onions and peppers and toss together. Drizzle on the sesame oil and coconut aminos and mix well. Sprinkle with sesame seeds. We love it eaten right of the bowl, but for more sophisticated people, serve on large lettuce leaves.