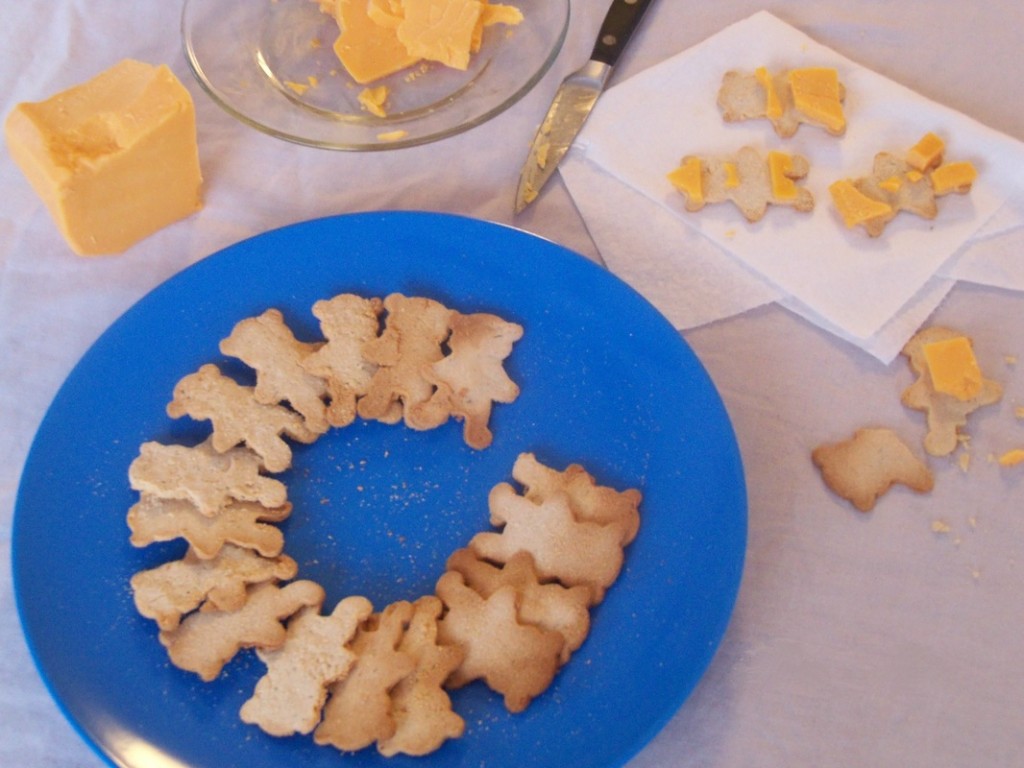 I whipped up these fun crackers yesterday afternoon and even Julia lapped them up! Mom raved about the dill and said they were the best paleo crackers she's ever had! I love them because they don't totally exhaust our resources of almond flour, yet the recipe makes lots of crackers. I also love them because they crisp up easily. And yes, I was in a fun mood so I cut the crackers with teddy bear cookie cutters 🙂
Paleo Crackers with Dill
Author:
Prep time:
Cook time:
Total time:
Ingredients
blanched almond flour – 1 cup
coconut flour – 1/4 cup
baking powder – 1/2 teaspoon
salt – 1/2 teaspoon
paprika – 1/4 teaspoon
garlic powder – 1 teaspoon
onion powder – 1/4 teaspoon
dried dill – 1 teaspoon
egg white – 1
water – 2-3 tablespoons
Instructions
In a medium mixing bowl, mix together the almond flour, coconut flour, baking powder, salt, paprika, garlic powder, onion powder and dill. 2. Add the egg white and 2 tablespoons water and mix well with a fork. 3. Generously flour the counter and the dough with coconut flour and roll the dough out to 1/8 inch thick. You can either cut then with cute little cookie cutters or score them into squares with a knife. Transfer the crackers to 2 greased baking sheets. (Note: if you are using cookie cutters, the dough will begin to dry out as you repeatedly roll out and flour it. Add a bit more water to the dough when/if needed) 4. Bake the crackers at 375 degrees for 10-13 minutes, or until golden brown and crispy. Note: The crackers tend to absorb a little moisture as they sit out on the counter. So either consume within a couple hours, (which isn't really that hard) or pop them back in the oven for a couple minutes before serving to get maximum crispiness.