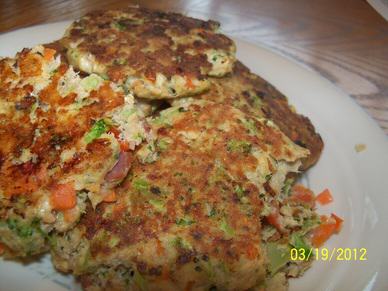 Canned salmon and vegetables. Two of the most difficult-to-feed-picky-eaters foods on the planet. Even willing eaters often turn up their nose at canned salmon. The key to cooking with this canned product is disguising its fishy flavor, which can be hard when you only eat healthy foods. But put vegetables and salmon together, throw in some bacon and what you have is delicious! The subtle veggie flavors cover up the icky salmon-ness while the bacon just makes everything more yummy. These patties are easy to make and a convenient meal-in-a-package.
Paleo Salmon Patties with Veggies
Ingredients
canned sockeye salmon - 14.75 oz, drained and flaked
carrot - 1
garlic - 2 cloves
celery - 1 rib
green onions - 3
red pepper - 1/2
broccoli - 1/2 small crown
bacon - 1 strip, cooked and crumbled
ground cumin - to taste
dried oregano - to taste
salt - to taste
eggs - 2
Instructions
Add all the veggies to a food processor and finely chop. Place in a mixing bowl. Add the salmon, bacon, cumin, oregano, salt and eggs and mix well. Form into small patties with your hands and cook in a hot skillet in the bacon grease until browned on both sides.