This is a sponsored post written for Dierks farm. 
Note from Heather: I am excited to be working with Dierks Farm grass-fed beef to bring you awesome info about where healthy meat comes from! Dierks Farm is a family-owned Illinois (south of my home state!) based business that produces high-quality  100% grass-fed beef.  Check out their website here and use the code "cookit" to get 10% off any order! Also, don't forget to support their Kickstarter campaign!
Today's post is a guest post from Pam of Dierks Farms – all about where healthy meat is raised!
Take it away Pam…
Many people when they think of Illinois think of Chicago. Dierks Farms is located near the bottom of the state of Illinois. If you have never been to Southern Illinois is a very picturesque place. Rolling hills, many rock formations and the beautiful Shawnee Forest.
We have beautiful places such as Garden of the Gods, Piney Creek, Bald Knob Cross, the Mighty Mississippi River and much much more. We are happy that we can also call southern Illinois home to Dierks Farms. It is a perfect place to raise grass fed cattle. The climate is a four season climate but does produce a summer that is perfect for baling hay which is what our grass fed cattle are fed during our winters. Our winters are not near as severe as the winters in Chicago so it is an easy climate for our cattle.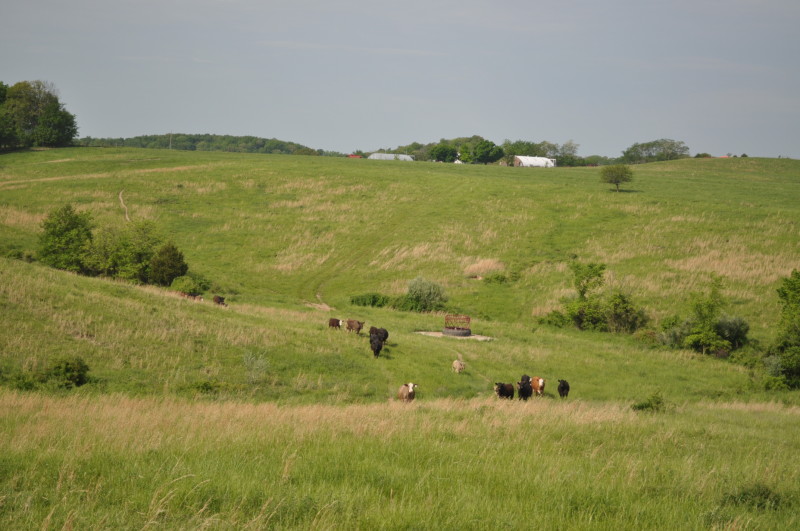 You may ask why does Dierks Farms do what we do? We farm because we love it. We love the farm life! We love to tend to our cattle no matter what the weather is, it is our life and we are very proud of the results this life produces. We are so excited to be able to share some of the benefits of our daily labor by providing our healthy grass-fed beef to anyone that wishes to take advantage of it. So many people are realizing how important it is to know where their food comes from. I know our family thinks about it every day. Our goal is for our own family to be healthy as it is to help your family be healthy.
We are very excited to be involved with the Paleo lifestyle. This lifestyle really understands our daily efforts and understands why we work just a little harder each day to bring our cattle to our customers as 100% grass fed using no antibiotics and absolutely no grain. We raise happy, healthy cattle. We had a customer come to our farm this week and he said "I just want the cows that our beef comes from to be happy cows." This is very true of our cattle. They observe a stress free life grazing on the pastures of the southern Illinois hills.
We invite you to travel to our part of the world. We may be land locked here in southern Illinois but it is some of the most beautiful part of the country you will ever see. We have some of the most beautiful sunsets of anywhere in the world. View our location page and it will show you exactly where our farm is located. We'd love to see you!
Remember when ordering healthy grass-fed beef use the code Cookit to receive 10% off of your order. We ship Monday-Wednesday and your order will be to your home in two days.
One of my (Heather) favorite ways to use beef is this easy Paleo Hamburger Soup recipe from my first ebook, Grain-Free Family Favorites. Enjoy!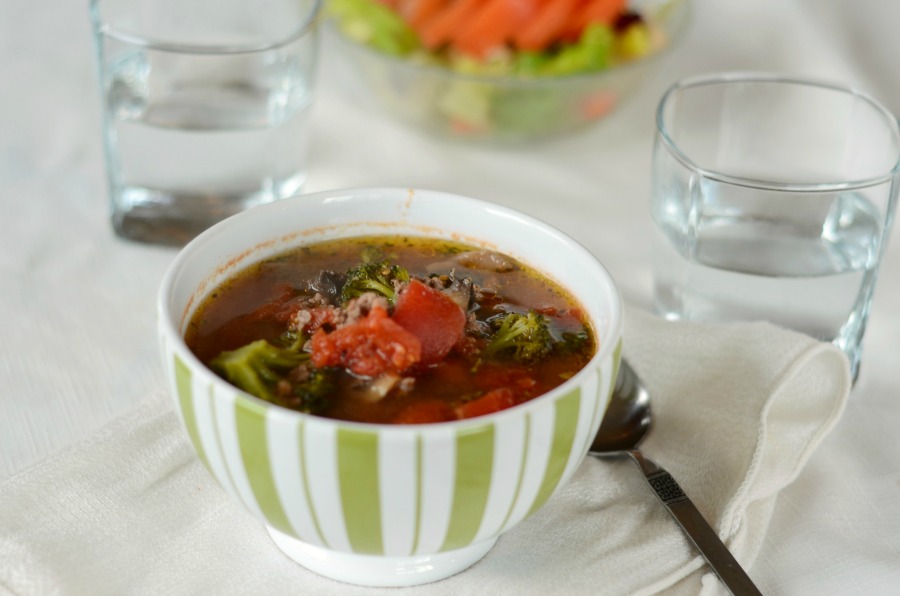 Paleo Hamburger Soup
Ingredients
2 tablespoons butter or ghee
1 onion, chopped
2 large carrots, chopped
4 celery ribs, sliced
1 pound ground beef
4 cups chicken or beef bone broth
2 14-oz. cans diced tomatoes, undrained
1-½ cups small broccoli florets or chopped asparagus
1 cup sliced mushrooms
1 cup finely chopped winter squash, sweet potato, or white potato
½ cup water
2 teaspoons dried oregano
2 teaspoons dried basil
Salt to taste
Instructions
In a large soup pot, heat the butter or ghee.
Add the onion, carrots, and celery. Cook, stirring frequently, until onion starts to soften (about 3-5 minutes).
Crumble in the ground beef. Cook, stirring frequently, until beef is cooked through.
Add in the chicken or beef stock, diced tomatoes, broccoli florets or asparagus, sliced mushrooms, chopped winter squash, water, dried oregano, dried basil, and salt.
Bring to a boil. Reduce heat; simmer for 20 minutes.
————————————-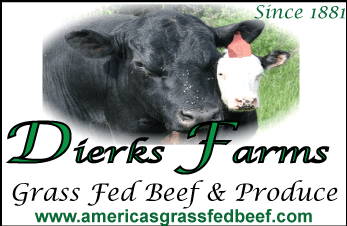 Blogger Bio: Dierks Farms was founded on the basis of Grass-fed beef even before the health benefits were brought to light. Today, we believe in Grass Fed because it benefits the health of our family, our animals, our customers and our environment. Our farming practices are centered around the humane treatment of our animals. Our animals are raised on stress free grass that is rotated on a regular basis both for the animals and the environment. Our family is the 4th & 5th generation of Dierks to farm our family farm. Our family works everyday to improve the world around us by using farming practices that will preserve our farm for generations to come.
—————————————
This is a sponsored post written for Dierks farm.  I only support companies I love.
If you buy something through one of the links in my sidebars or posts, I may receive a small commission to support my blogging activities, at no extra cost to you. Thank you for your support.