When I was 7 years old, and was absolutely obsessed with my Easy Bake oven.  I loved to stir up the little mixes, scoop them into the pan, and push them into the oven.
The seconds would tick by so slowly as I waited for my confection to bake.  When the timer finally beeped, I would push the pan out of the oven (usually burning my fingers in the process) to behold my creation.
The first batch of scones I ever made was with my Easy Bake oven.  I actually made four scones, and of course they had to be baked individually.  It took forever, but I persevered.  It felt like four hours, but it was probably just one or two before the scones were done.  I served them with tea to my family with pride in my accomplishment.
My idea of scones is a biscuit-y, cookie-ish, muffin-y type of deliciousness studded with fruit or nuts.  I wanted to recreate this delicious pastry in a way that even the most allergic people could enjoy.
The result? A soft AIP scones recipe studded with fresh raspberries and shredded coconut.  Perfect with a cup of tea.
Raspberry Scones (AIP)
Author:
Prep time:
Cook time:
Total time:
Ingredients
unsweetened applesauce – 1/2 cup
coconut cream – 1/2 cup
honey – 1/4 cup
pure vanilla extract – 1 teaspoon
tigernut flour – 1 cup
unsweetened coconut flakes – 1/2 cup
cassava flour – 1/2 cup
coconut flour – 1/4 cup
baking soda – 1/2 teaspoon
fresh raspberries – 1 cup
Instructions
Preheat oven to 350 degrees Fahrenheit and grease a large baking sheet with coconut oil.
In a large mixing bowl, combine the applesauce, coconut cream, honey, and vanilla and mix well.
Stir in the flours, coconut flakes, and baking soda.
Carefully fold in the raspberries.
Form the dough into 2 balls and flatten them out about 1 inch thick on the baking sheet. Each into 4 quarters and separate them a bit.
Bake for 40 minutes.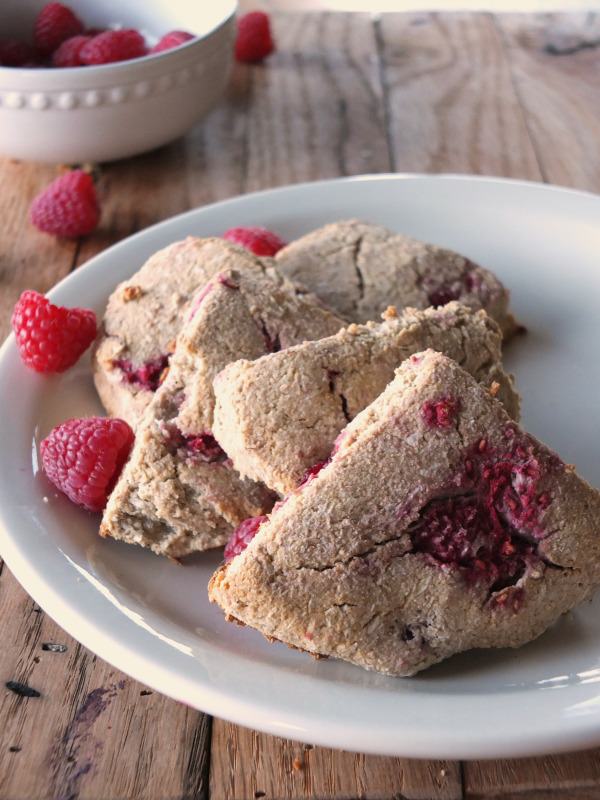 Shared at Paleo AIP Recipe Roundtable, Fat Tuesday, Allergy-Free Wednesday