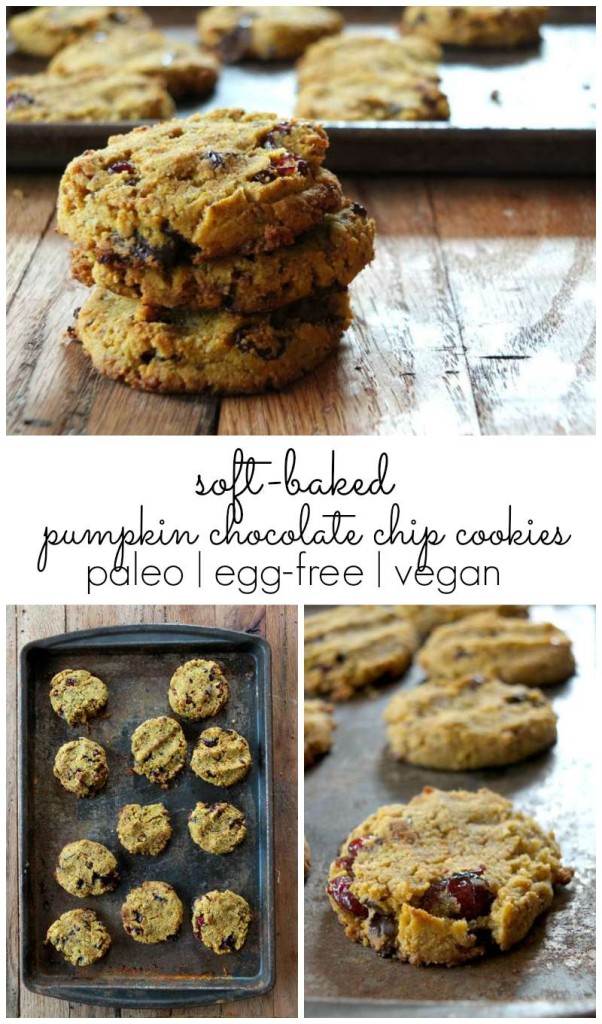 CAUTION: You are now entering the PUMPKIN EVERYTHING ZONE.  Please turn off your cell phones, secure all loose items, and keep your and hands and feet inside the mixing bowl at all times.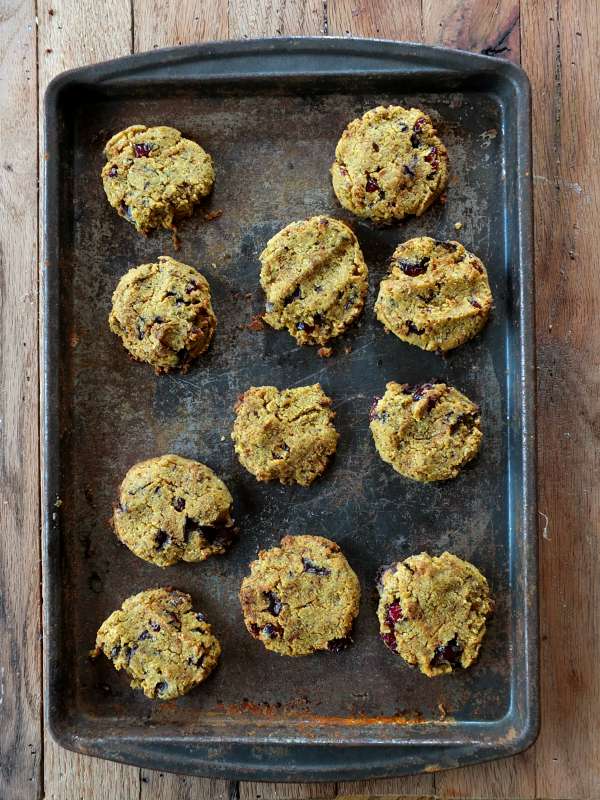 Seriously, though, remember how I said in this post how I'm not ready for pumpkin season? Well, September is upon us and so are the pumpkins! Plus I made these paleo pumpkin chocolate chip cookies, which were so flippin' amazing that I just had to get in a pumpkin mood.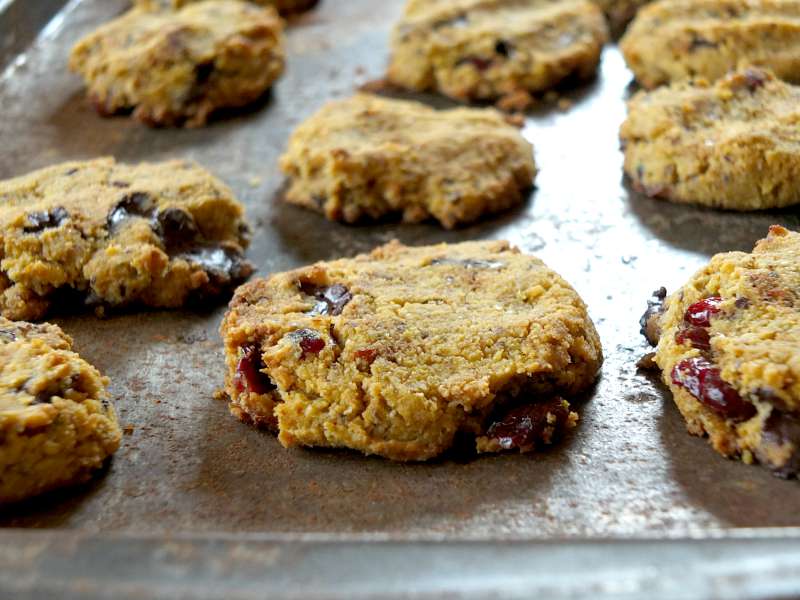 These paleo pumpkin chocolate chip cookies are really delicious.  They are soft-baked pumpkin goodness studded with gooey chocolate chips and bursts of dried cranberries.  Plus they are egg-free, which means my dad can eat them.  He loved them, by the way.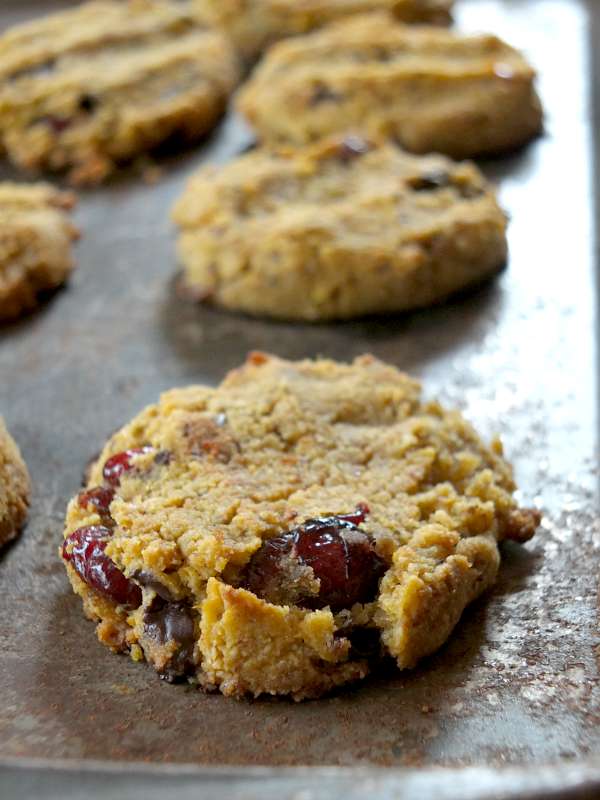 Are you ready for pumpkin everything?! Even if you're not, make these paleo pumpkin chocolate chip cookies; they will get you in that pumpkin mood!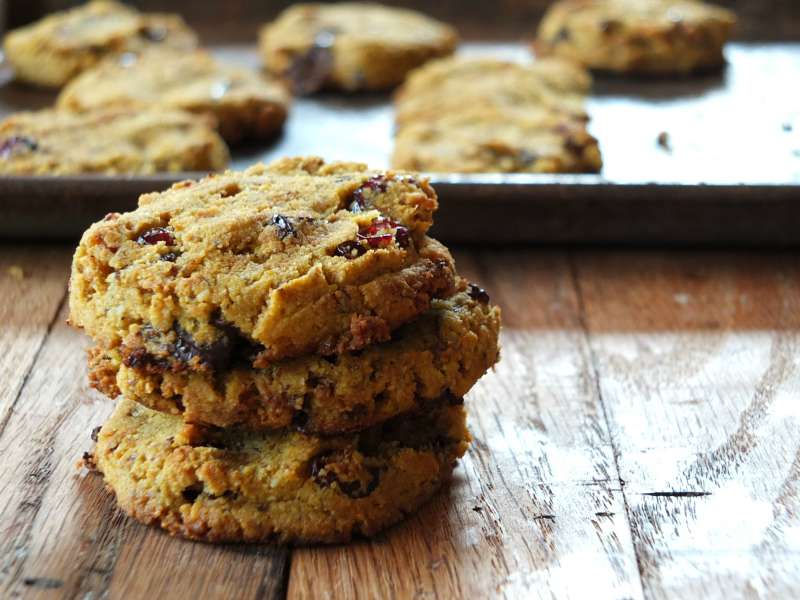 If you buy something through one of the links in my sidebars or posts, I may receive a small commission to support my blogging activities, at no extra cost to you. Thank you for your support 🙂 🙂 🙂
Shared at Fat Tuesday and Allergy-free Wednesday

Pumpkin Chocolate Chip Cookies (soft-baked)
Ingredients
coconut oil - 1/3 cup softened
pure maple syrup - 1/3 cup
pure pumpkin puree - 1/3 cup
blanched almond flour - 1 cup
flax meal - 2 tablespoons
coconut flour - 3 tablespoons
baking soda - 1/3 teaspoon
chopped dark chocolate - 1/2 cup
dried cranberries - 1/4 cup
Instructions
Preheat oven to 350 degrees Fahrenheit and grease a large cookie sheet with coconut oil.
In a mixing bowl, cream together the coconut oil and maple syrup. Stir in pumpkin.
Add the almond flour, flax, and coconut flour. Mix well.
Add baking soda and mix well.
Fold in chocolate and cranberries.
Drop by heaping tablespoonfuls onto the baking sheet and flatten out a bit.
Bake for 20 minutes.
Cool and enjoy!