I love pizza. I love the fluffy, tender yet sturdy texture, I love how I can pile up as many toppings as I want, and I love how pizza is totally finger food. What I don't love is the wheat flour content. So I set out to create a paleo version. I tried everything; cauliflower, eggplant, coconut flour, almond flour, eggs, even ground beef. But nothing was ever quite the same. Until now. This easy-to-make pizza is fluffy and mild, yet sturdy and delicious – you'll never dream it's paleo!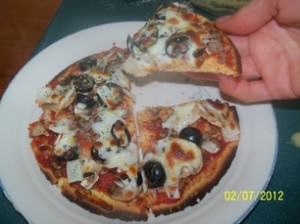 Personal Paleo Pizzas
Author:
Prep time:
Cook time:
Total time:
Ingredients
egg – 1 teaspoon
blanched almond flour – 1/4 cup
baking powder – 1/2 teaspoon
salt – pinch
sauce and toppings – of choice
Instructions
In a small bowl, whisk the egg. It another bowl, stir together the almond four with the baking powder and salt. Mix the dry ingredients into the egg. Grease a medium-sized dinner plate with olive oil and carefully spread the batter over the bottom as shown. Microwave on high 90 sec. Transfer crust to a small baking sheet. Add sauce and toppings. Broil until cheese browns/toppings are toasty. This recipe makes a small personal pizza, but feel free to multiply it and use a larger plate to serve more people.