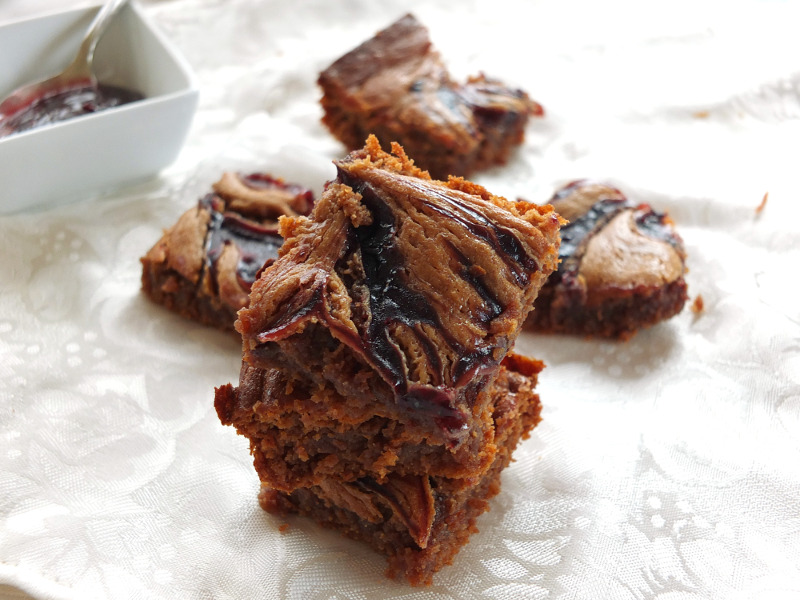 Thank you so much to the amazing Becky Winkler of A Calculated Whisk for sending me a copy of her new cookbook, Paleo Planet, to review!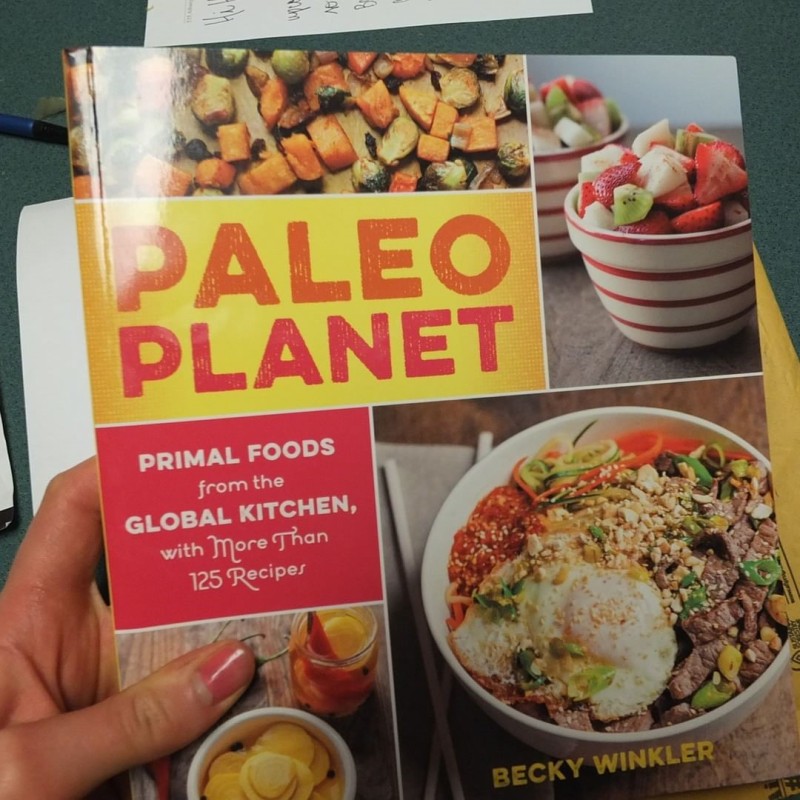 I love doing video reviews, so here goes; I think this is my favorite cooking vid I've done so far!
The photography is Paleo Planet is beautiful; bright and delicious-looking; it makes me want to cook everything in the book! There is a photo of every recipe, which is a huge plus for me because I love pictures.
All the recipes in Paleo Planet are primal renditions of recipes around the world.  With recipes like Hsiang Chicken and Eggplant, Cilantro-Lime Shrimp Scampi, Skillet "Cornbread", and more, this book is a beautiful compilation of all different kinds of recipes made paleo, without making them any less authentic.
While the recipes are authentic, they also use ingredients that most people have in their cupboards.  There weren't any recipes that I read that I was intimidated by; I just got hungry reading the book!
The first recipe I made were the Gingerbread Blondies, and I absolutely loved them! They were so easy to make and came out perfectly; chewy and delicious! The addition of jam on top is genuis, and the almond butter plays so well with the fragrant cinnamon, ginger, and cardamom without anything being overpowering.
I highly recommend Paleo Planet; I'll definitely be making more recipes from it!!

Paleo Gingerbread Blondies from Paleo Planet
Ingredients
1-3/4 cup almond butter or sunflower seed butter
1 cup honey
2 tablespoons melted ghee
1 teaspoon pure vanilla extract
1 teaspoon ground ginger
1 teaspoon ground cinnamon
1/2 teaspoon ground cardamom
Pinch of flaky sea salt
2 large eggs
1/2 teaspoon baking soda
1/2 cup all-fruit black currant jam or jam of choice
Instructions
Preheat the oven to 325 degrees F. Line a 9x13 inch baking pan with parchment paper.
Beat the almond butter with the honey in a large bowl using a hand mixer, or in a stand mixer fitted with the paddle attachment, until smooth.
Add the melted ghee, vanilla, ginger, cinnamon, cardamom, and salt, and beat until just incorporated. Add the eggs and baking soda, and beat again, until smooth.
Transfer the batter to the baking pan, using a spatula to spread the batter out so that it evenly covers the bottom of the pan.
Use a spoon to place dollops of jam across the top of the batter. Swirl the jam into the batter my dragging a butter knife across the pan, forming stripes in one direction and then the other.
Bake until just set, 40 to 45 minutes, being careful not to overbake. Cool completely in the pan.
Use the parchment paper to lift out the blondies, cut into squares, and serve.
Nutrition Information
Serving Size:
1/16 of recipe
Calories:
215
Fat:
11.2 g
Saturated fat:
2.1 g
Unsaturated fat:
8.1 g
Trans fat:
0 g
Carbohydrates:
26.5 g
Sugar:
23.5 g
Sodium:
61 mg
Fiber:
0.7 g
Protein:
4.2 g
Cholesterol:
28 mg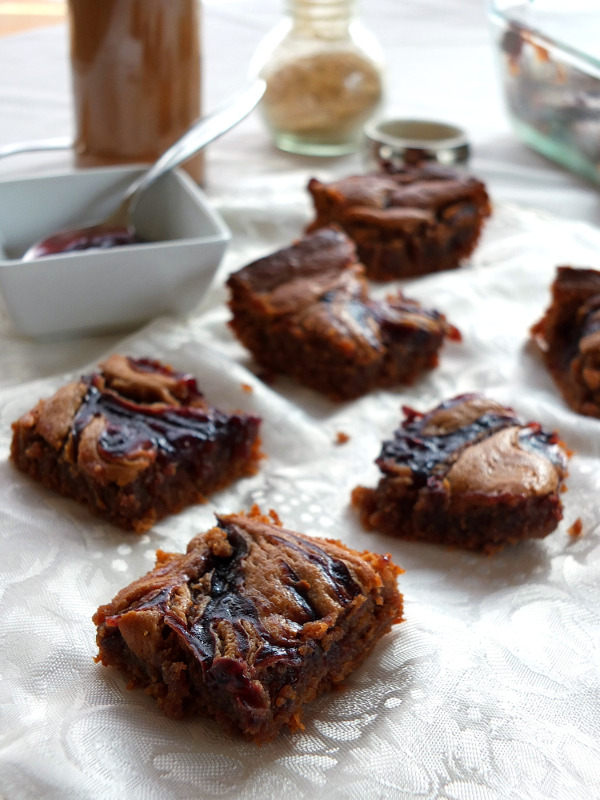 Shared at Allergy-Free Wednesday, Savoring Saturdays