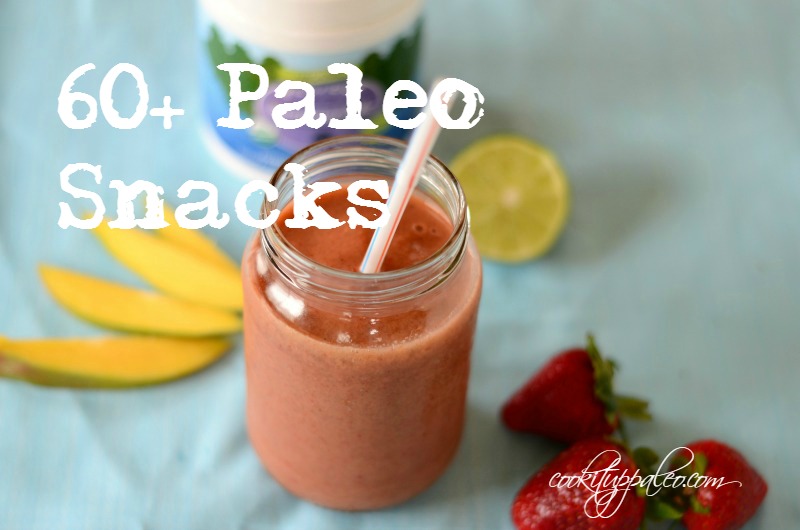 Let's talk about paleo snacks.
And I don't mean some silliness like 'got paleo snacks?? HERE's some paleo snacks for you!'
Nope, this is a heart to heart conversation.
You know, in blog post form.
Because raise your hand if you can eat super well at breakfast, lunch, and dinner, but that doughnut or ice cream or chips or crackers counts as a 'snack' and that derails your healthy eating efforts. I'm sitting at my computer raising my hand right now looking pretty silly. So go ahead, raise your hand. I'll wait.
Thank you. Now that we're all the on same page, I think we all need to be real about the fact that we all know how to eat eggs for breakfast, m'kay? We all understand that eating larger, more healthy-fat rich meals is going to cut down on our snacking needs. But it doesn't mean you're failing the paleo life if you want a snack.
As long as it's the right snack. But you're only going to reach for the right paleo snacks if it – what was it? – oh yea, tastes good. Imagine that. Raw almonds, which my dad says taste like tree bark, are not the only approved paleo snack.
Don't believe me? Well, below I've compiled not forty, not fifty, but SIXTY paleo-approved snacks. So there's a good chance that at least some percentage taste pretty darn good.
So snack away, fellow paleo people.
Meat and Egg-Based:
Elk Meatballs – egg-free/low carb
Paleo Makerel Pate – egg-free/low-carb/nut-free/coconut-free
Pepperoni Pizza Lollipops – egg-free/low-carb/nut-free/coconut-free
Spicy Chorizo Deviled Eggs – low-carb/nut-free/coconut-free
Paleo Corn Dog Muffins – low-carb
Paleo Scotch Egg – nut-free/low-carb
Bacon Deviled Eggs – low-carb/nut-free/coconut-free
Beet Deviled Eggs – low-carb/nut-free/coconut-free
Pork Liver and Bacon Pate – egg-free/nut-free/low-carb/coconut-free
AIP Paleo Tuna Cucumber and Basil Bites – egg-free/nut-free/low-carb/coconut-free
Paleo Egg Rolls – egg-free/nut-free
Paleo Dill Pickle Deviled Eggs – nut-free/low-carb/coconut-free
Caramelized Grilled Pork Skewers – egg-free/nut-free/low-carb
Beef Jerky – egg-free/nut-free/low-carb
Pickled Quail Eggs – nut-free/low-carb/coconut-free
Spanish Tuna Salad with Red Peppers – egg-free/nut-free/low-carb/coconut-free
Avocado Prosciutto Stuffed Mushrooms – egg-free/nut-free/low-carb/coconut-free
Chipotle Stuffed Mushrooms – nut-free/low-carb/coconut-free
Nut and Seed Based:
Paleo Fruit and Nut Granola Bars – egg-free
Herb Roasted Almonds – egg-free/coconut-free/low-carb
Paleo Cashew Protein Bars – low-carb
Spiced Maple Rosemary Mixed Nuts – egg-free
4 Ingredient Paleo Trail Mix – egg-free/coconut-free
Roasted Honey Dijon Pecans – egg-free/coconut-free
No-Bake Bars and Bites:
Chocolate Covered Strawberry Popsicles – egg-free/coconut-free
Nut Butter Bites – egg-free/low-carb
Chocolate Orange Energy Bites – egg-free
French Toast Breakfast Cookie Dough Fudge – egg-free
Chocolate Orange Hemp Bites – egg-free
Salted Dark Chocolate Tahini Fudge – nut-free/egg-free
Paleo Peppermint Patties – egg-free/nut-free/low-carb
Almond Butter Fudge – egg-free/low-carb
Chocolate Almond Date Balls – egg-free
Homemade Protein Bars – nut-free/egg-free/low-carb
Healthy Almond Joy Candies – egg-free/low-carb
Chocolate Avocado Truffles – egg-free/nut-free
No-Bake Grasshopper Bars – egg-free/nut-free/low-carb
2 Ingredient Banana Fudge – egg-free
Raw Coconut Macaroon – egg-free
Paleo Chocolate Truffles – egg-free/nut-free
Coconut Date Snacks – egg-free
Sugar Detox Coconut Butter Truffles – egg-free/low-carb
Cookie Dough Fat Bombs – egg-free
Paleo Pumpkin Protein Bars – egg-free/nut-free
Sunbutter Chocolate Collagen Protein Bars – egg-free/nut-free
Gummy Snacks:
Healthy Gummy Candy – egg-free/nut-free/low-carb/coconut-free
Honey Orange Fruit Snacks – egg-free/nut-free/coconut-free
Berry Gummies with Spinach – nut-free/coconut-free/egg-free
Cherry Lime Gummies – nut-free/coconut-free/egg-free
Chips and Dips:
Chai Spiced Nut Butter – egg-free/low-carb/coconut-free
Homemade Coconut Butter –  egg-free/nut-free/low carb
Paleo Pumpkin Hummus – egg-free/coconut-free/low-carb
Perfect Paleo Crackers – egg-free/nut-free/coconut-free
Plantain Chips Three Ways – nut-free/ egg-free
Artichoke Hummus – egg-free/nut-free/low-carb/coconut-free
Crispy Sweet Potato Skins – egg-free/nut-free/coconut-free
Curry Plantain Chips – egg-free/nut-free
Sweet Lime Plantain Chips – egg-free/nut-free
Paleo Southwest Ranch Dip – egg-free/nut-free/low-carb
Healthy Onion and Bacon Dip – coconut-free/low-carb
Paleo Plantain Crisps – egg-free/nut-free
Banaganoush – egg-free/nut-free/low-carb/coconut-free
Misc:
Easy Paleo Yogurt – egg-free/nut-free
Fudgy Protein Mug Cake – low-carb/nut-free
Sugar-Free Chocolate Smoothie – egg-free/nut-free
Paleo Bacon Thyme Breakfast Muffins – low-carb/nut-free
Mango Strawberry Kale Smoothie – egg-free/nut-free/coconut-free