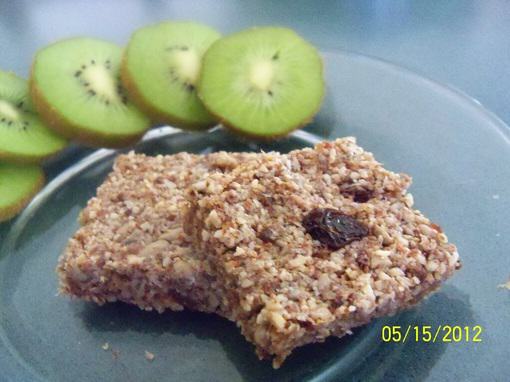 These bars are the paleo equivalent of a granola bar. They're packed with good fats, protein, and fiber, they're easy to make, portable, filling, easy to change up with different fruits and nuts, and most importantly, delicious! Have one with breakfast, pack one in your lunchbox, or stick in it in a baggie for an energizing afternoon snack! Try adding in some dark chocolate, or sub craisins, apricot or dried apples for the raisins, or try macadamia nuts instead of pecans, maybe stir in a spoonful of almond butter…..have fun!
Paleo Power Bars
Ingredients
whole raw almonds - 1 cup
dates - 4-6, pitted
salt - 1/4 teaspoon
raw pecans - 1/3 cup
raw sunflower seeds - 1/3 cup
flax seed meal - 1/3 cup
ground cinnamon - 1 teaspoon
ground nutmeg - pinch
pure vanilla extract - 1/2 teaspoon
unsweetened coconut flakes - 1 tablespoon
coconut oil - 1 tablespoon
egg - 1
raisins - 1/4 cup
Instructions
In a food processor, grind almonds until powdery. Add dates and process until completely integrated into the almonds. Add salt, pecans, sunflower seeds, flax, cinnamon and nutmeg and pulse to mix. Add coconut, coconut oil, vanilla, egg and raisins and whirl to mix well. Press into a greased 8"x8" glass baking dish and bake at 350 degrees F. for 15 minutes. Cool and cut, store in an airtight container.