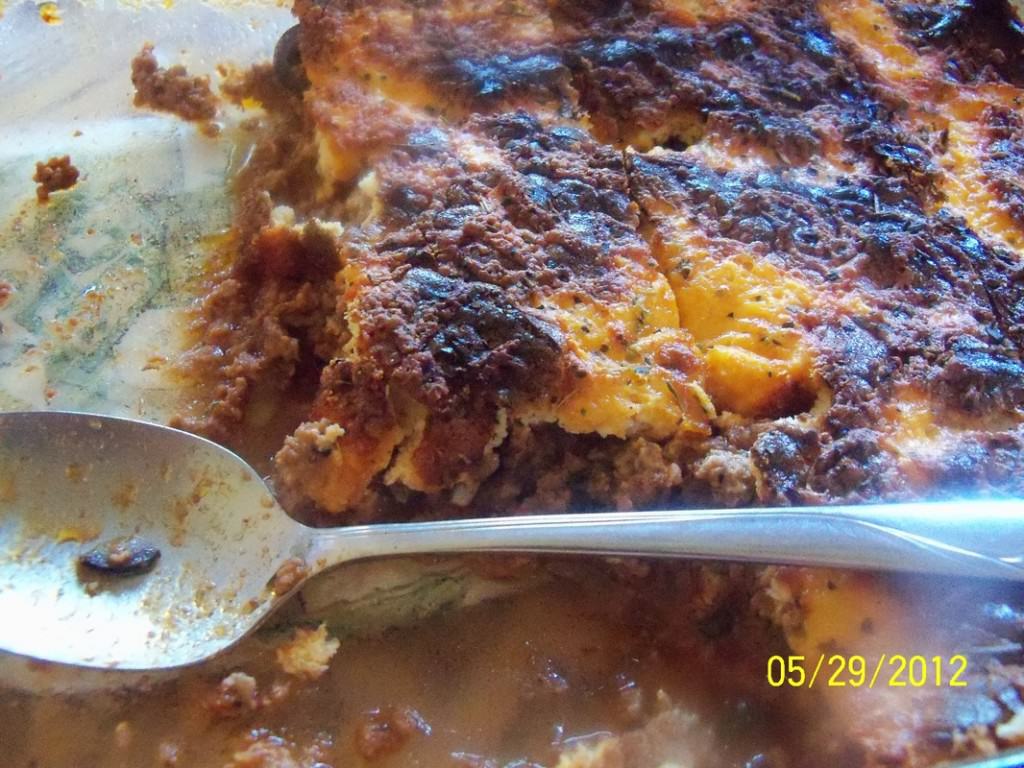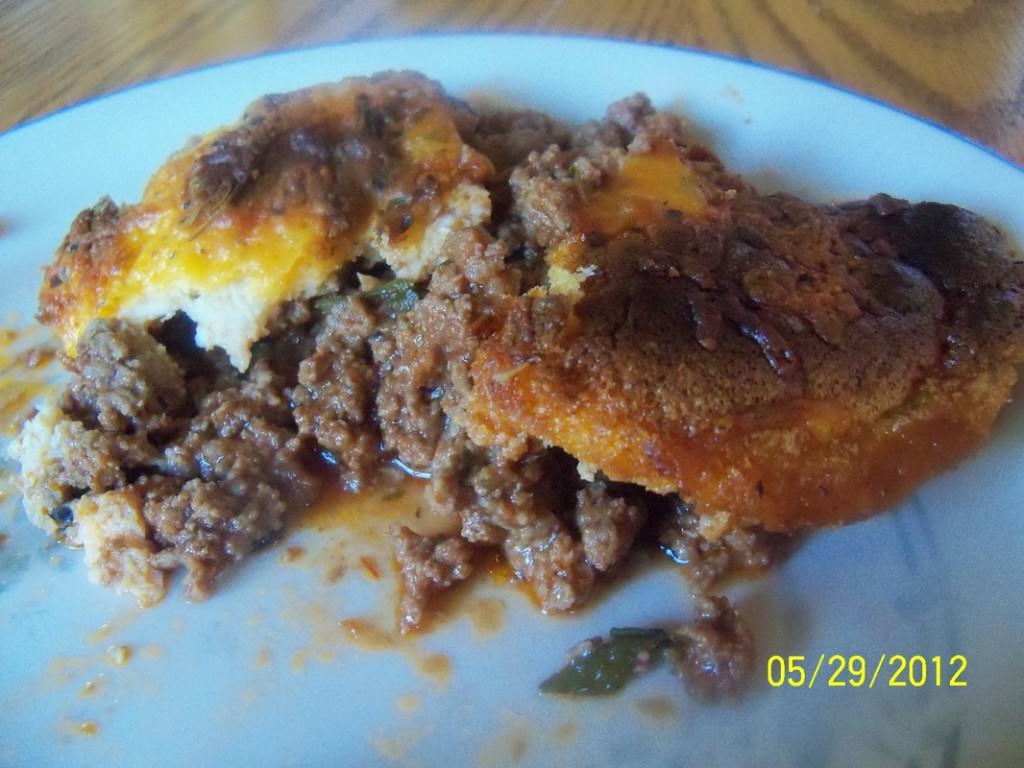 For the longest time I've wanted a paleo beef casserole recipe. But it's been hard to come by because of the fact that the family is VERY picky and that potatoes are not paleo. But the idea struck me yesterday that perhaps I could make a pizza casserole, with the fillings underneath an "Oopsie Bun" topping, kind of like an upside-down pizza, or pizza potpie. (although I would never call it that because Dad doesn't like potpies!) You're probably wondering what an "Oopsie Bun" is. It's just a light, fluffy grain free bun made of beaten up eggs and cream cheese. They originated as hamburger buns, but countless people have transformed them into cakes, cookies, potpies, pizza, rolls, etc., all over the Internet. You may also notice that my casserole looks a bit burnt on the top. That's because I left the casserole under the broiler too long. But it made the topping nice and crispy! 🙂 Please feel free to add as many sauteed veggies to the filling as you please. Mine is rather simple because of said picky family, though next time I am going to add a package of mushrooms! Julia LOVED this casserole, even helping herself to more, Mom of course gave her enthusiastic stamp of approval, as did Dad and Clint. Next time we go to a potluck, this is we're bringing!
Paleo Pizza Casserole
Author:
Prep time:
Cook time:
Total time:
Ingredients
Filling:
extra-virgin olive oil – 2 tablespoons
ground beef – 2 pounds
garlic – 3 cloves, minced
black olives – 2/3 cup sliced
fresh parsley – 2 tablespoons chopped
fresh basil – 2 tablespoons minced
canned tomato sauce – 15 oz.
dried oregano – 1 teaspoon
onion powder – 1/2 teaspoon
dried thyme – 1/2 teaspoon
black pepper – to taste
Topping:
eggs – 3, separated
cream cheese – 3 oz.,. not softened
cream of tartar – pinch
cheddar cheese – 1 cup grated
Italian seasoning – 1/2 teaspoon
Instructions
In a large skillet, brown beef in olive oil. Drain off some of the grease if needed (leave a little grease; it contributes to flavor). Add garlic and olives and saute a couple minutes. Stir in parsley and basil and saute 1 minute. Stir in tomato sauce, oregano, onion powder, thyme and pepper. Bring to a simmer and remove from heat. Pour into a greased 9×13 inch glass baking dish. In a large metal bowl, use an electric hand mixer to beat egg whites with cream of tarter until stiff. In another bowl, beat together cream cheese and egg yolks until smooth. Fold this mixture into the egg whites. Spread the batter over the ground beef filling. Bake, uncovered, at 300 degrees F for 40 minutes, or until golden. Sprinkle with cheese and Italian seasoning. Broil just a couple minutes, until crispy but not burnt (watch closely!).