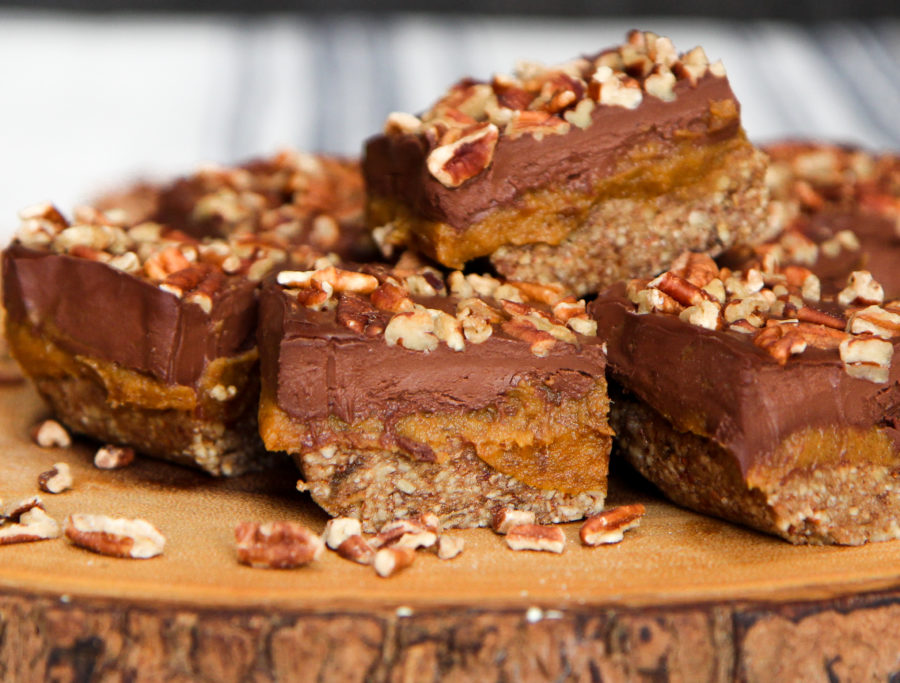 Hi friends! I am so exciting to be here guest posting for Heather today. I've got a delightful treat to share with you, and it's perfect for Thanksgiving. Enter: Pecan Pumpkin Caramel Bars.
The bottom layer is a crunchy pecan pie crust, topped with a pumpkin "caramel" filling, and doused in a rich chocolate ganache. Uhhh, does it get any better than that?
It all started when I passed by a friendly lady at my local Farmers' Market selling Medjool dates. I knew I'd have to make a yummy treat using these sweet fruits.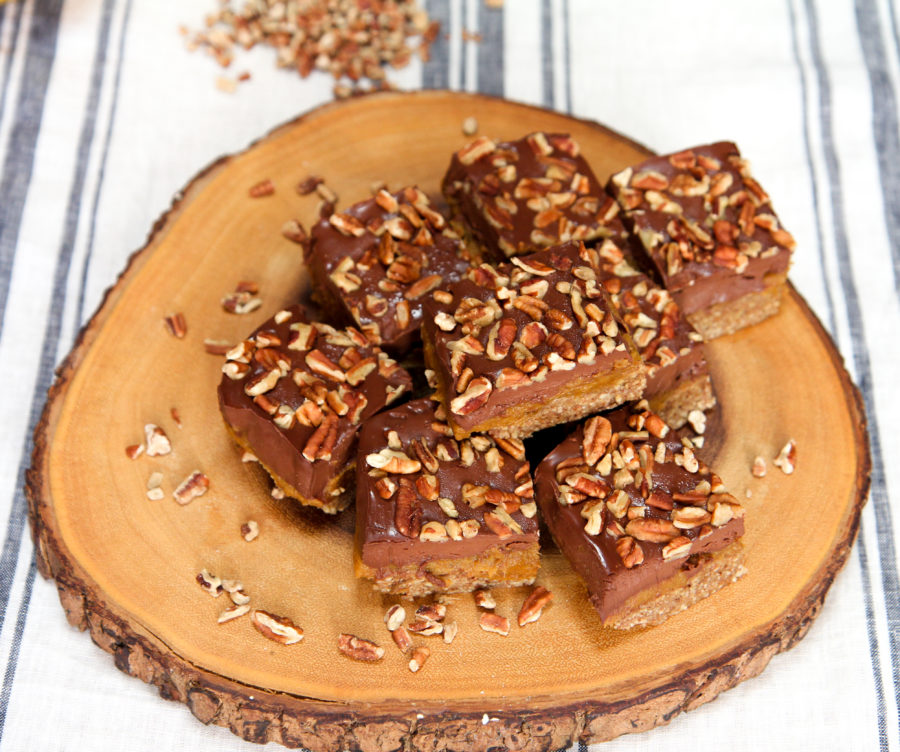 I started by creating a crust using pecans (which are high in healthy fat and protein), these "wet" Medjool dates, a little sea salt, and my favorite ghee from Fourth & Heart. (If you want to make the recipe vegan, just sub coconut oil.) This created a lovely crunchy, nutty, sweet crust. The best part? It required ZERO baking!
Next up, I blended up more dates, some organic pumpkin puree, coconut milk, and pumpkin spice to create a luscious caramel filling. It tasted exactly like pumpkin pie, but with caramel! Swoon.
To top it all off, I whipped up an easy dark chocolate ganache using only two ingredients: chocolate and coconut milk. Then, the bars were sent off to the freezer to set! The next morning, I woke up to the most delicious Thanksgiving treat ever. Think: Chocolate Pecan Pie meets Pumpkin Pie. Except you don't have to turn on your oven, so WIN!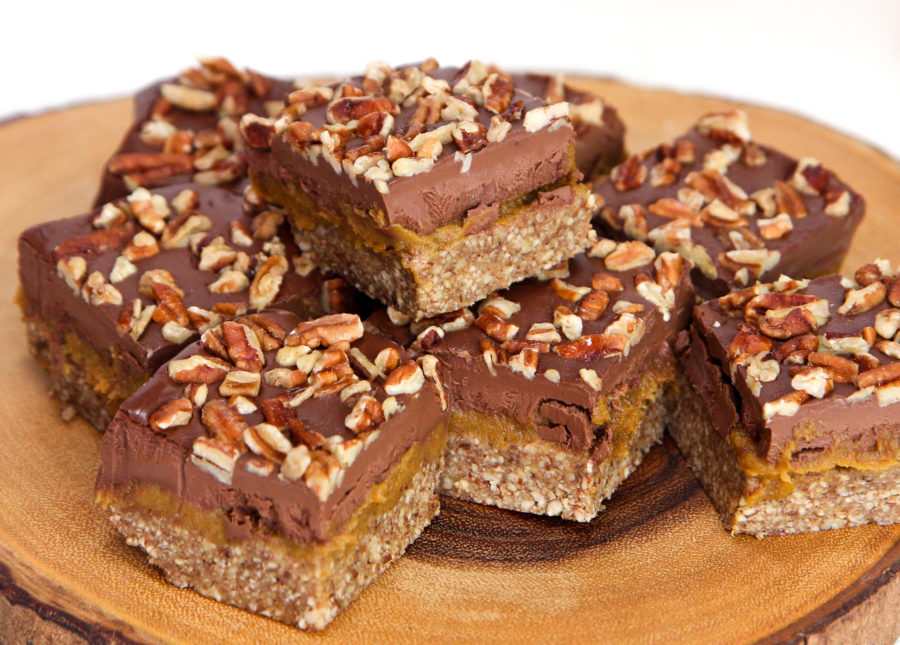 I hope you all enjoy this recipe, and share these treats with your loved ones. If you make them, make sure to tag me @goodiesagainstthegrain on Instagram so I can see!
~Sadie

Pecan Pumpkin Caramel Bars (paleo, vegan) - guest post from Sadie Radinsky
Ingredients
Crust:
Caramel:
6 pitted Medjool dates
¼ cup pumpkin puree
1 Tbs full-fat coconut milk
½ tsp pumpkin pie spice
Ganache:
¾ cup full-fat coconut milk
1 cup chopped dark chocolate (approx. 4.6 oz)
Extra pecan pieces for garnish (optional)
Instructions
Line an 8x8 inch baking dish with parchment paper.
In a food processor, pulse together the crust ingredients just until a dough forms. Press dough evenly into the bottom of the baking dish. Place in freezer for at least fifteen minutes.
Place all caramel ingredients in the food processor and pulse until completely smooth. Spread evenly over the pecan crust. Place dish back in freezer for at least an hour, or overnight.
To make the ganache: bring the coconut milk to a boil on the stovetop or in a microwave. Pour in the chopped chocolate, and let it melt in the milk for 5 minutes. Stir the ganache until completely smooth and shiny.
Pour the ganache on the bars, top with extra pecans (if desired), and place in freezer. Freeze for at least 1 hour.
Slice the bars into 8 or 10 squares, then serve and enjoy.
Notes
Bars are best served cold. If they've been frozen overnight, let them sit out at room temperature for 10 minutes before eating.
---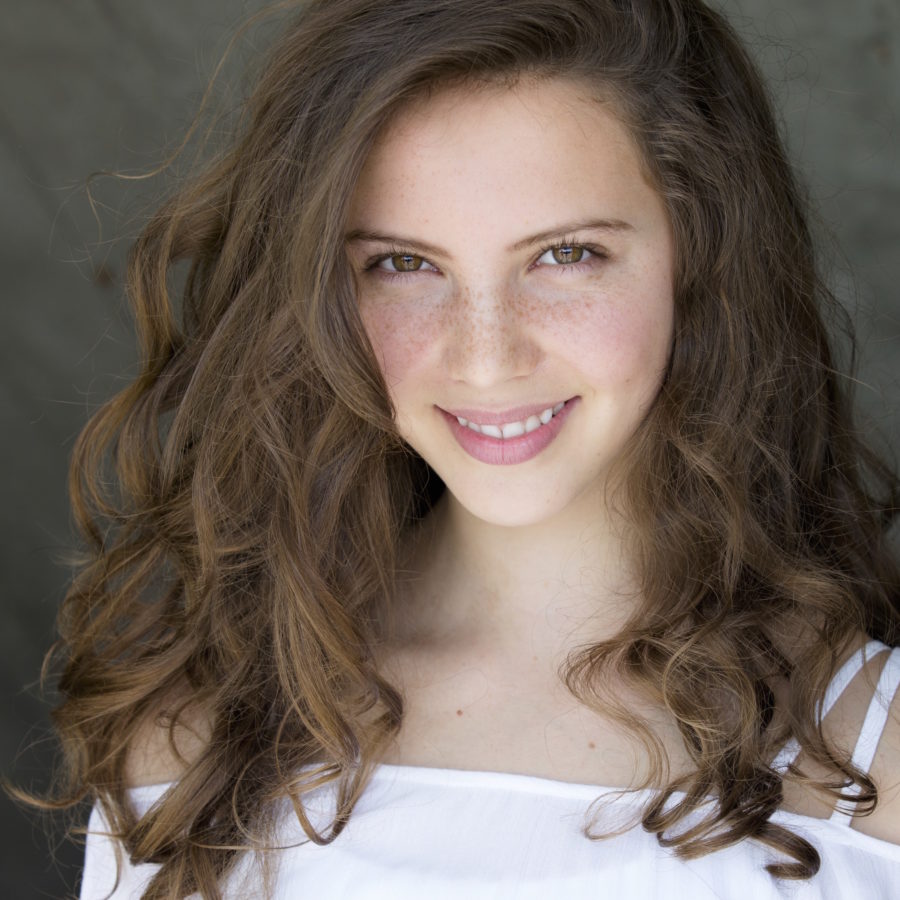 Sadie is a 15-year-old baker, author, podcaster, and lover of scrumptious, wholesome food.
She runs the baking blog GoodiesAgainstTheGrain.com, where she shares her recipes for treats that are free of gluten, grains, refined sugar, soy and dairy. Her belief is that nobody should feel deprived of sweets. Instead, they can make healthy treats that taste just as delicious (if not way better!) than the not-so-healthy alternatives.
She also hosts the brand-new health and wellness podcast Jump For Joy, where she interviews inspiring professionals about eating real food, mindful movement, and vibrant living.
To get all the recipes for Paleo, gluten-free treats, visit GoodiesAgainstTheGrain.com. Follow along on Instagram and get exclusive recipes: @GoodiesAgainstTheGrain.