Note from Heather: I'm very excited to have the very talented Michelle Spring guest posting these amazing-looking cookies today! Michelle has celiac like I do, and she also has Hashimoto's.  Her blog is an amazing resource and an inspiration to anyone looking to heal themselves!
Hi there! I'm Michele. I blog over at Thriving on Paleo and am a mama to two beautiful boys. I'm so honored to be writing today on Heather's blog. Heather is such an inspiration to me because she is like me, only 20 years younger. She and I have similar Celiac diagnosis stories (2 years AFTER going Paleo!), we are both tall, we both started down the path of health through our mothers having had cancer (fortunately Heather's survived), and we both have an intense desire to help others through our love of nutrient-dense food. If only I had known what she does at her age though! Any of you who are in your teens or early-20s and understand how healing food can be, good for you! You will have such empowered, amazing lives because of that knowledge.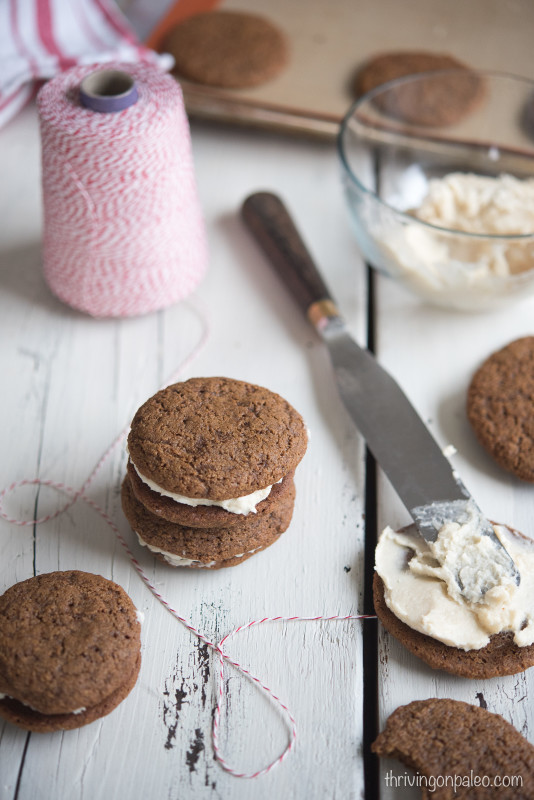 But enough about how cool you are, let's get on to my recipe! The holidays are here whether you believe it or not (in my mind it's still mid-August) and with them come lots and lots of opportunities to consume sweets. For better or worse, this tradition of making and eating sugary treats is deeply ingrained in many of us. Since I was a small child at least one day during this season each year has been filled with cookie making. Sometimes I do it alone, sometimes I invite hoards of friends over to join in on the fun, and sometimes I inwardly groan as my young children "help".
One of my absolute favorite cookies to make and eat though has been a Martha Stewart creation called a Chewy Molasses Cookie made into a cream-filled sandwich. Kind of like a lovely wintry gingersnap-spiced oreo cookie. But sure enough, the day I was diagnosed with Celiac disease this cookie went flying out of my cookie-day repertoire faster than you can say "wait! don't go!".
This year though I decided to tackle making it into something any of us avoiding gluten and grains could enjoy. It took quite a few delicious but unsuccessful tries (they wound up more like one giant, flat, cookie sheet-sized crispy blob), but I finally nailed it! I wouldn't say these are necessarily "healthy", but they are healthier than their original counterparts and have about a quarter of the amount of sugar. You can of course just make and serve the cookies without the cream-filling, but the filling definitely makes it special. These are completely dairy-free as well. I hope you enjoy and that you have warm, love-filled holidays!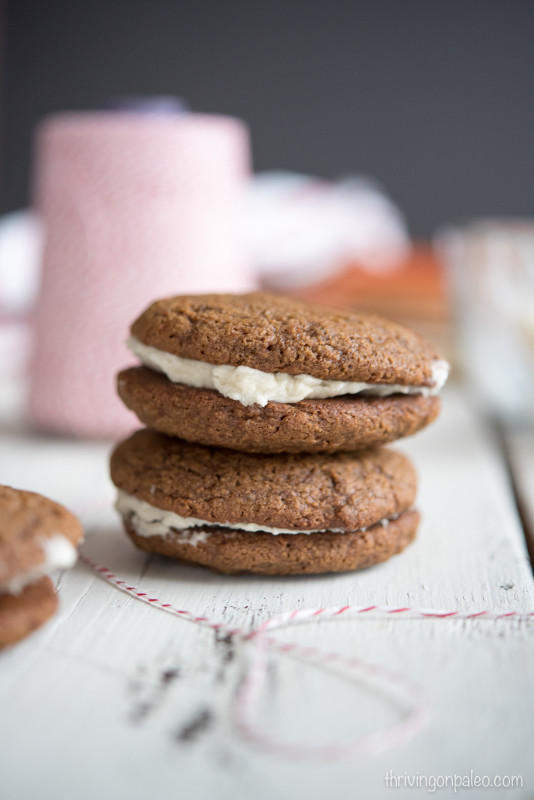 Paleo Molasses Cookies Sandwiches with Maple Cream Filling
Recipe type:
Cookies/Bars
Yield:
1 dozen cookie sandwiches
Ingredients
For the Molasses Cookies:
For the Maple Cream filling:
Instructions
For the Molasses Cookies:
Put the palm shortening and coconut sugar in the bowl of an electric mixer fitted with the paddle attachment or in a bowl using a hand mixer. Mix on medium speed until smooth. This takes about 3 minutes. It won't get super creamy, but will get smooth.
Mix in the eggs, followed by the molasses and coconut oil.
Reduce the speed to low and gradually add in the flours, baking soda, cinnamon, ginger, allspice, and salt.
Cover the dough with plastic wrap and refrigerate until firm, about 1 hour up to overnight.
Preheat the oven to 325 F. Scoop out walnut-sized amounts of dough and gently roll into a ball. Place about 3 inches apart on a baking sheet lined with parchment paper. Leave in the ball shape for best results (they will flatten out). Bake until cookies are set, about 17 minutes. Let cool completely before serving.
For the Maple Cream filling:
Mix all of the ingredients in a bowl with a hand mixer on medium-high speed until fluffy.
Use a spatula or knife to spread on the bottom of one molasses cookie and then place another molasses cookie on top to make a sandwich.
Nutrition Information
Serving Size:
1/12 of recipe
Calories:
426
Fat:
29.7g
Saturated fat:
14.7 g
Unsaturated fat:
15 g
Trans fat:
0 g
Carbohydrates:
37.5g
Sugar:
24.2 g
Sodium:
171 mg
Fiber:
1.6g
Protein:
2.3g
Cholesterol:
27mg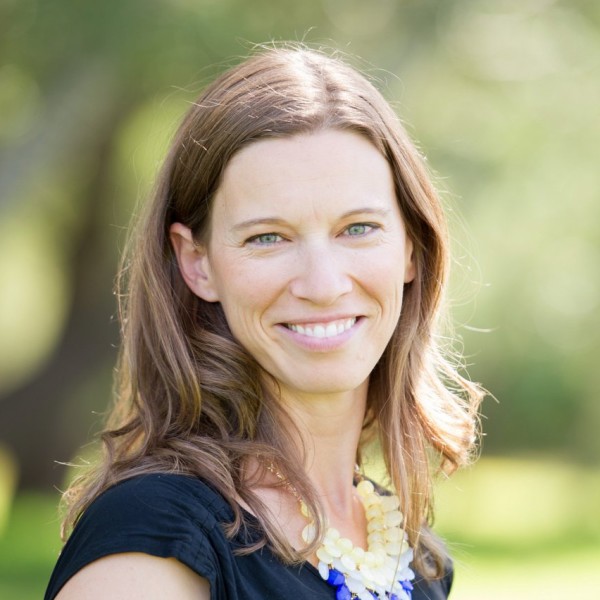 Michele Spring is a mom of 2 young boys and an expert on using the Paleo diet to feel your absolute best. Through her blog posts and short how-to videos she's here to help teach and inspire you to live a Paleo lifestyle while having the time of your life doing it.
When she's not blogging you can find her sewing up a new outfit, reading a great book, or desperately trying to keep her kids from making her house look like a tornado hit it.
Meet Michele and get her free Paleo recipe ebook at ThrivingOnPaleo.com.  Find her on Facebook, Instagram, and Pinterest.
If you buy something through one of the links in my sidebars or posts, I may receive a small commission to support my blogging activities, at no extra cost to you. Thank you for your support.