Note from Heather: I'm so excited to have the amazing Kaylie from Joyful Bite guest posting today! Doesn't this lemon cake look amazing? Kaylie has an amazing healing story and beautiful blog!
Hello dear friends! I feel so privileged to guest post for Heather this week! One of the joys of being a paleo teen is getting connected with other paleo teens who share the same interests and passion for real food! I love having the opportunity to hear success stories and share life with others on the other side of the country; this is one of the best parts of the paleo community! Heather's passion for real food and her love for providing healthy and creative recipes for others is such a blessing and inspiration!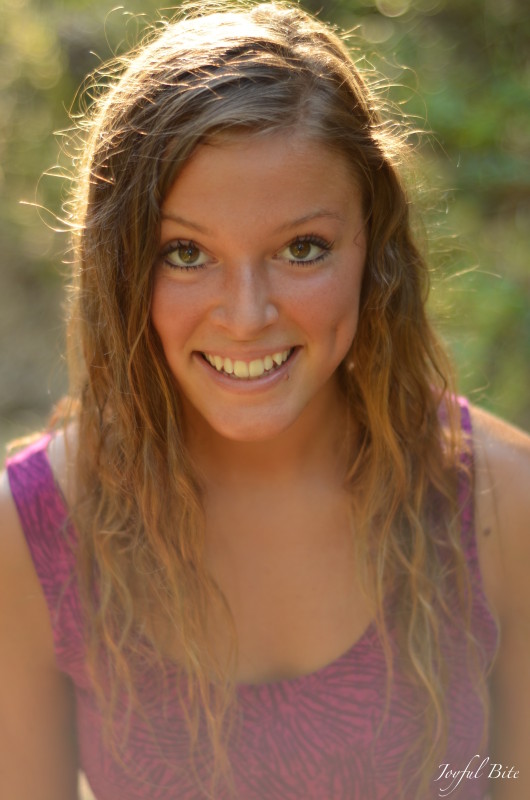 A little bit about me, before we get into some lemon cake! I am Kaylie, a teenage paleo home chef and creator over at my blog, Joyful Bite. I have fallen in love with the beauty of whole foods and the paleo lifestyle as I walk out of auto-immune health disorders and into vibrant health! Creating healthy paleo dishes is one of my passions and I am thrilled to share this love of holistic health and good food with others!
I believe in whole foods now more than ever and I am in awe of the beauty in God's original design for the human body's self healing process through food based nutrients. After years of battling auto immune health disorders, my body is finally starting to respond to treatments and assimilate nutrients from whole foods, so that I can begin healing! The smallest victories are so powerful and the hope and positive impact paleo has made in my world makes me excited to share it with others!
You can read my full health journey here.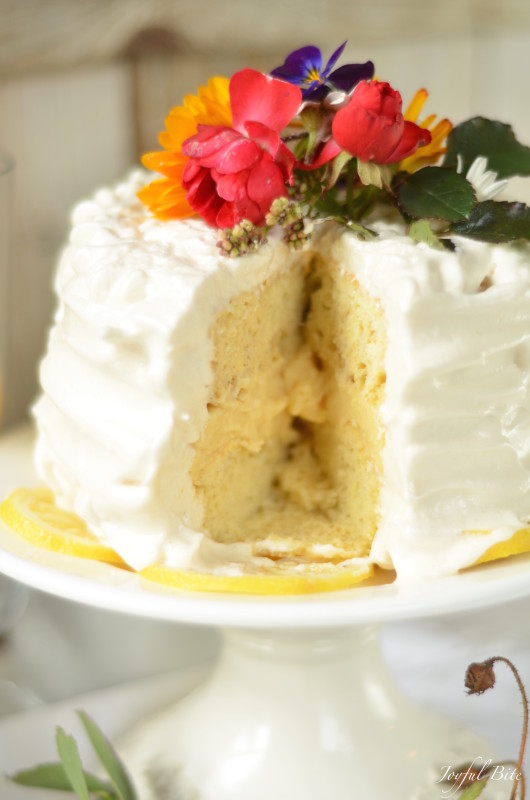 Alright it's time! I am thrilled to share this light and fluffy lemon cake with you! So, I know it's still the middle of winter and I should have probably prepared something a little bit more festive for the holidays, but there are no rules in my book when it comes to lemon! It's always the season for lemon cakes with flowers bursting with sunshine! This cake is unbelievably delicious and comes with a thick center of fresh made lemon curd (which is super easy to make!) sandwiched between two layers of perfectly light and moist lemon cake, and enclosed in mounds of creamy white meringue frosting!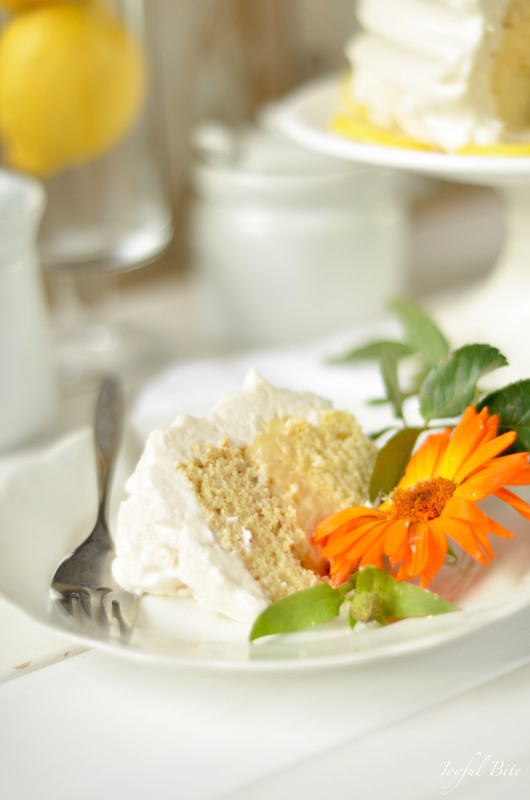 I love making mini cakes, they make me happy! I really enjoy frosting cakes, I think it's very therapeutic! When I was young, my siblings and I would love carving the butter… same idea. My Mom got so fed up with the butter looking like a different sculpture each time she pulled it out of the cupboard, so she sat all four of us down with a cube of butter each and let us have a hay day carving and molding the butter until our hearts were content!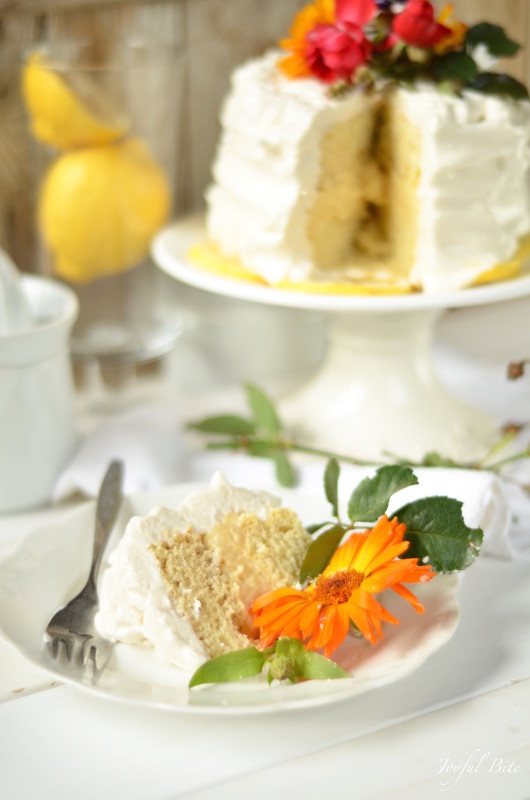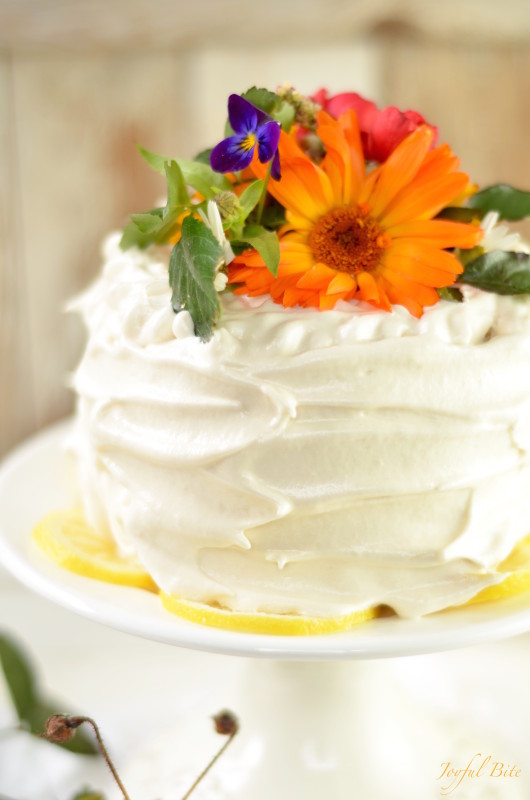 I have prepared a stevia sweetened version of this cake and I included the recipe alterations just incase you have sensitive blood sugar levels or just want a lower sugar content:) Enjoy!
Paleo Lemon Cake with Lemon Curd and Meringue Frosting
Author:
Ingredients
Cake
4 eggs
¼ cup [url href="http://www.amazon.com/gp/product/B000Z93FQC/ref=as_li_tl?ie=UTF8&camp=1789&creative=390957&creativeASIN=B000Z93FQC&linkCode=as2&tag=coituppa-20&linkId=KIABEF67QZFTOGN3″ target="_blank" rel="nofollow"]honey[/url] (or for a sugar free option: ¾ teaspoons [url href="http://www.amazon.com/gp/product/B0017WG180/ref=as_li_tl?ie=UTF8&camp=1789&creative=390957&creativeASIN=B0017WG180&linkCode=as2&tag=coituppa-20&linkId=6VDFNBFXU7CTNGZU" target="_blank"]stevia liquid[/url], NOW brand)
3 tablespoons [url href="http://www.amazon.com/gp/product/B000YF99GM/ref=as_li_tl?ie=UTF8&camp=1789&creative=390957&creativeASIN=B000YF99GM&linkCode=as2&tag=coituppa-20&linkId=2DASIAMJIGDRZFUG" target="_blank" rel="nofollow"]coconut flour[/url]
3 tablespoons [url href="http://www.amazon.com/gp/product/B00OJ757SK/ref=as_li_tl?ie=UTF8&camp=1789&creative=390957&creativeASIN=B00OJ757SK&linkCode=as2&tag=coituppa-20&linkId=CMYE5ZJMA36OWIQU" target="_blank" rel="nofollow"]arrowroot flour[/url]
3 tablespoons melted coconut oil
1 teaspoon vanilla extract
1 teaspoon baking powder
½ teaspoon salt
4 drops lemon essential oil
¼ teaspoon cream of tartar
Lemon curd
2 egg yolks
¼ cup honey (or for a sugar free option: ¼ cup coconut milk and ¾ teaspoon stevia liquid, NOW brand)
¼ cup full fat coconut milk (Thai Kitchen coconut milk)
1/2 cup lemon juice
1 tablespoon cold water
2 teaspoons arrowroot flour
2 teaspoons [url href="http://www.vitalproteins.com/collagen/pasture-raised-collagen-protein-gelatin.html?acc=82aa4b0af34c2313a562076992e50aa3″ target="_blank" rel="nofollow"]gelatin[/url]
1 teaspoon vanilla
⅛ teaspoon stevia liquid
Meringue Frosting
2 egg whites
¼ cup honey
¼ teaspoon cream of tartar
Instructions
Cake
Preheat the oven to 350 degrees and lightly grease two 6" spring form cake pans with coconut oil.
To make the cake, separate the egg yolks from the egg whites and place the egg whites in a large bowl and the egg yolks in a small bowl.
In the large bowl, beat the egg whites and cream of tartar with an electric mixer on high for about 2 minutes until the egg whites form almost stiff peaks. Add the honey to the egg whites and beat for one more minute.
In the small bowl, add (but do not combine!) the coconut flour, arrowroot flour, melted coconut oil, vanilla, salt, baking powder, and lemon essential oil.
Turn the electric mixer on low and slowly incorporate the small bowl of ingredients into the egg whites and gently combine for about 10 seconds.
Divide the cake batter between the two cake pans and bake on 350 degrees for 18 minutes.
Once the cakes are cooled, remove from the oven and cool
Lemon Curd
In a medium size sauce pan whisk the egg yolks, honey (or stevia), coconut milk, lemon juice, vanilla, and stevia until smooth.
Heat the lemon curd mixture on the stove over medium heat for 10 minutes, whisking continually. After ten minutes of whisking, the mixture should start to thicken, at this point, sprinkle the gelatin in the mixture while combining.
Take the pan off the heat and in a small bowl, stir the 2 teaspoons of arrowroot flour and 1 tablespoon cold water together and then stir it into the lemon curd; this will really thicken the curd.
Transfer the lemon curd into a bowl and chill for about 20 minutes in the freezer.
Meringue Frosting
Prepare a double boiler over the stove by filling a sauce pan with about 2" of water and inserting a large metal bowl over the sauce pan (do not let the bottom of the mixing bowl touch the water).
Whisk the egg whites, honey, and cream of tartar together in the large bowl over medium heat for 8 minutes. Stir continually!!! (so the eggs do not cook and adhere to the bowl.)
Remove the mixing bowl from the stove and immediately transfer the mixture to an electric mixer.
Beat the meringue on high for approximately 3 minutes or until the meringue forms stiff peaks.
Chill the meringue in the fridge a minimum of 1/2 hour before use.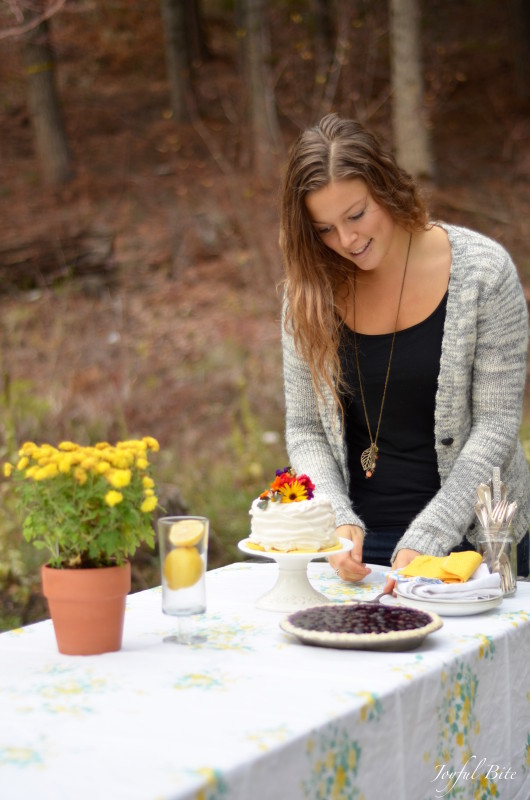 Stay connected with Kaylie: Joyful Bite, Facebook, Pinterest, Instagram
———
If you buy something through one of the links in my sidebars or posts, I may receive a small commission to support my blogging activities, at no extra cost to you. Thank you for your support.