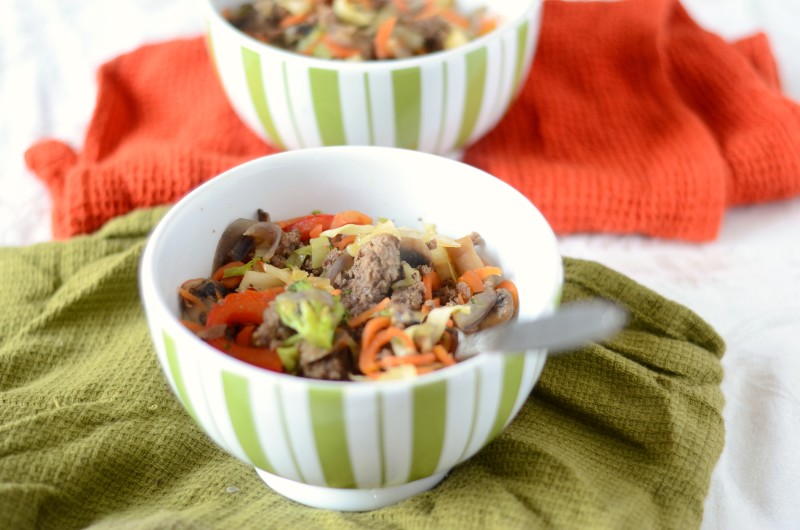 Sometimes I want to eat something kind of fancy, but all I have is ground beef.  That's how this recipe was born; I wanted a fancy-ish lunch with minimal effort and ingredients I already had in the cupboard.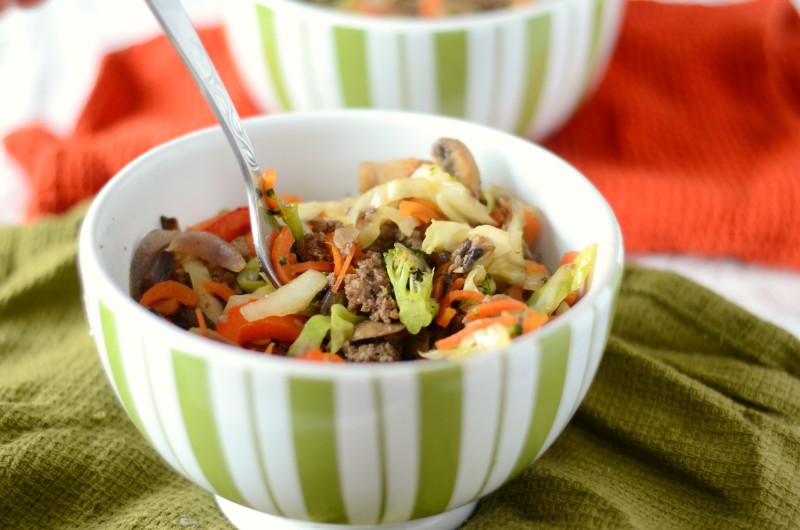 I had a lot of fun making carrot noodles with my new spiral veggie cutter, and the carrot and cabbage noodles really make this dish special!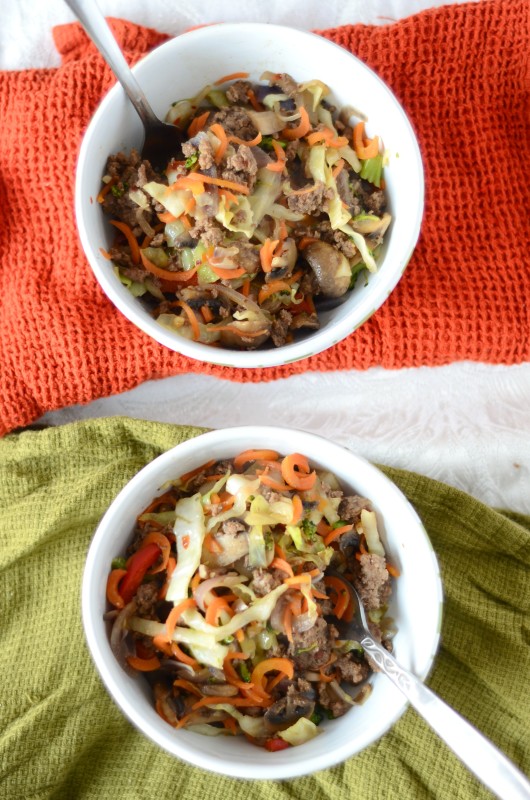 I especially love Asian-style food; before paleo my mother would take me to get Chinese food; it was soooo good; almost worth the migraines that I usually got afterwards.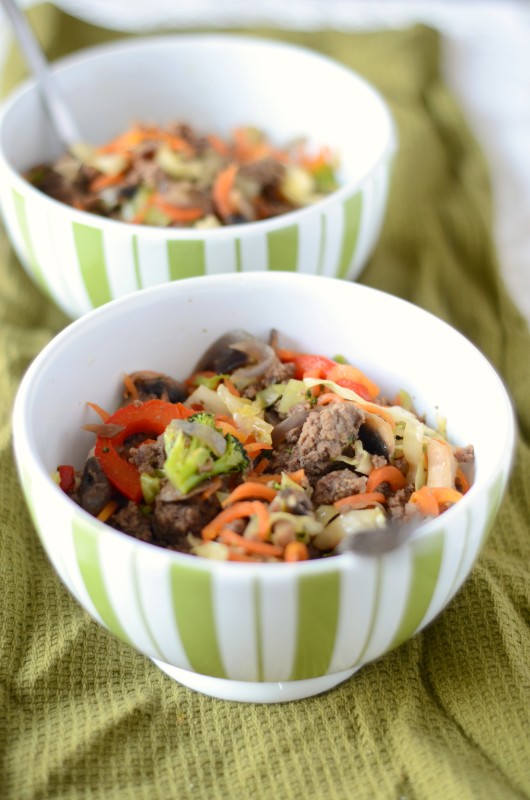 Asian-style food made with ground beef and veggies I have in the fridge? Yes please!!

Paleo Hamburger Stir Fry with Cabbage and Carrot Noodles
Ingredients
1 pound ground beef
1/2 red onion, sliced
2 garlic cloves, minced
12 ounces fresh mushrooms, sliced
1 sweet red pepper, sliced
2 cups chopped broccoli
3 carrots, spiralized
3 cups sliced cabbage
Pinch red pepper flakes
1/4 cup coconut aminos
Instructions
Heat up a large skillet and brown the beef.
Add the onion, garlic, mushrooms, and pepper. Saute for a few minutes.
Add the carrots, cabbage, red pepper and coconut aminos. Saute until veggie noodles are tender.
Serve and enjoy!
Nutrition Information
Serving Size:
1/3 of recipe
Calories:
411
Fat:
10.2 g
Saturated fat:
3.6 g
Unsaturated fat:
7.6 g
Trans fat:
0 g
Carbohydrates:
26.6 g
Sugar:
10.7 g
Sodium:
206 mg
Fiber:
7.2 g
Protein:
53.3 g
Cholesterol:
135 mg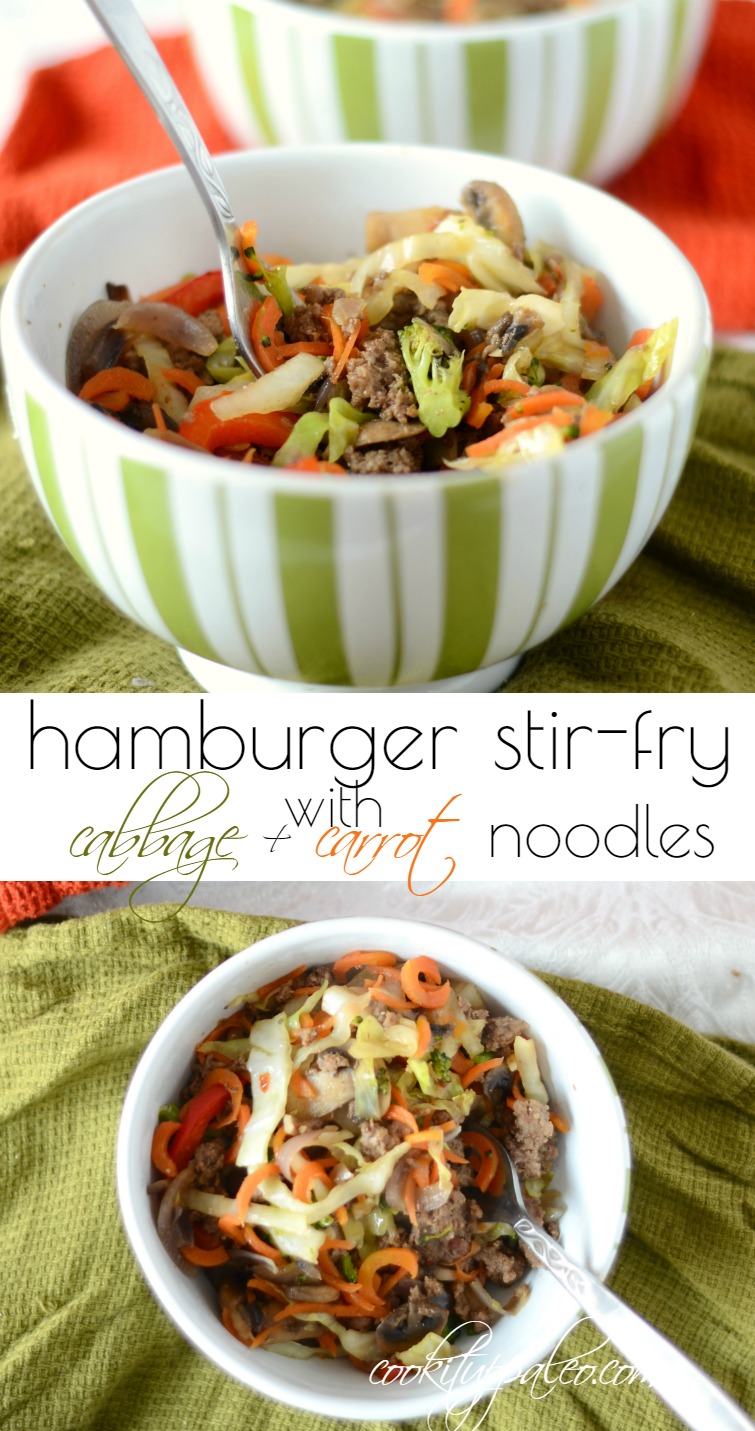 If you buy something through one of the links in my sidebars or posts, I may receive a small commission to support my blogging activities, at no extra cost to you. Thank you for your support.