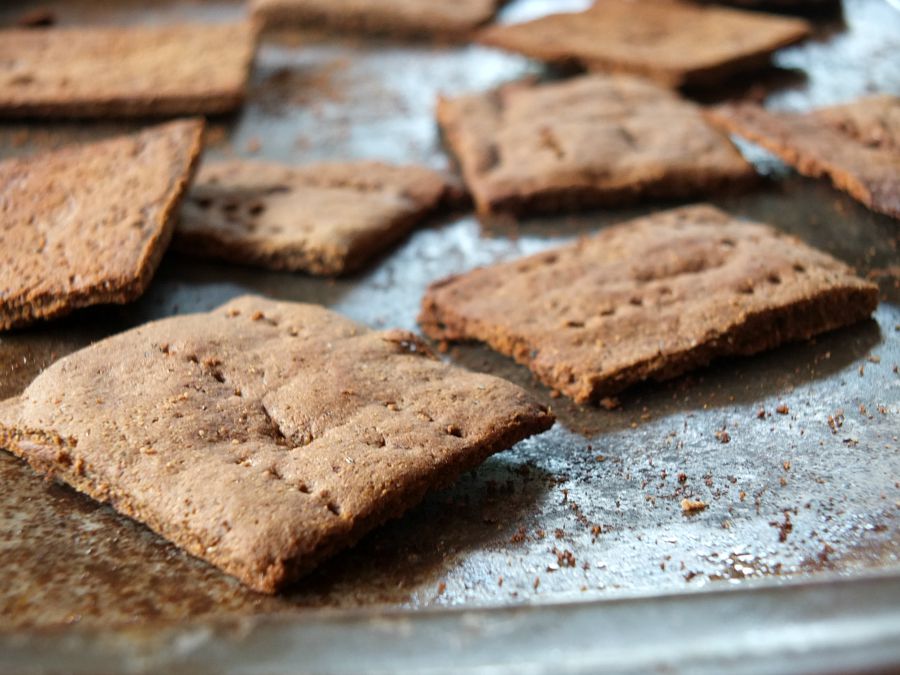 Graham crackers hold a lot of childhood nostalgia for me.  They were always our go-to "healthy" snack when I was little.  Usually we would break a cracker in half and my twin brother and I would each get a half.  Delish.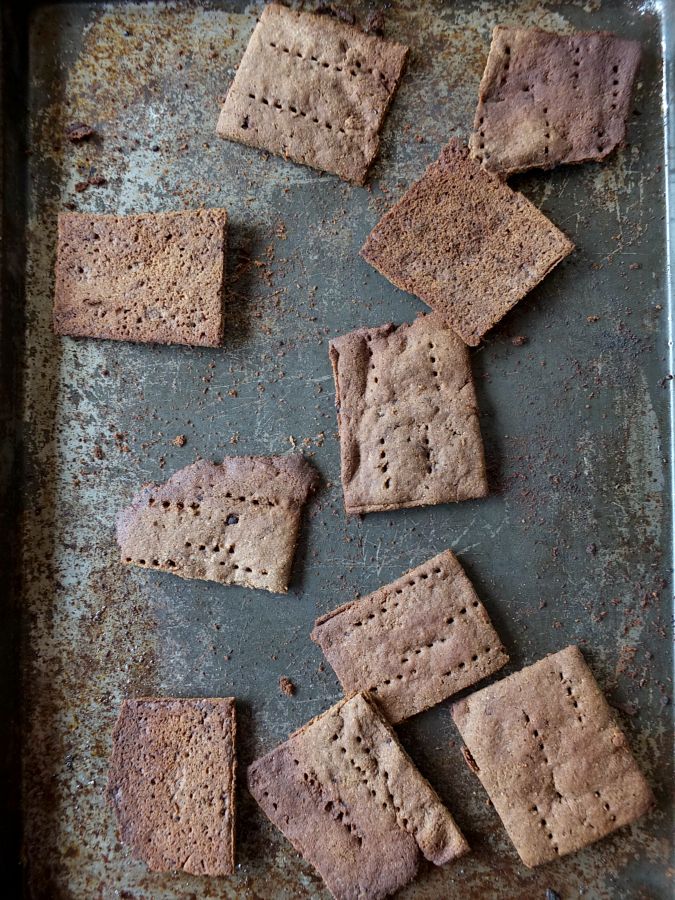 Graham crackers were also a key s'mores ingredient, of course.  A roasted marshmallow over the campfire smooshed between two graham crackers with a healthy amount of Hershey's chocolate was what dreams were made of.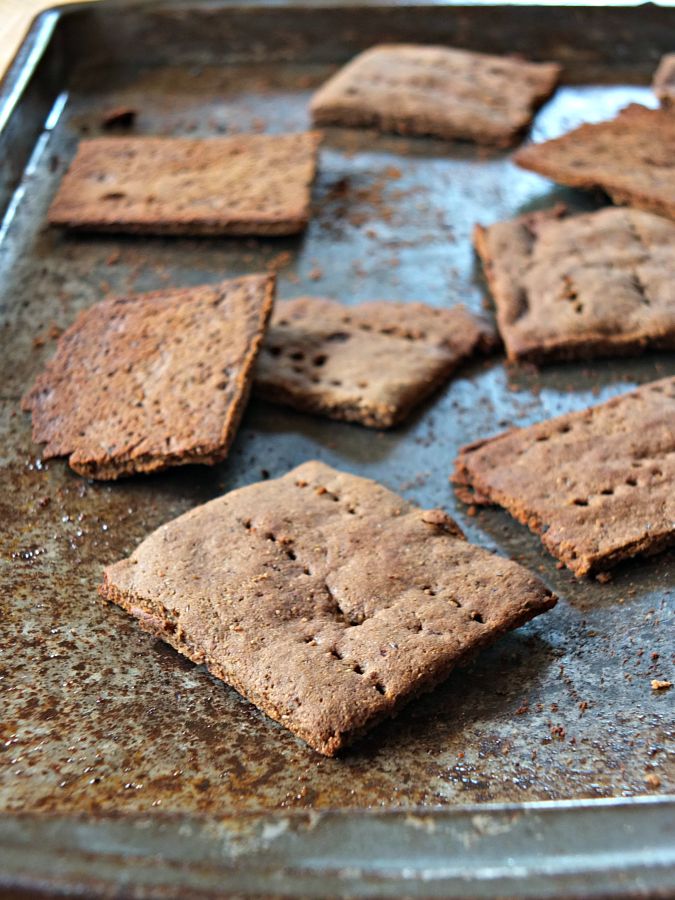 These graham crackers are crisp with that cookie-ish goodness that we all remember with graham crackers.  The carob powder and chia powder mimic the graham flour flavor in a real food way.  Whip up this recipe when you want s'mores or just a vehicle for nut butter and honey!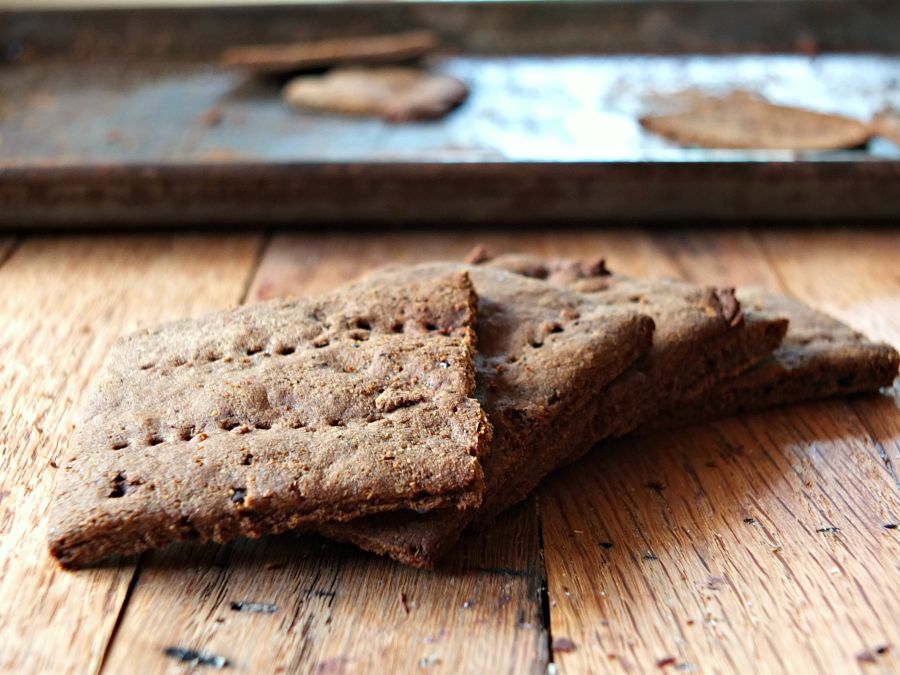 Pin for later: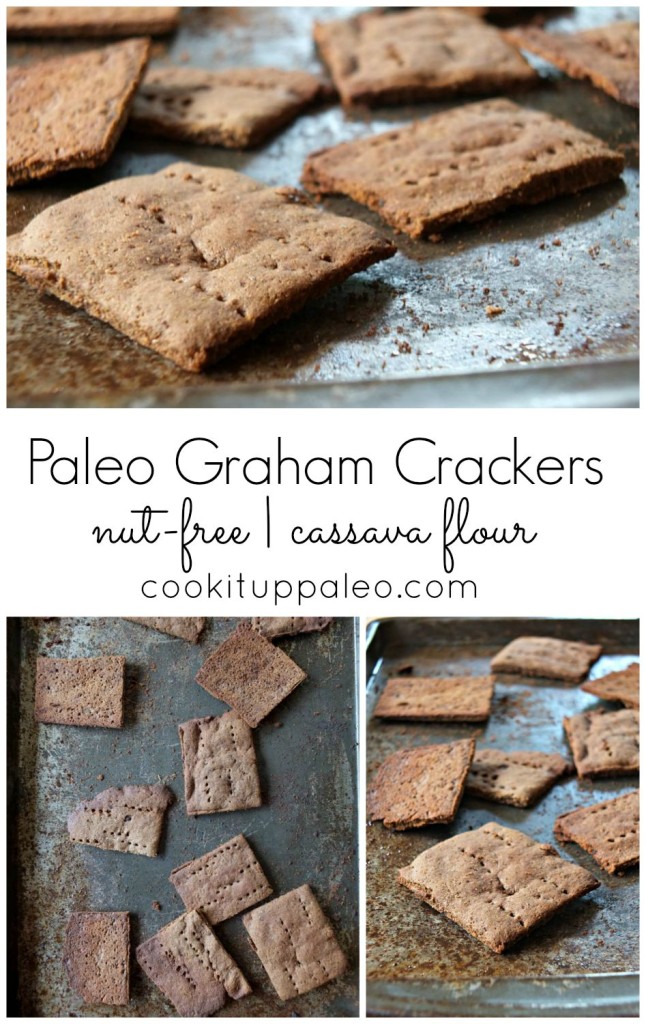 If you buy something through one of the links in my sidebars or posts, I may receive a small commission to support my blogging activities, at no extra cost to you. Thank you for your support 🙂 🙂 🙂
Shared at Fat Tuesday, Allergy-Free Wednesday
Paleo Graham Crackers
Recipe Type
:
Cookies/Bars
Author:
Prep time:
Cook time:
Total time:
Ingredients
eggs – 2
pure vanilla extract – 1 tablespoon
carob powder – 1-1/2 tablespoons
honey – 1/4 cup
coconut oil – 1/4 cup melted
cassava flour – 1/2 cup
coconut flour – 1/4 cup
chia seed powder – 2 tablespoons
ground cinnamon – 1 tablespoon
salt – 1/2 teaspoon
baking soda – 1/2 teaspoon
raw apple cider vinegar – 1/2 teaspoon
Instructions
Preheat oven to 350 degrees Fahrenheit and grease a large cookie sheet with some coconut oil.
In a large bowl, whisk together the eggs, vanilla, carob, honey, and coconut oil.
Stir in the cassava flour, coconut flour, chia seed powder. and salt.
Add the baking soda and apple cider vinegar and mix well.
Let sit a couple minutes so the dough can thicken up.
The dough might be sticky; that's ok; flour it with some coconut flour as you work with it. Press the dough out with your hands on the cookie sheet in a large 1/16 of an inch thick rectangle.
Use a pizza cutter to cut into the desired shapes/sizes of crackers and score with fork.
Bake for 8 minutes. Cut the crackers apart and spread them out a bit.
Bake for another 10-15 minutes, turning a couple times, until they brown a bit and start to crisp. They won't be that crisp from the oven; they will crisp up as they cool. Watch closely; they burn easily.
Cool and enjoy.