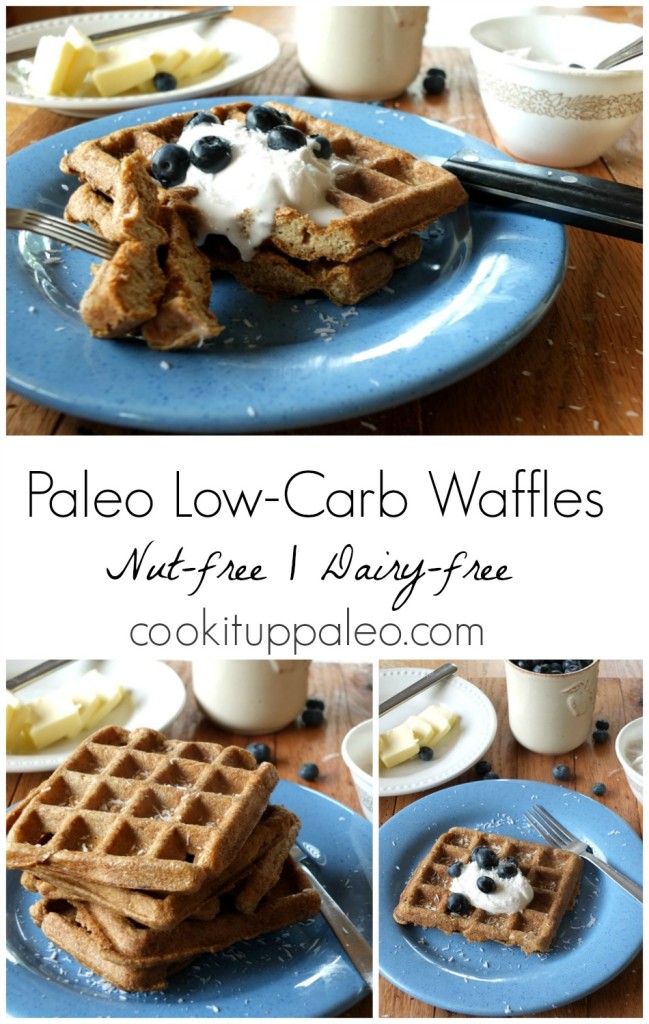 I have so many childhood memories of waffles.  My mom would make her signature homemade pancake batter and then she would bake it in the waffle iron.  The result was beautiful waffles that we smothered in butter and maple syrup.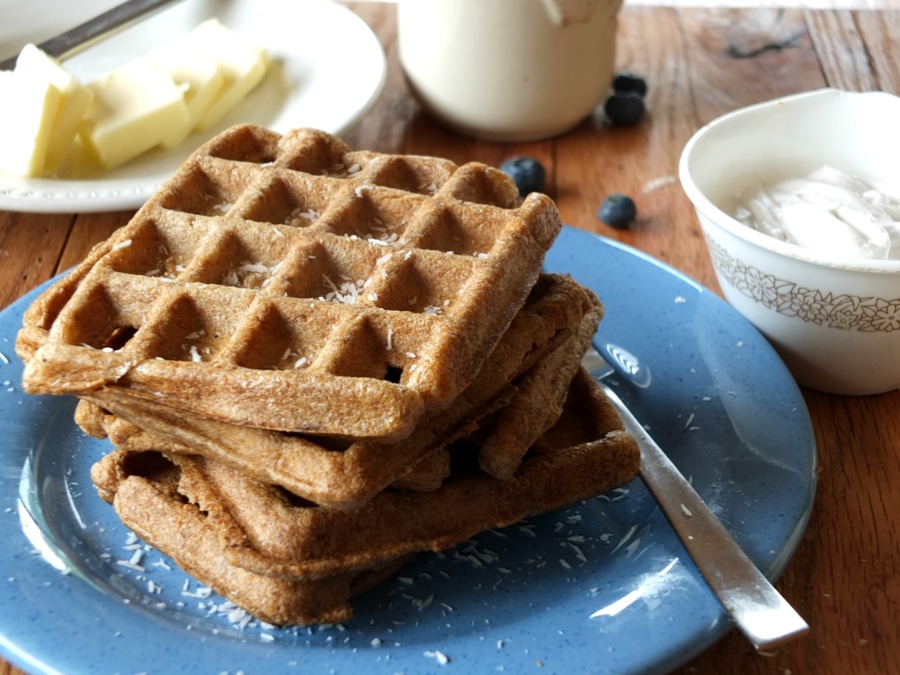 When we went paleo, we were a little overwhelmed, and I think that our waffle iron broke at some point.  It took a year or so before we got another waffle iron.  When we did, I was so excited to make coconut flour waffles.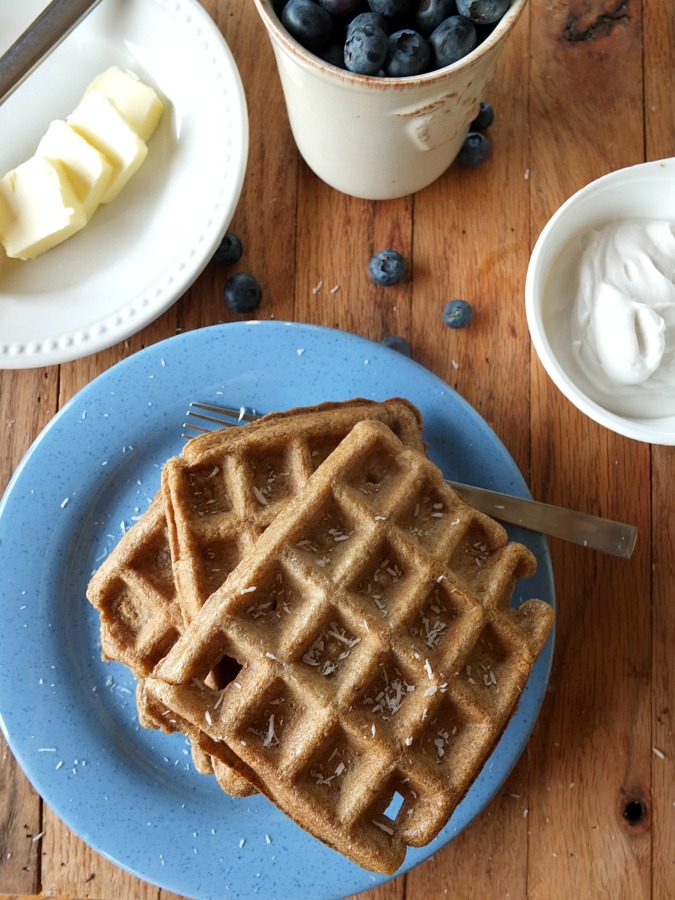 I've now made quite a few waffle variations, but this one is my favorite because it is crisp and light yet filling.  It's also high-protein and low-carb, so my body can handle it in the morning.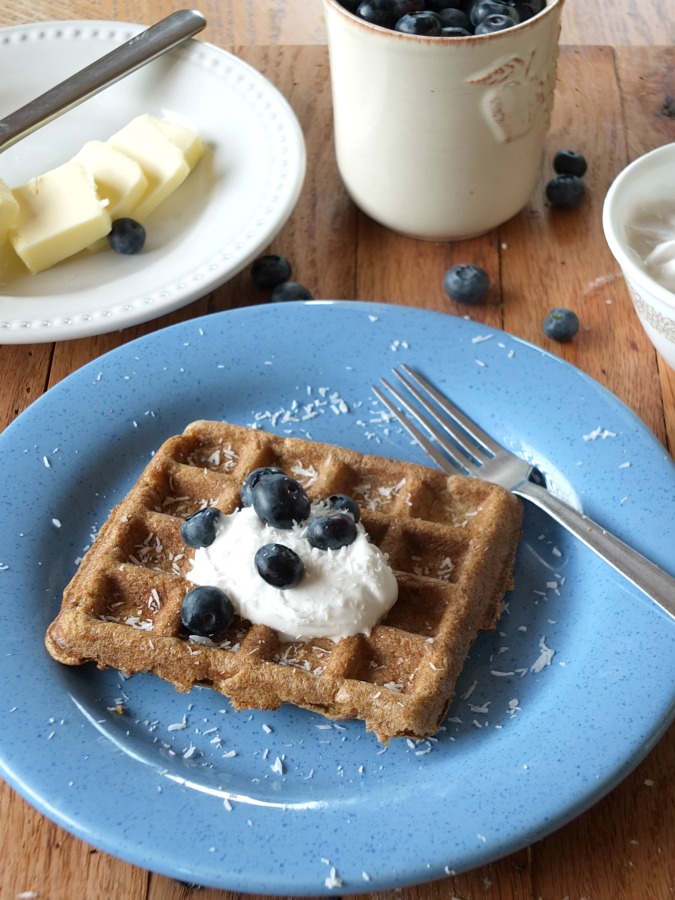 These coconut flour waffles didn't last long at all in our house, and I will definitely be making them again soon!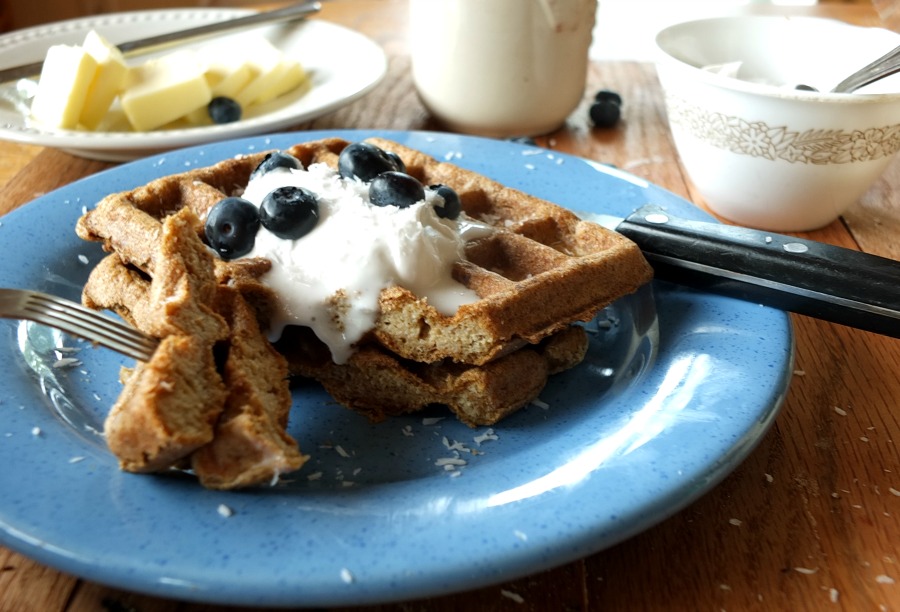 This recipe uses one of my new favorite ingredients: psyllium husk powder!! Why do I love it? Because it's pretty much just fiber, and when you put it in a baked goods it creates that elasticity that baked goods lack when you make them gluten-free.  Make sure you use powder and not the whole husks, which are more like flax meal than anything.
If you buy something through one of the links in my sidebars or posts, I may receive a small commission to support my blogging activities, at no extra cost to you.
Shared at Fat Tuesday and Allergy Free Wednesday
Paleo Coconut Flour Waffles (low-carb, nut-free)
Ingredients
egg whites - 3
egg yolks - 3
whole egg - 1
canned full-fat coconut milk - 1/2 cup
coconut oil - 1/3 cup, melted
pure vanilla extract - 1 tablespoon
psyllium husk powder - 1/4 cup
baking soda - 1/2 teaspoon
coconut flour - 5 tablespoons, divided
Instructions
In a large metal bowl (not copper), whip with egg whites until soft peaks form.
In another bowl, whisk together the remaining ingredients except for the coconut flour.
Carefully beat this mixture into the egg whites. Fold in the coconut flour, one tablespoon at a time.
Scoop the batter onto a hot waffle iron. I used the kind that has 4 square waffles. The batter puffs up a good bit, so I just used the two back squares at once. Scoop enough batter to cover 2/3 of each waffle square.
Bake in the waffle iron for 3-5 minutes. I found that the batter took about 2-3 minutes longer to cook than normal waffles do. The waffles should get fairly browned so that the inside can get a little dry and light, yielding a crispier waffle.