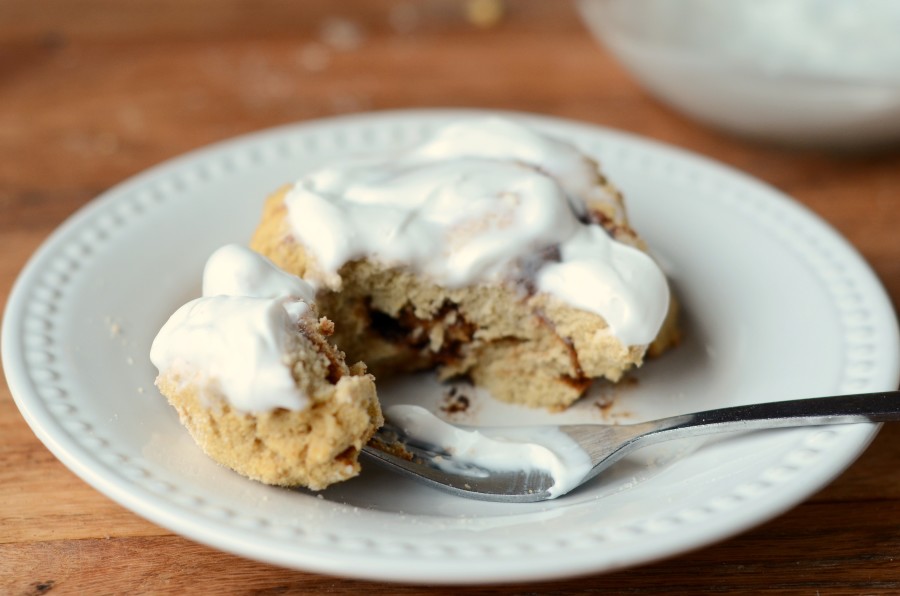 I'm on a little bit of cinnamon roll kick, but it's Christmas vacation and for me, Christmas means cinnamon rolls! On Christmas day I made my egg-free cinnamon rolls, but sometimes I want to enjoy a cinnamon roll that is a bit higher in fiber and lower in carbs.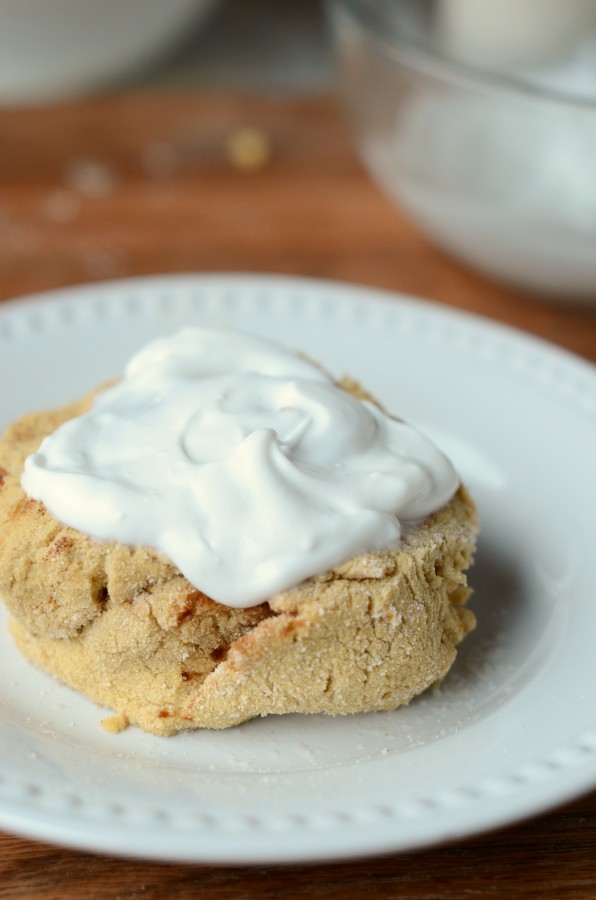 I've made so many different versions of this recipe to get it just right, it's embarrassing.  But it was completely worth is because this cinnamon roll is absolutely amazing.  The dough "bakes" up soft and bready, and the cinnamon and coconut sugar go so perfectly with the creamy coconut glaze.
Because this recipe requires some careful handiwork, I've created a video to show you exactly how it's done:
Enjoy! You'll want to pin this; you'll make it again and again!
Paleo Single Serve Cinnamon Roll
Instructions
Whisk the egg and egg white and coconut milk. Stir in the coconut flour, psyllium, and baking soda.
Add additional coconut flour, 1/2 tablespoon at a time, until dough forms. Pat out on a coconut-floured surface and sprinkle with coconut sugar and cinnamon.
Roll up and form into cinnamon roll shape on a plate.
Microwave 90 seconds.
To make the glaze, stir together the coconut cream and stevia.
Top the cinnamon roll with glaze and enjoy!
Notes
Recipe nutrition calculated with 1/2 TBSP coconut sugar in the filling.
Nutrition Information
Serving Size:
1 recipe
Calories:
412
Fat:
25.8 g
Saturated fat:
20.7 g
Unsaturated fat:
4.1 g
Trans fat:
0 g
Carbohydrates:
33.6 g
Sugar:
13.9 g
Sodium:
159 mg
Fiber:
15.1 g
Protein:
14.4 g
Cholesterol:
164 mg