Note from Heather: I'm very excited to have Katie Benson of Healing Whole Nutrition guest posting this amazing recipe today! Be sure to check out Katie's blog, especially this paleo vegan brownie recipe!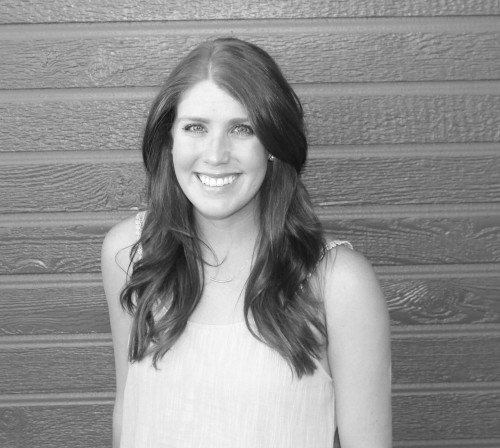 Hi ya'll! My name is Katie and I'm so excited to be posting on Cook it Up Paleo today. Thanks for having me, Heather! I'm a Certified Nutrition Therapist and Nutrition and Food blogger over at Healing Whole Nutrition. Before dabbling in the nutrition world, I worked at a Private Equity firm right out of college. Despite the excitement of my first 9-5, I decided it was time to pursue my true passion and go back to school to study Holistic Nutrition. 2 years later, and I'm finishing up with school and starting my own practice where I strive to teach people how important it is to eat a nutritious, whole foods diet. I believe in a Paleo diet, but definitely have my fair share of nutrient-dense, but non-paleo foods throughout the week. Follow me on Instagram and Facebook to see what else I'm up to!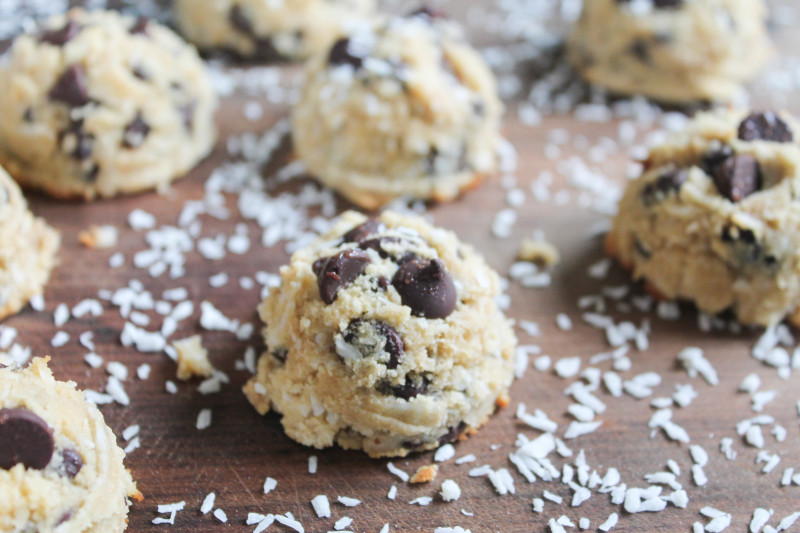 I'm so excited to share today's recipe with the Cook It Up Paleo readers. Ever since I made these macaroons about 2 weeks ago, my husband and I haven't stopped talking about them! I am somewhat of a paleo baked-good connoisseur and these are definitely some of the easiest (one bowl, ya'll!) and tastiest treats I've ever made.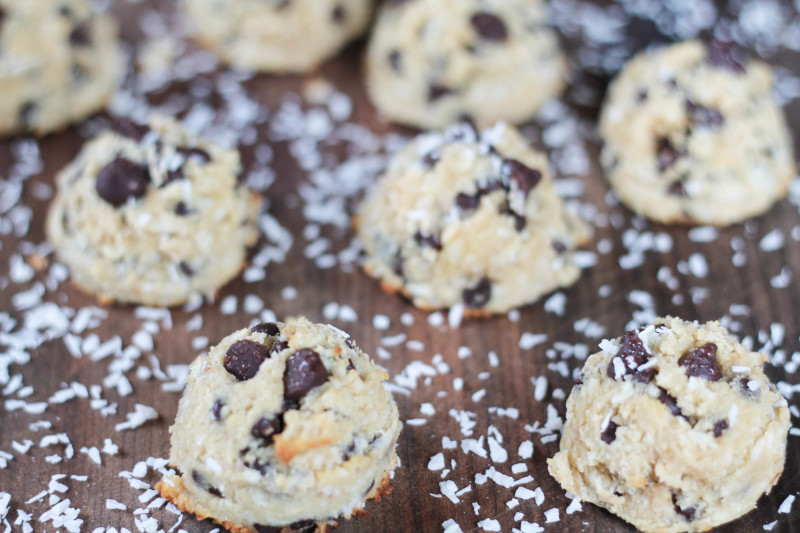 A few weeks ago I set out to make chocolate chip cookies using a tried and true paleo recipe, but at the last minute decided to add quite a bit of unsweetened coconut to the batter. After a short 8 minutes in the oven (who doesn't love a slightly underdone chocolate chip cookie?), it was easy to see the coconut was a great decision. The "cookies" yielded a slightly dense, slightly chewy texture that resembled some of my favorite macaroons from Whole Foods.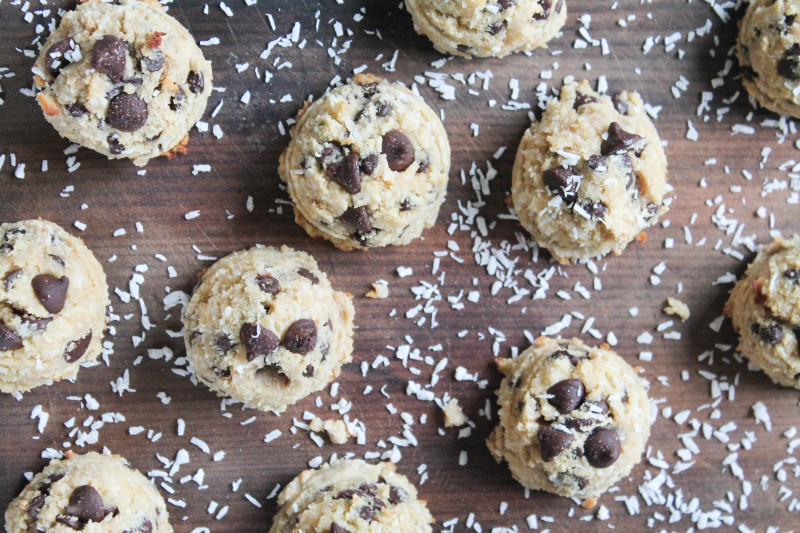 It's funny how some of my favorite recipes happen by accident, but I'm not complaining, and neither should you. These are DELISH. They're also grain, gluten, and dairy free and really low in sugar (only 3 Tbsp raw honey!) making them the perfect option for someone who loves sweets, but doesn't love the sugar and carb-loaded crash later.
I hope you enjoy this little taste of Heaven. Try refrigerating them after they've cooled for an even chewier, authentic-tasting macaroon!
Paleo Chocolate Chip Macaroons – guest post from Katie of Healing Whole Nutrition
Recipe Type
:
Cookies/Bars
Author:
Ingredients
½ cup [url href="http://www.amazon.com/gp/product/B0108Y1QPU/ref=as_li_tl?ie=UTF8&camp=1789&creative=390957&creativeASIN=B0108Y1QPU&linkCode=as2&tag=coituppa-20&linkId=7VQRNKRXY2FZUB6Z" target="_blank"]coconut oil[/url] – melted
3 Tbsp [url href="http://www.amazon.com/gp/product/B000Z93FQC/ref=as_li_tl?ie=UTF8&camp=1789&creative=390957&creativeASIN=B000Z93FQC&linkCode=as2&tag=coituppa-20&linkId=T5UQVTHZKVDD5ZPK" target="_blank"]raw honey[/url]
4 eggs
1 tsp vanilla
1/8 tsp [url href="http://www.amazon.com/gp/product/B000BD0SDU/ref=as_li_tl?ie=UTF8&camp=1789&creative=390957&creativeASIN=B000BD0SDU&linkCode=as2&tag=coituppa-20&linkId=62UQWQL4EYPT3XME" target="_blank"]salt,[/url] for cookies
¾ cup [url href="http://www.amazon.com/gp/product/B00BSZBEAG/ref=as_li_tl?ie=UTF8&camp=1789&creative=390957&creativeASIN=B00BSZBEAG&linkCode=as2&tag=coituppa-20&linkId=HPDN5L472P5FD3BB" target="_blank"]coconut flour[/url]
¼ tsp ground cinnamon
¾ cup unsweetened finely shredded [url href="http://www.amazon.com/gp/product/B000F4D5GC/ref=as_li_tl?ie=UTF8&camp=1789&creative=390957&creativeASIN=B000F4D5GC&linkCode=as2&tag=coituppa-20&linkId=EYCUVTBGJOSNOQLZ" target="_blank"]coconut[/url]
1 cup chocolate chips of choice – I used [url href="http://www.amazon.com/gp/product/B000HDJZWO/ref=as_li_tl?ie=UTF8&camp=1789&creative=390957&creativeASIN=B000HDJZWO&linkCode=as2&tag=coituppa-20&linkId=L2TES42BDZG3QFUH" target="_blank"]Enjoy Life Minis[/url] – plus 2 Tbsp to add to the top of the macaroons before baking
1 tsp [url href="http://www.amazon.com/gp/product/B000BD0SDU/ref=as_li_tl?ie=UTF8&camp=1789&creative=390957&creativeASIN=B000BD0SDU&linkCode=as2&tag=coituppa-20&linkId=62UQWQL4EYPT3XME" target="_blank"]sea salt[/url], for topping
Instructions
Preheat oven to 350F.
Line a cookie sheet with parchment paper
In a large bowl, add the coconut oil and place in the microwave to melt
Add the honey, eggs and vanilla and whisk to combine
Add the coconut flour, shredded coconut, salt and cinnamon and stir to combine.
[url href="http://cookituppaleo.com/?attachment_id=5410″][img src="http://cookituppaleo.com/wp-content/uploads/2016/02/629-e1455581463236.jpg" width="800″ height="533″ class="aligncenter size-full" title="629″ alt="Paleo Chocolate Chip Macaroons – guest post from Katie of Healing Whole Nutrition"][/url]
Stir in the chocolate chips.
[url href="http://cookituppaleo.com/?attachment_id=5411″][img src="http://cookituppaleo.com/wp-content/uploads/2016/02/636-e1455581500769.jpg" width="800″ height="533″ class="aligncenter size-full" title="636″ alt="Paleo Chocolate Chip Macaroons – guest post from Katie of Healing Whole Nutrition"][/url]
Using a cookie scoop – mine holds 1 ½ Tbsp – scoop the dough onto the cookie sheet, leaving 1" in between each scoop
[url href="http://cookituppaleo.com/?attachment_id=5416″][img src="http://cookituppaleo.com/wp-content/uploads/2016/02/637-e1455581523447.jpg" width="800″ height="533″ class="aligncenter size-full" title="637″ alt="Paleo Chocolate Chip Macaroons – guest post from Katie of Healing Whole Nutrition"][/url]
Press 2-3 extra chocolate chips on each macaroon.
[url href="http://cookituppaleo.com/?attachment_id=5415″][img src="http://cookituppaleo.com/wp-content/uploads/2016/02/656-e1455581548755.jpg" width="800″ height="533″ class="aligncenter size-full" title="656″ alt="Paleo Chocolate Chip Macaroons – guest post from Katie of Healing Whole Nutrition"][/url]
Bake for 8 minutes, then salt the hot macaroons with the sea salt
Let the macaroons sit on the cookie sheet for about 5 minutes, then move to a cooling rack
Serving size:
1/18 of recipe
Calories:
179
Fat:
30.9 g
Saturated fat:
10.5 g
Unsaturated fat:
20.4 g
Trans fat:
0 g
Carbohydrates:
12.8 g
Sugar:
8.9 g
Sodium:
154 mg
Fiber:
2.5 g
Protein:
2.9 g
Cholesterol:
39 mg
Notes
*We love to store our macaroons in the fridge or the freezer to achieve an even chewier macaroon![br]*Don't overcook these, even if they don't seem done! In order to achieve the macroon-like texture, 8 minutes is the longest they should be in