This recipe is really quite easy; especially if you buy pre-chopped veggies. The pure flavors of Chinese lo mein are recreated in this recipe without noodles, soy or even sesame oil, which can be damaged by cooking. This lo mein is so delicious, and it was the best breakfast I've had in forever.
And yes you can have it for lunch too.


Paleo Chinese Lo Mein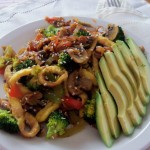 Prep Time : 30 minutes
Cook Time : 20 minutes
Rating
Yield :

3 servings

Allergens : egg, FODMAP, nightshade
Nutrition facts :
Instructions
In a large bowl, whisk the eggs. To a 12-inch skillet, add 1/2 the coconut oil and melt over medium heat. Pour in 1/2 the eggs. Cover and cook until dry around edges. Flip with a spatula and cook until cooked through. Remove the "egg pancake" to a plate. Repeat steps 2 through 4 with the remaining coconut oil and eggs. Use a pizza cutter to cut the "egg pancakes" into thin noodle-like strips. Set aside. To the same skillet, add the red palm oil. Add the garlic and ginger and cook just a minute or so, to infuse the oil with flavor. Add the sliced onion and cook until they start to tenderize. Add the broccoli, bell pepper, celery, and mushrooms and saute until the veggies are tender. Add in the grated carrot and saute just a minute more. Stir in the egg "noodles" and coconut aminos to taste. Serve sprinkled with sesame seeds with avocado on the side.