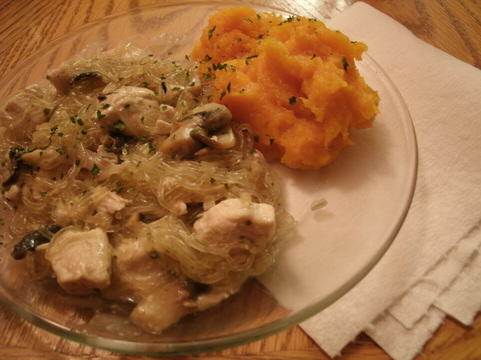 Paleo Chicken Tetrazzini! When we were not paleo, Mom used to make this with cream soup and pasta; we called it "special spaghetti" and we just loved it! My version is just as delicious, and the kelp noodles actually got all tender and tasted just like angel hair. We ate ours with butternut squash, cooked in the crock pot!
Paleo Chicken Tetrazzini
Author:
Prep time:
Cook time:
Total time:
Ingredients
boneless skinless chicken breast – 21/2 pounds raw, cubed
fat of choice – 1 tablespoon
garlic – 4 cloves, minced
chicken broth – 2 cups
canned full-fat coconut milk – 1 cup
onion powder – 1/2 teaspoon
red pepper flakes – 1/4 teaspoon
dried parsley – 1 teaspoon
garlic powder – 1/2 teaspoon
ground nutmeg – 1/4 teaspoon
salt – to taste
black pepper – to taste
mushrooms – 12 oz., sliced
arrowroot starch – 3 tablespoons
cold water – 1/3 cup
kelp noodles – 12 oz., drained and cut up a bit
Instructions
Melt fat of choice in a large saucepot. Add chicken and saute until almost fully cooked. 2. Add garlic and saute a couple minutes. 3. Add in broth, coconut milk or cream, spices, salt, pepper and mushrooms. Stir together and simmer for about 15 minutes. 4. Spread the kelp noodles in a greased 9×13 in. baking dish. 5. Strain the sauce into a bowl, and toss the chicken and mushrooms with the kelp noodles in the baking dish. 6. Pour the liquid sauce back into the pot and bring to a simmer. 7. Stir together the arrowroot and cold water to make a slurry. While stirring the sauce, pour this mixture into the sauce and allow to thicken. 8. Pour the sauce over the kelp noodles, chicken and mushrooms in the baking dish an toss together a bit. 9. Cover with foil and bake at 375 degrees F. for 30 minutes.