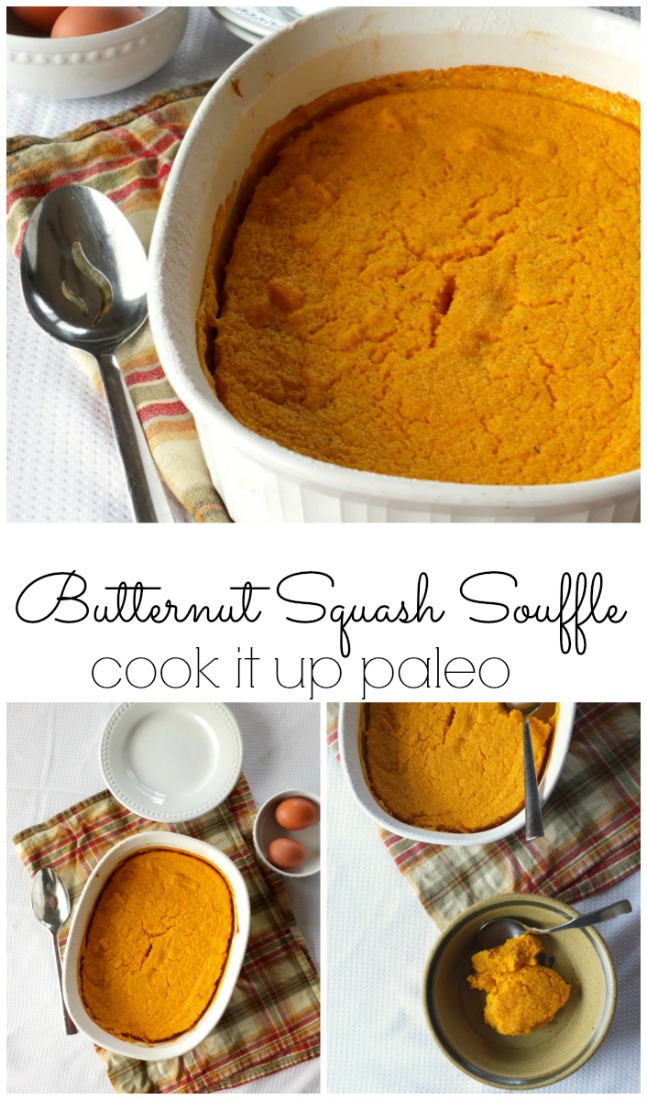 When I was little, I thought squash was kind of weird.  Orange and squishy; I only liked it with lots of butter and salt.  Actually I loved everything with lots of butter and salt, but that's another blog post.
I've realized now that I love squash as long as it is pureed really well so it's nice and creamy; like in my Butternut Squash Soup recipe.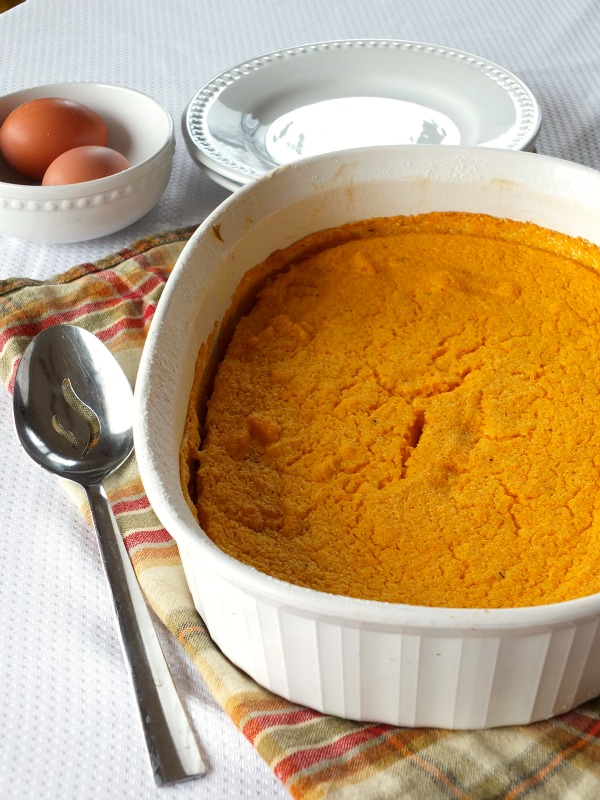 I absolutely love this fluffy souffle, and it's so much easier to make than I ever thought a souffle would be! It would be perfect with a Thanksgiving dinner or on a cold winter night with roast or a stew.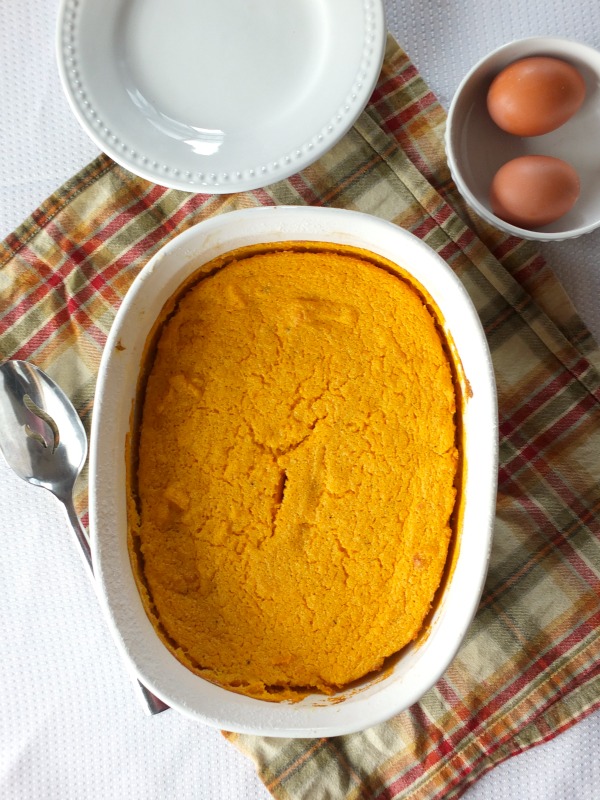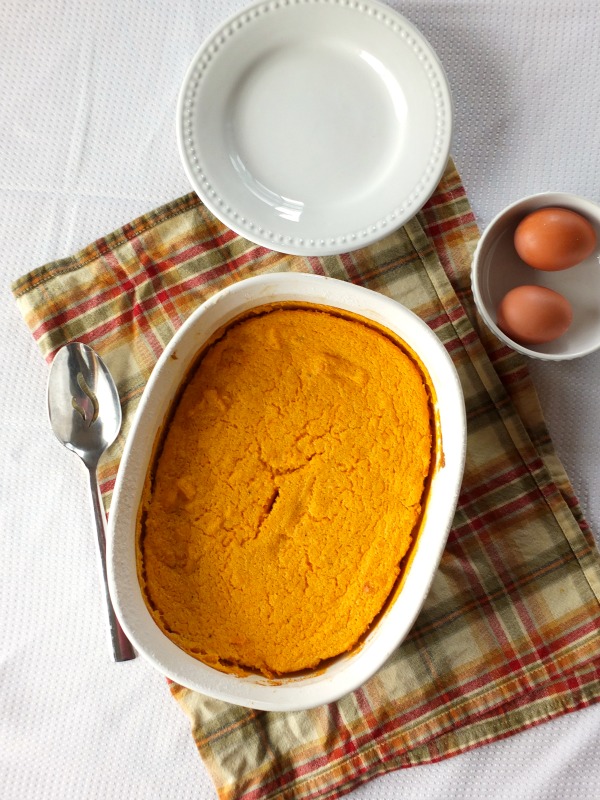 Simple Paleo Butternut Squash Souffle
Instructions
Preheat oven to 350 degrees F.
Grease and flour (with arrowroot starch) a casserole or souffle dish.
Poke the squash all over and microwave for 15-20 minutes, or until tender.
Let cool a bit, cut in half, scoop out seeds, and scoop flesh into a food processor.
Add the egg yolks, coconut milk, salt, and pepper to the food processor.
Process until smooth. Transfer to a large mixing bowl.
Whip the egg whites until stiff.
Fold the egg whites into the squash.
Transfer to the souffle dish.
Bake for 40-50 minutes
Nutrition Information
Serving Size:
1/6 of recipe
Calories:
135
Fat:
7.9 g
Saturated fat:
5.3 g
Unsaturated fat:
2.6 g
Trans fat:
0 g
Carbohydrates:
12.6 g
Sugar:
2.9 g
Sodium:
61 mg
Fiber:
2.3 g
Protein:
5.6 g
Cholesterol:
140 mg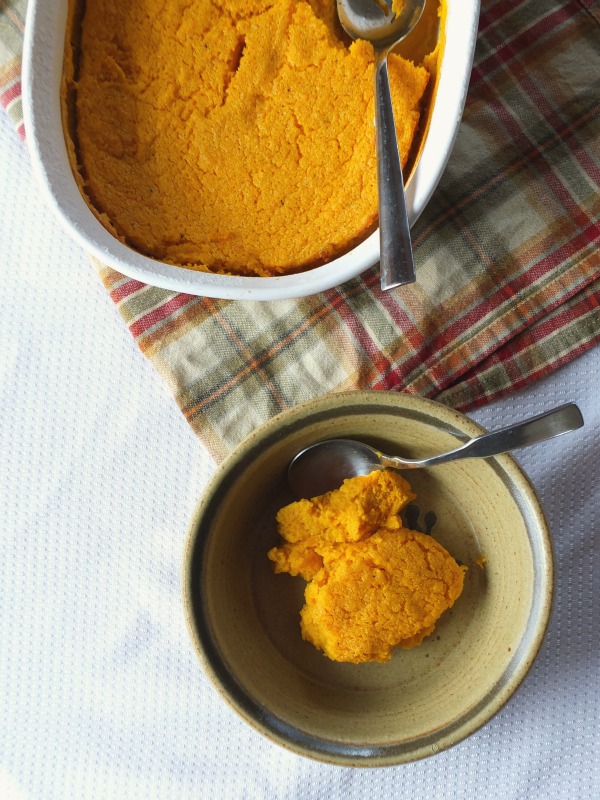 If you buy something through one of the links in my sidebars or posts, I may receive a small commission to support my blogging activities, at no extra cost to you. Thank you for your support.
Shared at Savoring Saturdays