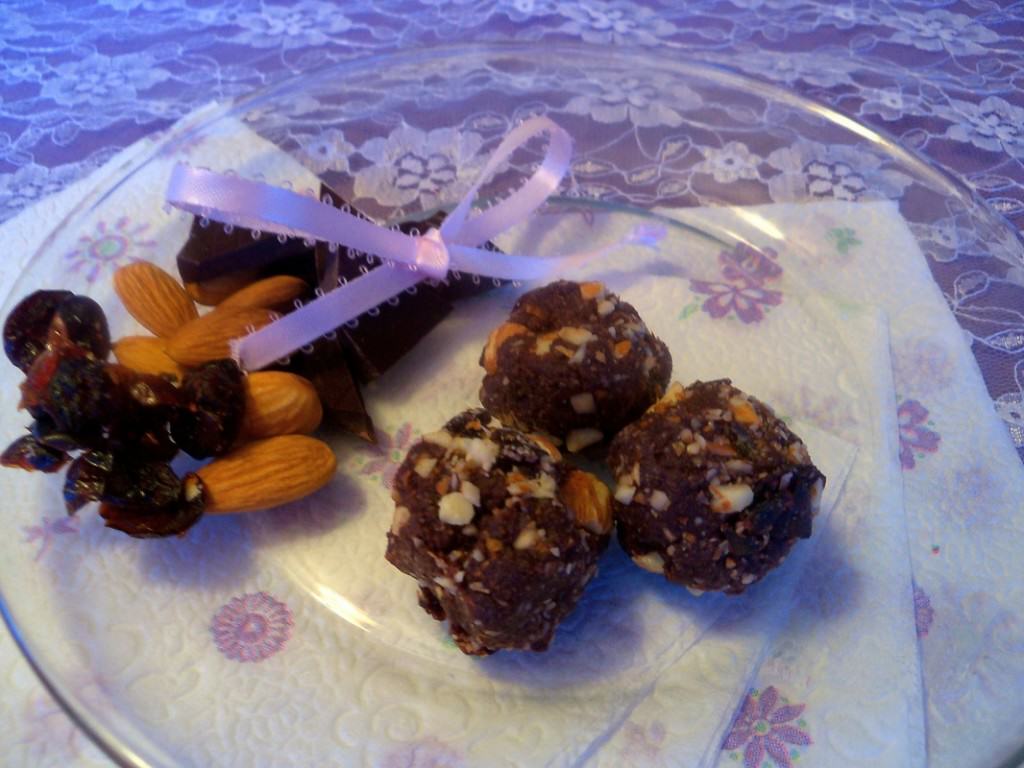 In practicing my food photography, I needed a new recipe to try out my skills on.  That's the origin of this fudge-y truffle recipe.  Conventional recipes for truffles use butter and cream, but I had just made some homemade coconut butter and thought that it might work well.  The coconut butter was easy to make and used dried shredded coconut, so no specialty items here! This is super-easy  to whip up, and I must say the results are amazing, chocolate-y goodness with a burst of dried cranberry and the crunch of almonds…..mmmmmm….
Paleo Truffles
Recipe type:
Cookies/Bars
Ingredients
coconut butter - 1/2 cup
dark chocolate - 4 oz.
raw honey - 3-4 tablespoons
pure vanilla extract - 1 teaspoon
ground nutmeg - 1/4 teaspoon
salt - dash
dried cranberries - 1/4 cup
almonds - finely chopped, for rolling
Instructions
In a microwave safe bowl, add all ingredients except for the cranberries and almonds. Microwave 1-2 minutes, until chocolate melts, and mix well. Stir in cranberries. Form into 12 to 16 small balls and roll in chopped almonds. Freeze on a tray for an hour or so, then transfer to the refrigerator. Variation: Feel free to roll the truffles in whatever strikes your fancy, such as other nuts, shredded coconut, cocoa powder, or for real treat, powdered sugar.