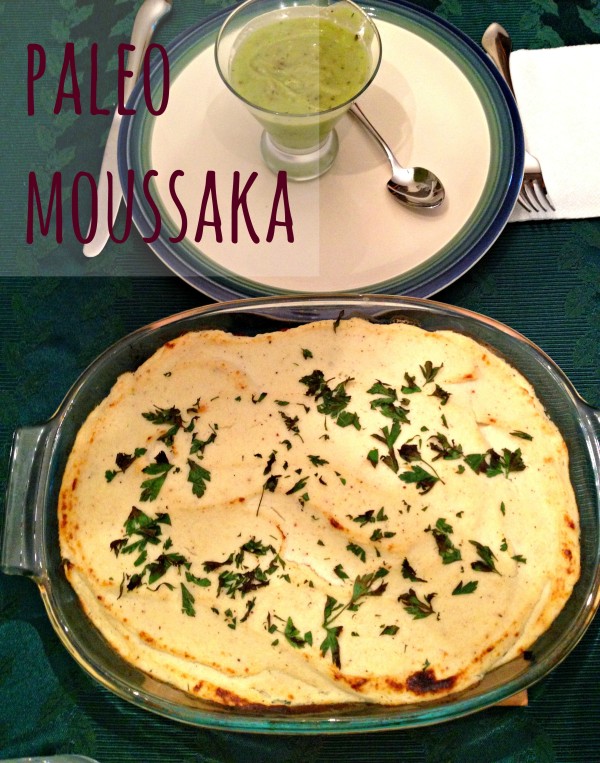 Find Jessica at her blog, Jess Does Paleo, on Facebook, Twitter, Pinterest, and Instagram.  
Hi everyone! I'm Jessica over from Jess Does Paleo. I'm a college student who recently found a passion for food and nutrition and living a more natural lifestyle. In addition to improving my health, the Paleo lifestyle has also improved my outlook on life and is helping me heal my relationship with food and my body. I am so excited for this opportunity to share a new favorite recipe with all of you!
I was recently in Athens, Greece with my dad, and we were fortunate enough to eat most of our meals overlooking the Acropolis. One night in particular we shared an incredible piece of moussaka and some wine and watched the sunset. It was great moussaka with hearty potatoes on the bottom and an indulgent béchamel on top. While I indulged quite a bit during my travels, I knew I had to create a way to enjoy the flavors and rich quality of the dish while following the Paleo guidelines. By using Japanese sweet potatoes, some cauliflower, and a lot of ghee and spices, I was able to create a dish that even all the non-Paleo people at the dinner table loved. My favorite remark: "I would come back to this restaurant!". That was from my dad, and seeing as we recently sampled multiple moussakas in Greece, I have to say this was a success.
This is a bit of a time-consuming dish, so don't expect to whip it up 30 minutes before dinner time. But if you have a little extra time and want a special meal, this dish is a great choice.
When you look at the directions, it might seem like a lot – but don't worry! There are multiple distinct layers in moussaka, and after writing out all the directions step by step, it seemed much easier to do it by layer instead.
Shared at Fat Tuesday, Allergy-Free Wednesday

Guest Post from Jessica of Jess Does Paleo - Paleo Moussaka
Ingredients
Sweet Potato and Eggplant Layers:
japanese sweet potatoes - 2, peeled
eggplant - 1 large or 2 small, sliced into 1/4 inch rounds
fat of choice - 1-2 tablespoons, melted
Meat Layer:
ground beef - 1 pound
onion - 1 medium, chopped
garlic - 3 cloves, minced
beef broth or water - 1/2 cup
crushed tomatoes - 1 cup
currents - 1/4 cup, soaked
ground cinnamon - 1/4 teaspoon
ground allspice - 1/4 teaspoon
ground ginger - 1/4 teaspoon
ground nutmeg - 1/4 teaspoon
ground coriander - 1/4 teaspoon
fresh parsley - 1/4 cup chopped
cayenne pepper - 1/8 teaspoon
cauliflower - 1 head, cut into florets
ghee or grassfed butter - 2-3 tablepoons
ground nutmeg - 1/2 teaspoon
salt - 1/4 teaspoon
1/4 cup beef broth or water - if necessary
Instructions
You can follow these directions in order more or less. Once you have the eggplant and potatoes cooking, you can brown the meat. Once the meat is simmering, you should be ready to start the "Bechamel" layer. It looks a little scary, but it's just a series of simple cooking techniques.
Note: You don't want a lot of liquid in the baking dish, so make sure to allow the eggplant to "sweat" for the required time and also to simmer the liquid out of the meat mixture! It will still taste delicious regardless, but it will be a bit messier to serve. Sweet Potato and Eggplant Layers:
Place eggplant slices on a double layer of paper towels (or in a colander) and salt both sides liberally. Let them "sweat" for at least 30 minutes, flipping halfway through. This is an important step – you don't want soggy moussaka!
Preheat the oven to 400 degrees. When the eggplant is done "sweating", wipe the water off with a paper towel and then season with salt and pepper. Bake on a greased baking sheet for 40 minutes, flipping halfway through. When eggplant is done roasting, turn oven down to 350 degrees.
While the eggplant is in the oven, bring a large pot to a boil and boil the peeled sweet potatoes until fork tender (15-20 minutes depending on the size)
When potatoes are done, drain and set aside until cooled. Fill with water again and bring to a boil for the cauliflower.
Meat Layer:
While preparing the eggplant, place the currants in a bowl of warm water to soak until ready to use.
Bring a pan to medium heat and brown the ground beef for a couple of minutes before adding onion and garlic into the pan. Sautee until fully browned.
Add the broth, crushed tomatoes, cinnamon, allspice, ginger, nutmeg, coriander, cayenne, parsley, and currants (drained).
Simmer for 15 minutes or until the liquid has evaporated.
"Béchamel" Layer:
After draining the potatoes, fill the same pot with water and bring to a boil. Add cauliflower florets and boil for 10 minutes or until soft.
Drain the cauliflower and put florets into a food processor.
Add ghee, nutmeg, and salt to food processor and puree until smooth. If the mixture is too thick and won't process all the florets, add ¼ cup beef broth or water. Adjust fat and spices to taste.
To Assemble:
Slice boiled sweet potatoes into ¼ inch rounds and layer on the bottom of an 8x8 pan.
Layer half of the meat mixture on top of the potatoes.
Layer the eggplant slices on top of the meat.
Put the remaining meat mixture on top of the eggplant.
Pour the "béchamel" sauce on top and smooth with a spoon or spatula.
Bake at 350 degrees for 25 minutes.
Increase heat to broil for 5 minutes or until the top layer is browned. Garnish with extra parsley.
Serves 4. You can double the recipe for a 9x13 pan.