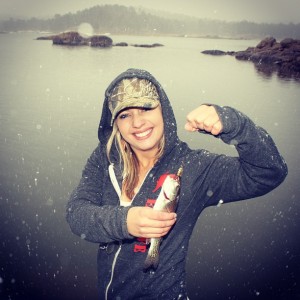 Taylor Nichols is the blogger behind Tayste of Paleo. You can also find Taylor on Facebook, Instagram, Pinterest, and Twitter.
I grew up on a dairy farm in Southern Colorado so there are a lot of times that I incorporate dairy into my diet. My website and my vision are all about sustainability and acceptance of life obstacles along the way. I encourage others to understand where food comes from and developing relations with local farmers/providers. Small agricultural companies are the core of my roots and I only hope that with the help of Paleo, and creating more transparency between the consumer and the farmer, more health conscious eaters will arise.
In the mainstream market there is an immense amount of false stigmas about organic, non organic, natural, grass fed and free range. Within my Farm to Tayble series I hope to debunk some of these myths and help consumers understand what farming really consists of in the US. I hope to give the consumer a birds eye view of what actually takes place in agriculture and what eating local really means.
With my background of growing up on a dairy farm in Southern Colorado I understand the importance of agriculture. I grew up with large gardens and processing our own livestock for meat that would serve our family all year-round. My family emphasized the importance of seasonal eating and making sure every aspect of the animal is not only consumed, but also respected.
With my agriculture background and my foodie mentality I sometimes feel stuck between a more realistic farmer approach and then the demands of the consumer.
What do I mean by this?
For example, let's talk about free range chicken. On TV and social media we see these brutal images of chickens being trapped in small cages and having zero value of life.
For the consumers to feel better about this we started purchasing free-range chicken thinking that these chickens are outside roaming around and happy as pie.
But are they really?
There's no precise federal government definition of "free range," so the U.S. Department of Agriculture (USDA) approves these label claims on a case-by-case basis. USDA generally permits the term to be used if chickens have access to the outdoors for at least some part of the day, whether the chickens choose to go outside or not. In practice, most chickens stay close to water and feed, which is usually located within the chicken house. Chicken labeled as "organic" must also be "free-range," but not all "free-range" chicken is also "organic." Less than 1% of chickens nationwide are raised as "free range," according to the National Chicken Council (NCC).
Therefore, a farmer can literally leave the door open when feeding their chickens because they know the chickens aint goin nowhere when it is feeding time. They could consider this "Free Range" because they had the opportunity to go outside.
Does it make it right? No… but that is the system.
I feel for the farmers because those are my roots. I understand the pain, heartache and physical labor it takes to create a product of livestock. I also understand the consumers concerns though too. The consumer doesn't want to be lied to–the consumer wants to think that they are actually purchasing a free range chicken.
How do we solve this problem?
Like I preach on my blog.. if the welfare of the animal is important to you. Get to know your farmer. Develop a relationship with local farmers and purchase their products after you understand and educate yourself about their farming techniques.
Quality of food is in your hands…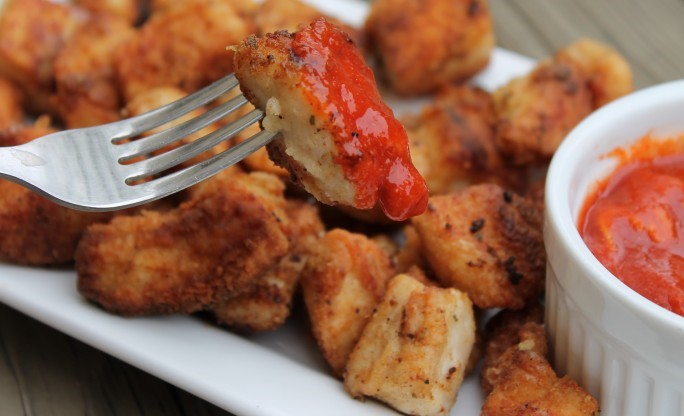 Overall I hope this blog post helped you ask questions. I don't mean to discourage or bring doubt. If anything I hope to bring more awareness to local farmers and help the consumer understand that sometimes labels aren't everything they seem to be. If you do choose to purchase chicken whether it is organic, free range or store bought, try my infamous Paleo ChickFilA nuggets.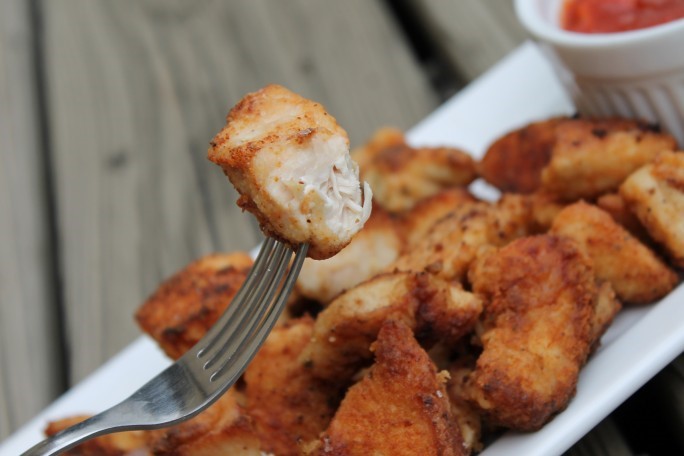 These nuggets taste just like the real deal. I love this recipe because it definitely brings out the wow factor. They are crunchy, salty and packed with flavor.
Guest Post by Taylor of Tayste of Paleo - Paleo Chick Fil A Nuggets
Ingredients
boneless skinless chicken breast - 2 large
pickle juice - 1-2 cups (enough to submerge your chicken)
paprika
onion powder
garlic powder
salt and pepper - to taste
tapioca flour
coconut oil
Instructions
Begin by marinating your chicken in the pickle juice. You want to make sure the chicken is fully immersed in the pickle juice.
Refrigerate for at least 1 hour
Once chicken is marinated, prepare the dry ingredients by scooping about ½ cup of the tapioca flour into a small bowl. Set aside
Lay the chicken out on a cutting board.
Cut the chicken into bite size pieces. Season the chicken with salt, pepper, garlic powder and onion powder. I fully covered the chicken with the seasonings. Flip over and season the other side.
Next, lightly roll the chicken in the tapioca flour. Try not to handle the chicken too much, you want the seasonings to stick to the chicken for as long as possible.
Place about ¼ cup of Coconut Oil in a sauce pan, bring up to a medium/high heat. ( If you want a more fried effect to your chicken add more oil )
Place the nuggets in the oil and let cook for about 3 minutes on each side. Keep an eye on these. Coconut oil heats more quickly than your average oil. Once they are browned on one side, flip over and let brown on the other side.
Remove and season with salt.
Pair with favorite dipping sauce, I used Paleo Sriracha