From Heather: I found Bre-anna's blog just a couple weeks ago, and it was love at first sight.  Bre'anna has been blogging for just a few weeks, and she's already got some amazing recipes and avid readers on her blog.  Her recipes are all autoimmune protocol-friendly, too! If you're still not dying to check out He Won't Know It's Paleo, here are some of the amazing recipes she has: AIP Snickerdoodles, Nomato Sauce, Dairy-Free Butter, Baked Cinnamon Apples, AIP Carob Brownies.  Salivating yet?
With this recipe, Bre'anna shows us that AIP banana bread is indeed possible, and delicious!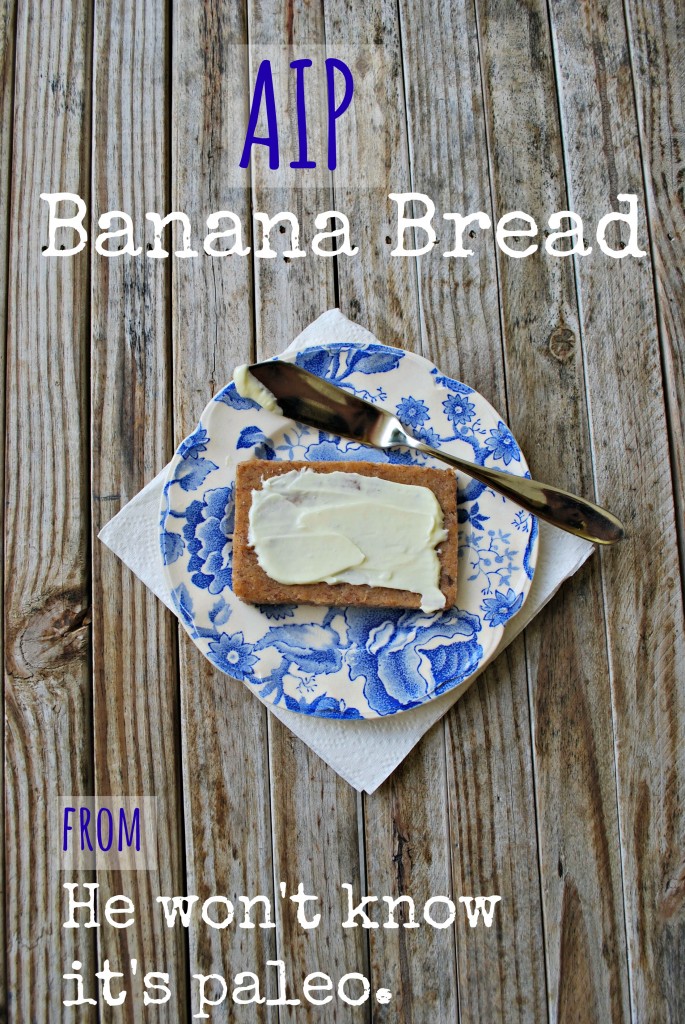 From Bre'anna:
My blog is dedicated to my very non-paleo and gluten-loving husband, Chris, who didn't know he was eating paleo for the first 6 months I cooked this way. Now that I've come clean, I can always trust Chris to give me often-too-honest reviews of my recipes. My criteria for posting is this: If Chris doesn't approve, I won't post it.  
You can find Bre'anna at her amazing blog, He Won't Know It's Paleo, and on Facebook.  
Ready to get cooking?
Of course you are.  
Without further ado: AIP Banana Bread!
Guest Post by Bre'anna from He Won't Know It's Paleo - AIP Banana Bread
Ingredients
ripe bananas - 1 cup mashed (brown spotted or black are best)
coconut oil - 1/4 cup, melted
coconut butter - 1/2 cup, softened
honey - 1 tablespoon
vanilla - 1 teaspoon
lemon juice - 1-1/2 teaspoons
coconut flour - 1/4 cup
arrowroot starch - 1/2 cup
salt - 1/2 teaspoon
baking soda - 1/2 teaspoon
cinnamon - 1/2 teaspoon
Instructions
Preheat oven to 350.
Grease 9x13 pan with coconut oil.
Mix wet ingredients (first six listed) in stand mixer until smooth.
In small bowl, mix dry ingredients together.
Pour dry mixture into wet ingredients and mix until combined.
Spread into prepared 9x13 pan.
Bake for 24-27 minutes, until toothpick comes out clean and edges pull away from the sides of the pan.
Cool completely before cutting to avoid misshaping the slices. The texture will perfect itself after it cools. If the bread is gooey or chewy fresh out of the oven, don't fret! Just cover it and let it sit overnight. You'll wake up to a real treat!
Photographed with Dairy-free Butter: http://wp.me/p4Gpik-35