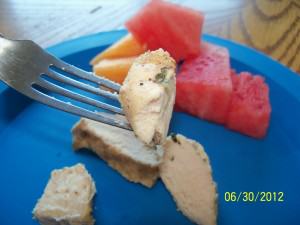 Last night Dad said I could create the marinade for our grilled chicken. I was in the mood for Italian, so I made a marinade recipe based off of Mom's Italian Dressing recipe. The chicken breasts marinaded for a couple hours and Dad grilled them up on the gas grill. The resulting chicken breasts were so tender and juicy that I cut mine with the side of my fork! The flavor was completely delicious and even Julia gave it two thumbs up! We served the chicken with watermelon and a big green salad for an easy and delicious summer meal!
Paleo Grilled Chicken with Italian Marinade
Author:
Prep time:
Cook time:
Total time:
Ingredients
boneless skinless chicken breast – 4-5 large
olive oil – 1/2 cup
white wine vinegar – 1/4 cup
fresh basil – 2 tablespoons minced
fresh parsley – 1 tablespoon minced
dried oregano – 1/4 teaspoon
onion powder – 1/4 teaspoon
salt – 1/3 teaspoon
garlic – 2 cloves, minced
black pepper – to taste
Instructions
Place chicken breasts in a gallon Ziploc bag. 2. In a small bowl, add the olive oil, white wine vinegar, fresh basil, fresh parsley, oregano, onion powder, salt, garlic and black pepper. 3. Whisk together and pour over chicken. Close bag and move around to coat. 4. Marinade in the refrigerator for 2-3 hours. 5. Preheat grill to medium heat. 6. Remove chicken from marinade and grill 3-5 minutes per side, or until cooked through. 7. Let rest a couple minutes before serving.