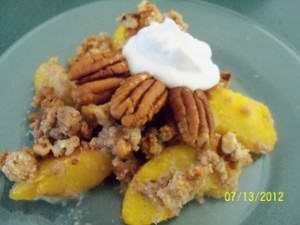 This peach crisp was a recipe I just came up with yesterday to use up our overabundance of very ripe peaches. Mom raved when she tried it, and I must say, it's amazing.
Paleo Peach Crisp
Recipe type:
Fruit Desserts
Ingredients
ripe peaches - 5, peeled and sliced
blanched almond flour - 3/4 cup
raw pecans - 3/4 cup
unsweetened coconut flakes - 3/8 cup
pure maple syrup - 3 tablespoons
coconut oil - 3 tablespoons, melted
ground cinnamon - 1-1/2 teaspoons
ground ginger - 1/2 teaspoon
ground nutmeg - 1/4 teaspoon
baking powder - 1/3 teaspoon
Instructions
Preheat the oven to 350 degrees F. Grease a glass pie plate with coconut oil. Place the peach slices in the pie plate. Chop up the pecan halves. In a medium mixing bowl, add in the almond flour, chopped pecan halves, coconut, maple syrup, coconut oi, cinnamon, ginger, nutmeg and baking powder. Mix well. Crumble the mixture evenly over the peaches. Bake for 30 minutes. This crisp is best eaten the day it is made.