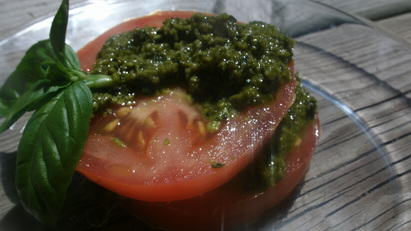 From the time I first tried it, I have been in love with pesto. The fresh basil flavor tossed with loads of tender pasta just can't be beat. In an attempt to use some of our exploding basil plant, I whipped this up with delicious results. Traditional pesto calls for Parmesan cheese and pine nuts, but I've omitted the cheese for health reasons (though you can certainly add some if you wish), and substituted macadamias for the pine nuts for financial reasons. 😛 If you don't have macadamias, try walnuts or pecans. You're probably wondering what on earth I eat this stuff on, now that I don't eat pasta. Well, I've been putting it on just about everything. Think salads, fresh veggies, chicken, fish, eggs, tomatoes, etc. Got a hankering for pasta? Try it on cooked spaghetti squash, sauteed zucchini strips, or even paleo pasta. The possibilities are endless!!!!
Paleo Pesto
Ingredients
fresh basil - 2 cups tightly packed
roasted salted macadamia nuts - 1/2 cup
garlic - 3 cloves, chopped
extra-virgin olive oil - 1/2 cup
salt - to taste
Instructions
Combine basil, macadamias and garlic in a food processor. Process until very finely chopped. While running, pour in olive oil. Let run for a minute. Add in salt to taste and let run a couple more minutes, or until creamy.