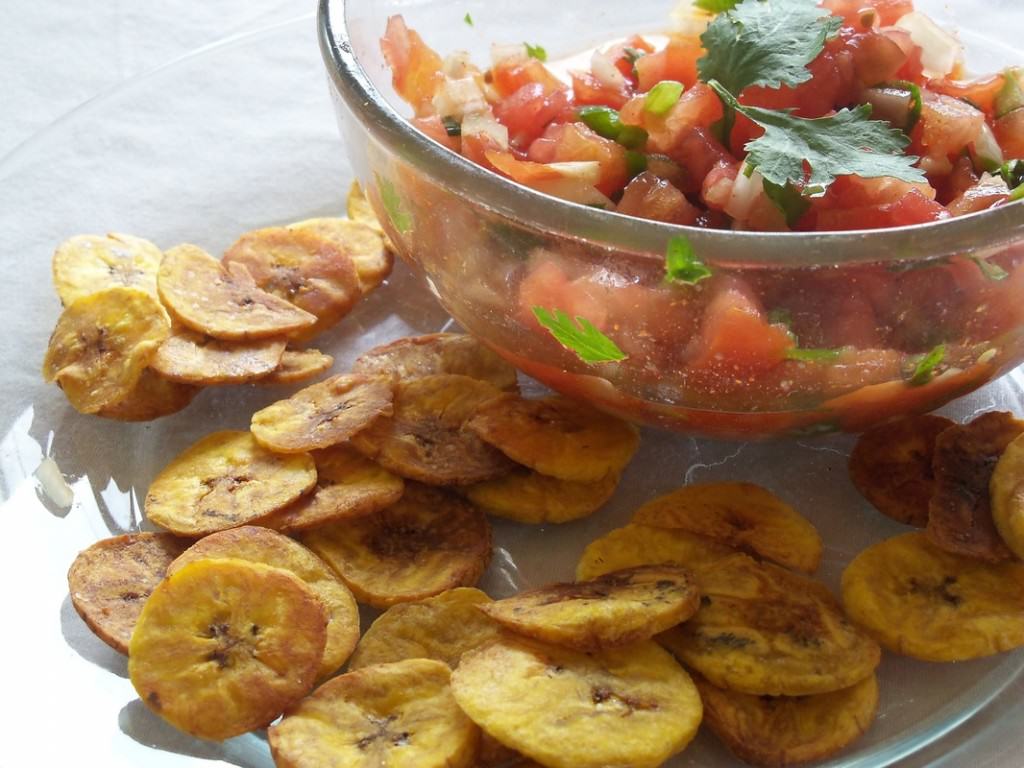 Good morning everyone! I finally found fifteen minutes to write a blog post! I hope no one has stopped following my blog, because this recipe is sure to impress.  Like the title implies, this recipe is my go-to fix when I want chips.  I make chips from plantains! What is a plantain, you ask? It's botanically identical to a banana, only it's bigger and it's often cooked when very unripe.  It's a staple starchy food in the tropics.  If you buy plantains that are very green and cook them up, they taste just like potatoes! You can also cook extremely ripe plantains, but they won't make good chips.   These chips are a cross between potato and corn chips, and I love love love them with homemade fresh salsa (as pictured) or guacamole.  They are crunchy, starchy, and most importantly, super-easy! You've got to try this one!
Crispy Plantain Chips
Author:
Prep time:
Cook time:
Total time:
Ingredients
green plantains – 2, peeled and very thinly sliced
coconut oil – 2 tablespoons, melted
salt – to taste
Instructions
Preheat oven to 375. 2. Use your fingers to rub each plantain slice with coconut oil and arrange on a large baking sheet. 3. Bake 10 to 15 minutes, checking every 2 minutes after you've baked them for 10, just until nicely golden and crisp. 4. Eat!