Note from Heather: Please give a warm welcome to Sarah Nevins of A Saucy Kitchen! She's guest posting this delicious recipe for coconut-date snowballs today! Make sure to check out her blog; she has delicious-looking recipes and amazing photos; some gluten-free and some paleo.  Right now,  I think I need a Pumpkin Spice Doughnut…
Take it away Sarah…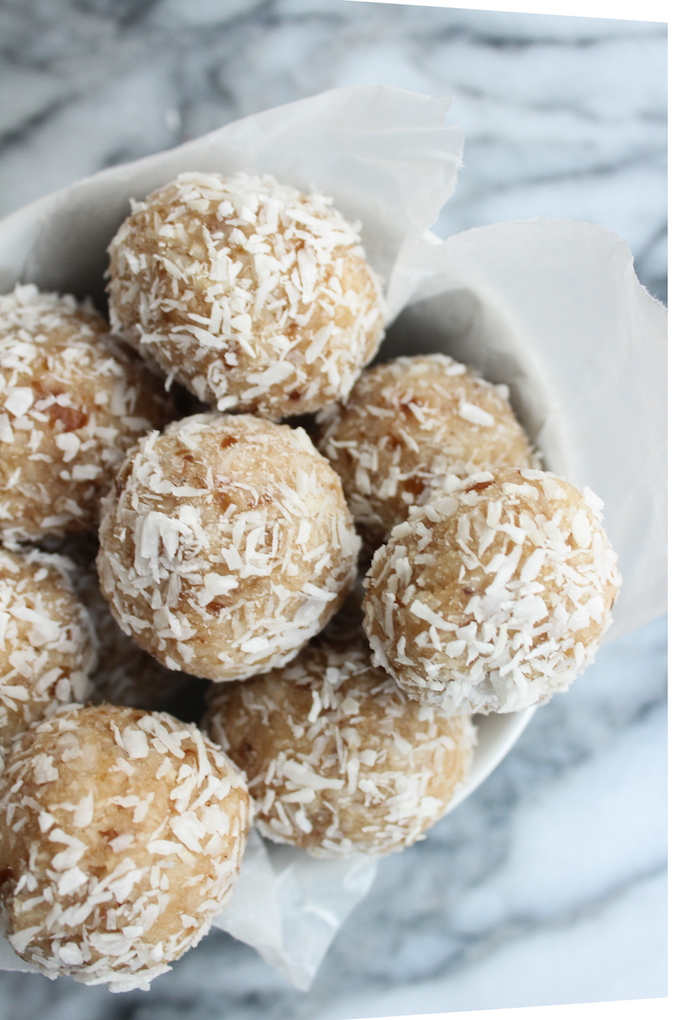 Snow – how do we all feel about it? My mother-in-law would probably paper cut me for saying this, but I love it! In fact, she's just informed me that the weather forecast for this weekend is predicting potential snowfall and I'm crossing my fingers it does while I'm sure she's praying with every fiber in her being that it doesn't.
Even after living in England for over a year now and getting in my fair share of snow days, I still find myself running to the window every time I detect the slightest hint of snow. It's probably just me romanticizing it in my head, but everything always feels a little quieter and a little more peaceful in those moments. I also love waking up in the morning to see animal prints all across the otherwise smooth, snow covered ground.
We never got snow where I grew up in Arizona. On the rare occasion we'd get a freak hail storm in which my brothers and I would run outside and attempt to make tiny little hail men. The end result was some sort ice/dirt/rock ball that would then be used as a much more lethal snowball. Gotta love older brothers.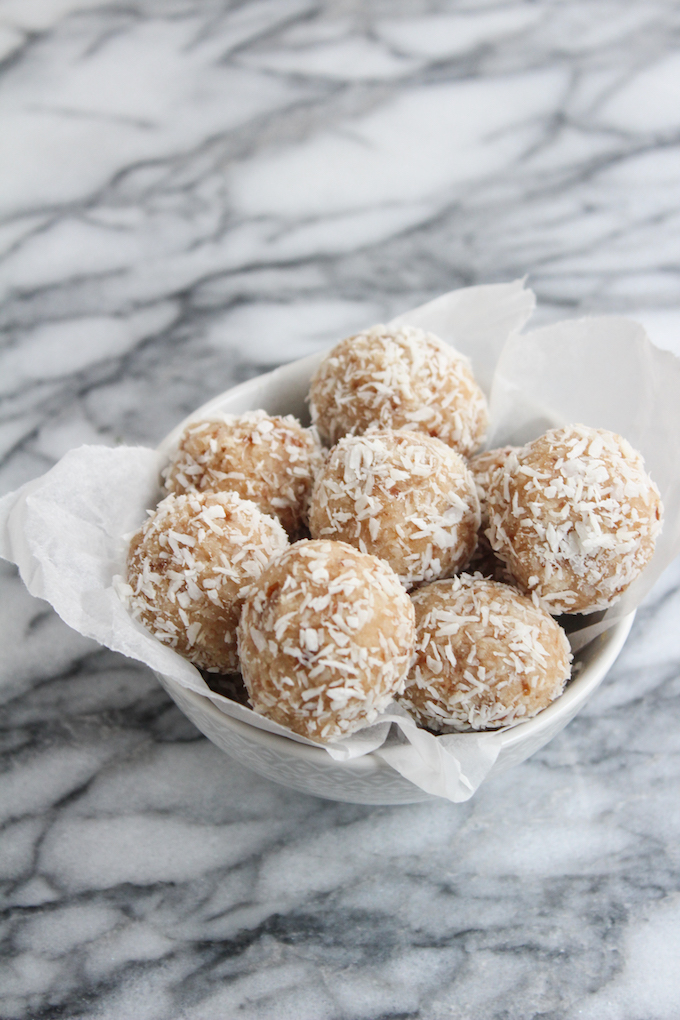 Today I want to share with you a different, much tastier kind of snowball. Coconut Date Snowballs to be exact.
I was so excited when Heather asked me to write a guest post for her. In addition to our love of coffee and baking Heather and I both have a passion for sharing healthy, wholesome recipes. While the recipes on my blog may not always be completely paleo, I do try to keep in mind other food allergies/intolerances that people might have. I'm no stranger to cooking for intolerances and I'm sure you're well aware that it's a total pain in the butt. While I personally am not Coeliac, my husband Mike is. For over the 10+ years Mike's health has been a challenge to say the least and much of that is because he wasn't diagnosed with Coeliac Disease until just a couple of years ago. Since then we've been on a complete food intolerance crash course cutting out things like nightshades, high FODMAPs, dairy, you name it. While Mike's gut seems to fiiiiiinally be getting to a better place and we've been able to reintroduce tons of foods that he couldn't dream of having before (like the dates I use in this recipe). That being said, I still try to keep things simple.
These Coconut Date Paleo Snowball Cookies are not only nut free, vegan,and naturally sweetened but they're also a great autoimmune paleo snack that you can whip up in no time. These are perfect for packing in school lunches, taking on a hike, or enjoying just because you can.
So in case you don't get your own winter wonderland this year outside, here's a way to make your very own snowy treats at home.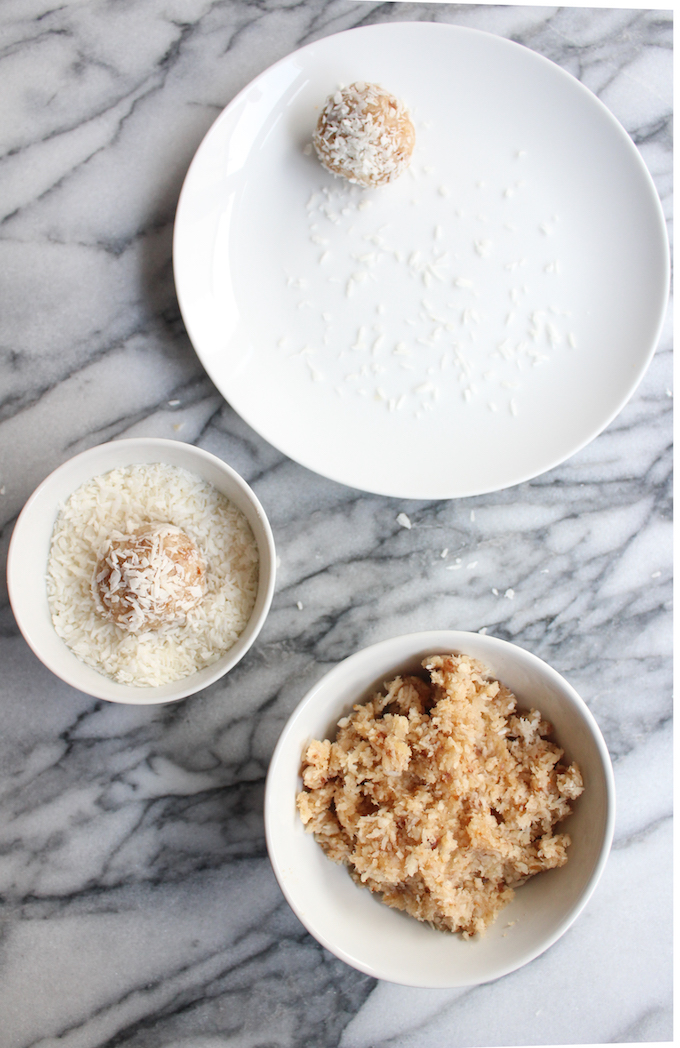 Coconut Date Paleo Snowball Cookies – guest post from Sarah of A Saucy Kitchen
Recipe Type
:
Cookies/Bars
Author:
Prep time:
Total time:
Ingredients
5 [url href="http://www.amazon.com/gp/product/B002K62BUO/ref=as_li_tl?ie=UTF8&camp=1789&creative=390957&creativeASIN=B002K62BUO&linkCode=as2&tag=coituppa-20&linkId=TDWH7KVXDIKXYQSR" target="_blank"]medjool dates[/url] chopped with the pit removed
1 1/2 cup [url href="http://www.amazon.com/gp/product/B000F4D5GC/ref=as_li_tl?ie=UTF8&camp=1789&creative=390957&creativeASIN=B000F4D5GC&linkCode=as2&tag=coituppa-20&linkId=2Z5KTLJ4Z3PVJRTY" target="_blank"]desiccated coconut[/url] (150 grams) + more for rolling
2 tablespoons [url href="http://www.amazon.com/gp/product/B00M8VSKW4/ref=as_li_tl?ie=UTF8&camp=1789&creative=390957&creativeASIN=B00M8VSKW4&linkCode=as2&tag=coituppa-20&linkId=VBIY4IIICEI32EMU" target="_blank"]coconut milk[/url] (can sub almond milk – just won't be AIP then)
1/2 teaspoon cinnamon
pinch of [url href="http://www.amazon.com/gp/product/B000BD0SDU/ref=as_li_tl?ie=UTF8&camp=1789&creative=390957&creativeASIN=B000BD0SDU&linkCode=as2&tag=coituppa-20&linkId=DBBLSKIKR4ZKKVGV" target="_blank"]salt[/url]
Instructions
Throw all of your ingredients in a high powered blender or food processor and blend until everything clumps together.
Pinch off 1 tablespoon of the dough at a time and roll into little balls and then roll the balls into a small bowl of desiccated coconut to coat. If the dough is too sticky you can wet your fingers slightly before handling.
Store in the refrigerator and enjoy!
Serving size:
1/10 of recipe
Calories:
154
Fat:
14.7 g
Saturated fat:
13.2 g
Unsaturated fat:
1.5 g
Trans fat:
0 g
Carbohydrates:
5.9 g
Sugar:
1.5 g
Sodium:
31 mg
Fiber:
5.7 g
Protein:
1.5 g
Cholesterol:
0 mg
Blogger Bio
————-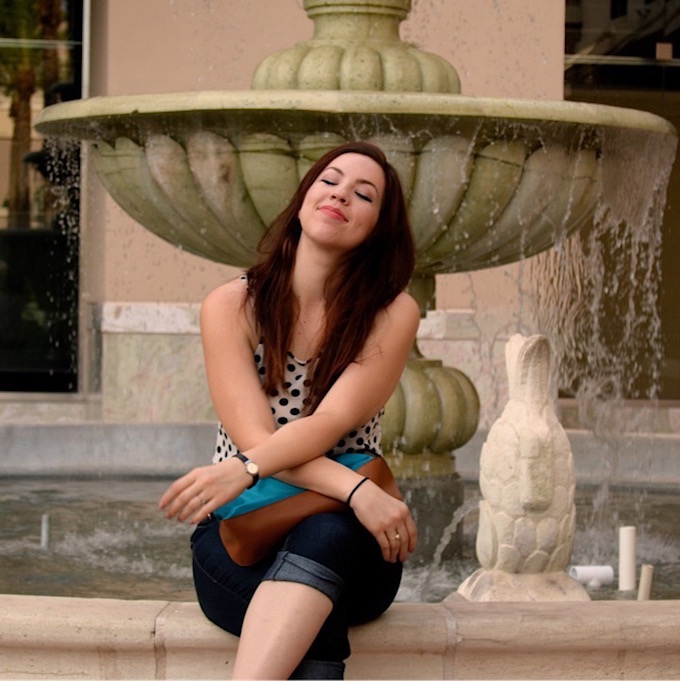 Sarah is a wife, a coffee drinker, a dog lover, a cat mother, a cookie dough eater, a wannabe food photographer, a gluten free/whole foods recipe developer and she just said all of that in third person in a run on sentence.
You can find me on A Saucy Kitchen | Instagram | Facebook | Twitter | Pinterest  
—————
If you buy something through one of the links in my sidebars or posts, I may receive a small commission to support my blogging activities, at no extra cost to you. Thank you for your support.
Shared at Allergy-Free Wednesday, Paleo AIP Recipe Roundtable, Savoring Saturdays