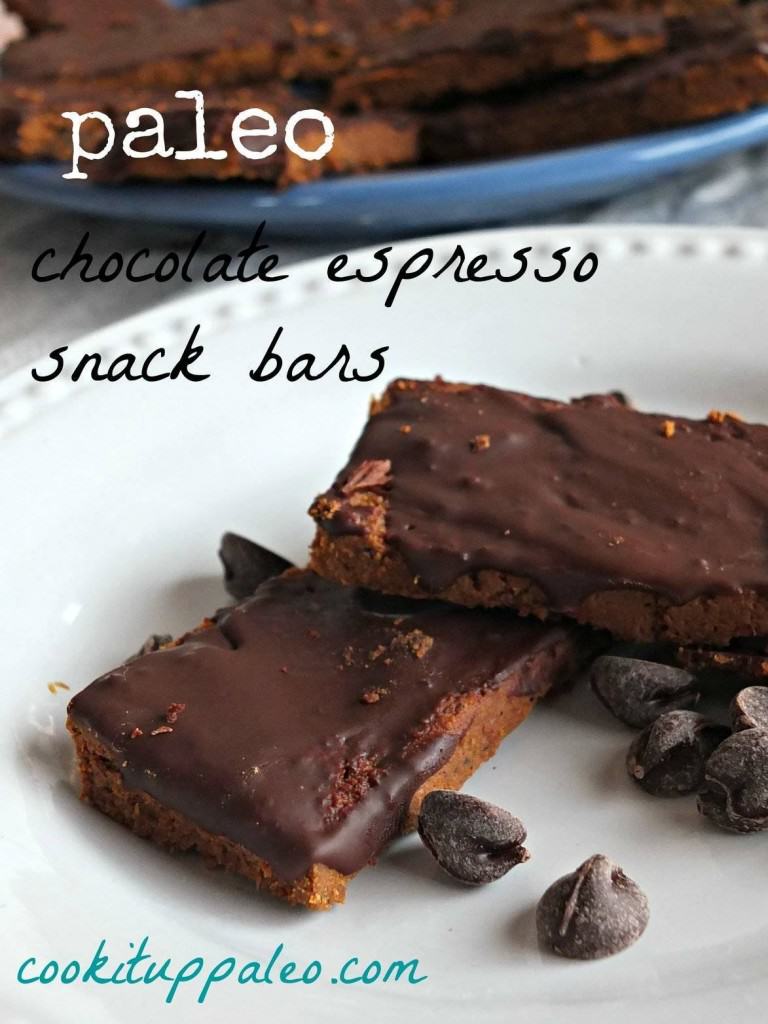 I have a confession.  I am not perfect paleo.  Go ahead, unlike me on Facebook, unfollow me on Twitter and Pinterest; I won't cry.  Too much.
I am totally gluten free and mostly dairy free and 95% paleo, but I have one vice, and that vice is… wait for it…. protein bars.  Think Thin Chocolate Espresso protein bars, to be exact.  I don't eat them every day, of course, but they are my treat and I have a very hard time giving them up.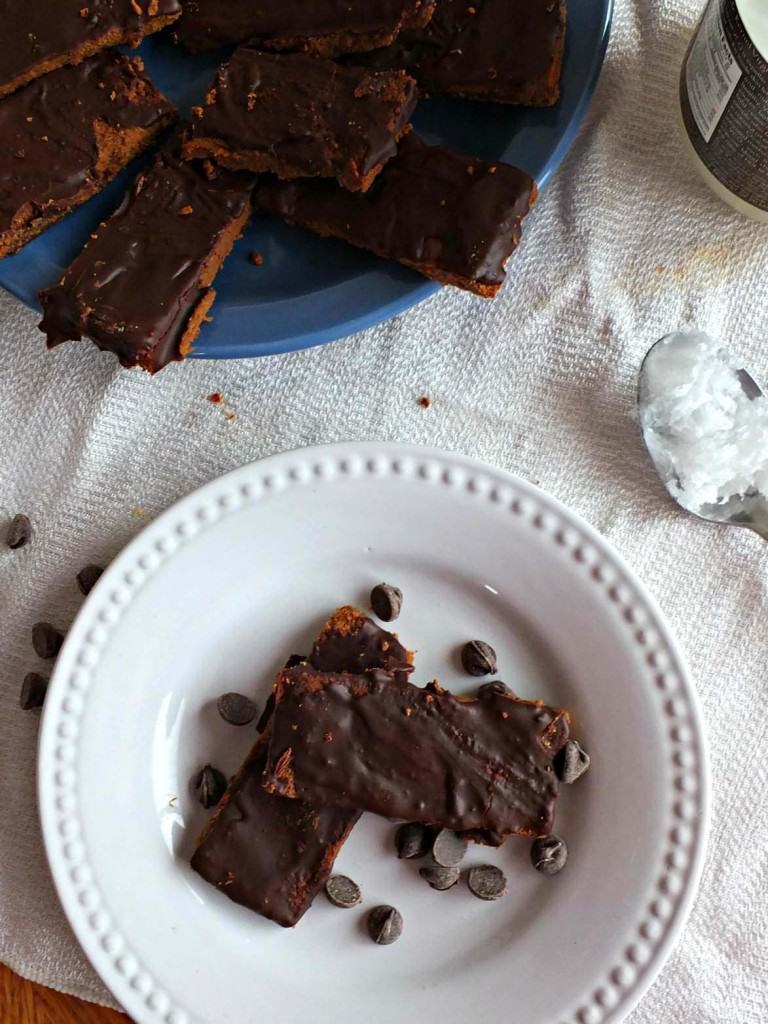 Here's what I'm really eating when I indulge in one of these bars (from the Think Thin website)
INGREDIENTS: PROTEIN BLEND (WHEY PROTEIN ISOLATE, SOY PROTEIN ISOLATE, CALCIUM CASEINATE, CASEIN), GLYCERIN, COATING (MALTITOL, COCOA BUTTER, CHOCOLATE, SODIUM CASEINATE, MILK FAT, SOY LECITHIN, NATURAL FLAVORS, SALT), MALTITOL, ALKALIZED COCOA, COCOA SOY CRISPS (SOY PROTEIN ISOLATE, ALKALIZED COCOA, TAPIOCA STARCH), PEANUTS, WATER, CANOLA OIL, NATURAL FLAVORS, SOY LECITHIN, COFFEE.
Soy, glycerin, canola oil, peanuts, and something called malitol, which I'm not sure what that is, but I do know that "mal" means bad in Spanish, and anything ending in "ol" is a sugar alchohol.  So malitol must be a very bad sugar alchohol.  #flawlesslogic
Anyway, in my attempts to give up these bars, I have created this clean version in my very own kitchen, and I must say it is really delicious.  The filling's base is pumpkin, almond flour, and coconut oil, and the coating is just straight chocolate and coconut oil.  This recipe makes for a filling treat when my protein bar cravings come along.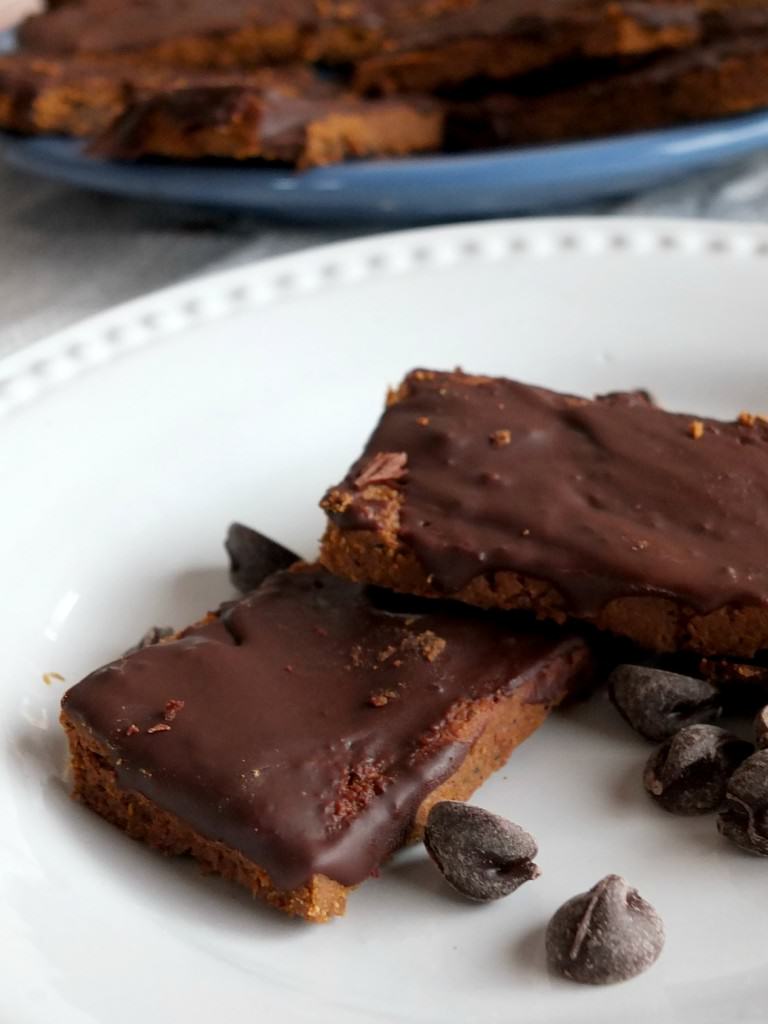 Shared at Fat Tuesday , Tasty Tuesday, Allergy-Free Wednesday
Chocolate Espresso Snack Bars
Recipe Type
:
Cookies/Bars
Author:
Prep time:
Total time:
Ingredients
Bars:
canned pumpkin – 7 oz. (1/2 can)
coconut oil – 1/2 cup, melted
honey – 2 tablespoons
liquid stevia extract – 10 drops
cocoa powder – 2 tablespoons
almond flour – 3/4 cup
coconut flour – 1/2 cup
arrowroot starch – 1/4 cup
very finely ground coffee – 2 tablepoons
Topping:
dark chocolate chips – 1 cup
coconut oil – 3 tablespoons
Instructions
In a large bowl, mix together all of the bar ingredients. Form into a 1/3 inch thick rectangle on a greased cookie sheet. Freeze for about 15 minutes, or until fairly hard.
Cut into bars.
Melt the topping ingredients and drizzle over. Freeze a few minutes.
Store in an airtight container in the fridge.