This recipe was inspired by a love of chipotle and a desire for something a little different for lunch. The end result was hardly disappointing and I've made it twice already, much to the delight of my mother. If you don't have/don't want to cook the chicken, a few chopped hard-cooked eggs would be wonderful in this dish.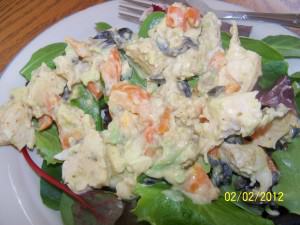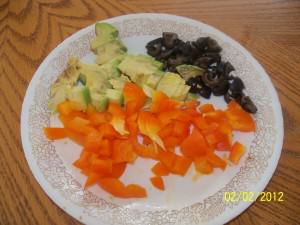 Paleo Chicken Salad with Chipotle
Ingredients
boneless skinless chicken breas - 1 large, cooked and diced
sweet bell pepper - 1/2, chopped
avocado - 1/2, diced
black olives - 8, sliced
olive oil mayonaise - 3 tablespoons
chipotle powder - to taste
ground cumin - to taste
garlic powder - to taste
smoked paprika - to taste
dried oregano - to taste
mixed greens - couple handfuls
Instructions
Dice up the veggies and olives and combine in a bowl with the chicken. Stir together the mayo with all the spices to taste. Pour the dressing over the chicken and veggies and toss to coat. Serve over salad greens.