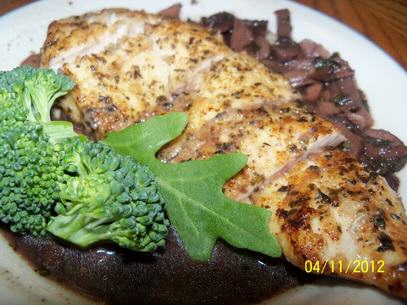 I figured out the key to perfect chicken breasts: cut them thin, dredge lightly, sear just to brown, and bake on a rack for just 20-25 minutes, just so a meat thermometer reads 170. The dredging adds a pleasant color and texture to the breasts, as does the browning. Searing them just until the desired color is achieved keeps the outside from burning and keeps your sauce from having a burned flavor. Baking them on a rack lifts the chicken out of its juiced and thus not compromising the crispy coating and flavor. The results of this method are truly restaurant-quality, while even my Dad said that the breasts tasted about as close to grilling as you can get with baking, and from my Dad that is quite a compliment!
Paleo Chicken with Red Wine Sauce
Ingredients
boneless skinless chicken breast - 6 large
arrowroot starch - 1/4 cup
garlic powder - 1/2 teaspoon
onion powder - 1/2 teaspoon
dried basil - 1 teaspoon
Italian seasoning - 1 teaspoon
salt - to taste
pepper - to taste
butter - 1 stick
Sauce:
dry red wine - 1/2 cup
Dijon mustard - 1 teaspoon
garlic - 2 cloves, minced
mushrooms - 12 oz.., sliced
dried parsley - 1 teaspoon
dried basil - 1 teaspoon
salt - to taste
black pepper - to taste
Instructions
Using a non serrated knife, cut through the chicken breasts as if you're butterflying them, but cut all the way through to create two wide, thin cutlets. Set aside. In a small bowl, stir together the arrowroot with garlic powder, onion powder, basil, Italian seasoning, salt and pepper. Dredge both sides of each chicken cutlet in the mixture, shaking off the excess. Heat 2 T. butter in a large skillet. Add the chicken and cook just a couple minutes per side, just until you achieve a pleasant golden-brown color. You will have to do this in batches. As you finish the chicken, place the cutlets on a buttered baking rack placed on a cookie sheet. Bake at 375 for 20-25 minutes, just until a meat thermometer reads 170. Place your chicken in a serving dish and cover with foil to rest. For your sauce, mix together the wine, broth, and mustard. Pour this mixture into the hot pan you just used for the chicken, scraping to loosen browned bits. Bring to a simmer and stir in the mushrooms, parsley, basil, salt and pepper. Simmer just a few minutes. Serve the sauce with the chicken, letting people spoon sauce on their own chicken so as not to compromise your perfectly-cooked chicken cutlets. Enjoy!