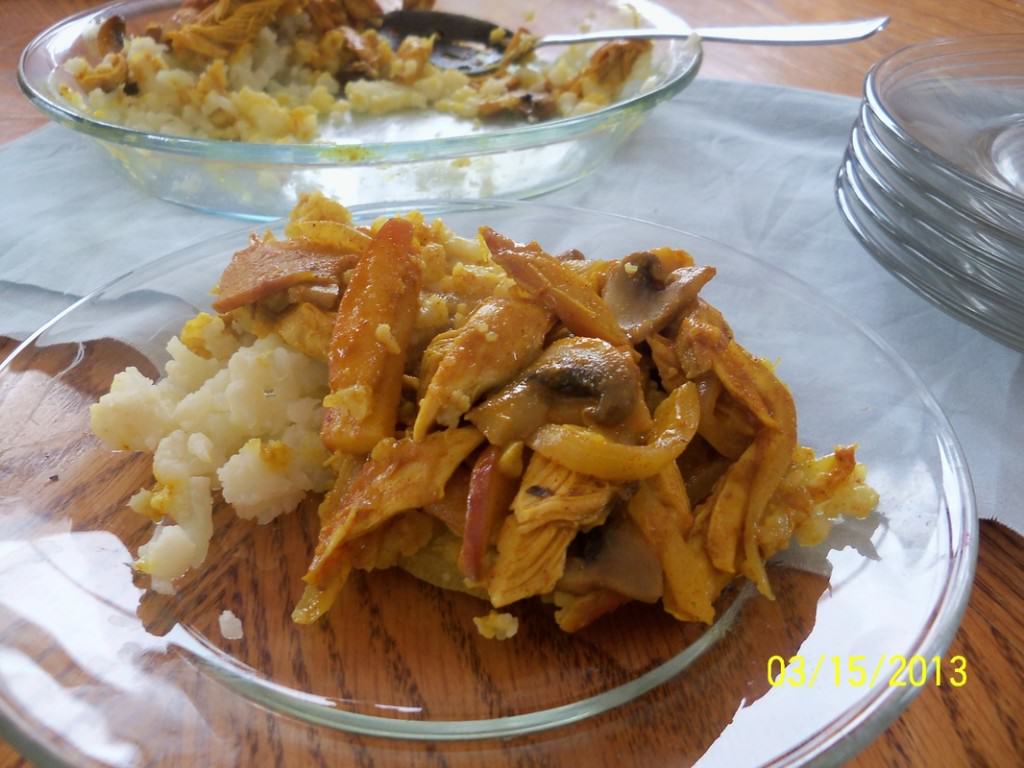 For my birthday, Mom and I went to this amazing Thai restaurant in Madison and porked out on their to-die-for chicken curry. I wasn't originally aiming to replicate it when I made up this recipe, but it tastes almost exactly like it! I love this curry because it's easy and it doesn't have non-staple ingredients like fresh ginger and cardomom pods, and it's out of this world! I added some sliced apple because a little sweetness perfectly balances out a good curry, but Mom did not love the addition. She prefers sweetness that's a little more incorporated into the sauce. So if you're like Mom, omit the apple add about a tablespoon of honey to the sauce.
Paleo Chicken Curry
Ingredients
coconut oil - for cooking
boneless skinless chicken breast - 2 pounds
mushrooms - 1 cup sliced
onion - 1 large, thinly sliced
apple - 1 large, thinly sliced
garlic - 4 cloves, minced
canned full-fat coconut milk - 1 cup
water - 1/2 cup
curry powder - 3-4 tablespoons
salt - to taste
lemon juice - 1/2 teaspoon
cauliflower - 1 large head, cut into florets
Instructions
Heat some coconut oil in a large skillet. Add the chicken and cook 3-4 minutes per side, or until cooked through. Remove the chicken and dice it up. 2. While the chicken cooks, steam and cauliflower for 10 minutes. Drain and mash up with a potato masher to create the consistency of rice. Mound on serving platter. 3. To the same pan you cooked the chicken in, add a bit more coconut oil and the mushrooms, onion, and apple. Saute until tender. 4. Add the garlic and saute 2 minutes. 5. Pour in the coconut milk and water, then stir in the curry powder, lemon juice, diced chicken and salt to taste. Simmer a couple minutes, just until the sauce is to your liking. 6. Scoop the curry over the cauliflower rice in the serving dish. Enjoy!