Note from Heather: I'm very excited to have the amazing Becky Winkler from A Calculated Whisk sharing this amazing recipe today! You may remember I reviewed her awesome cookbook, Paleo Planet, awhile back.  Becky's blog is full of amazing recipes for every variation of paleo (from whole30 to grain-free shortbread!) with beautiful photos; you need to follow her!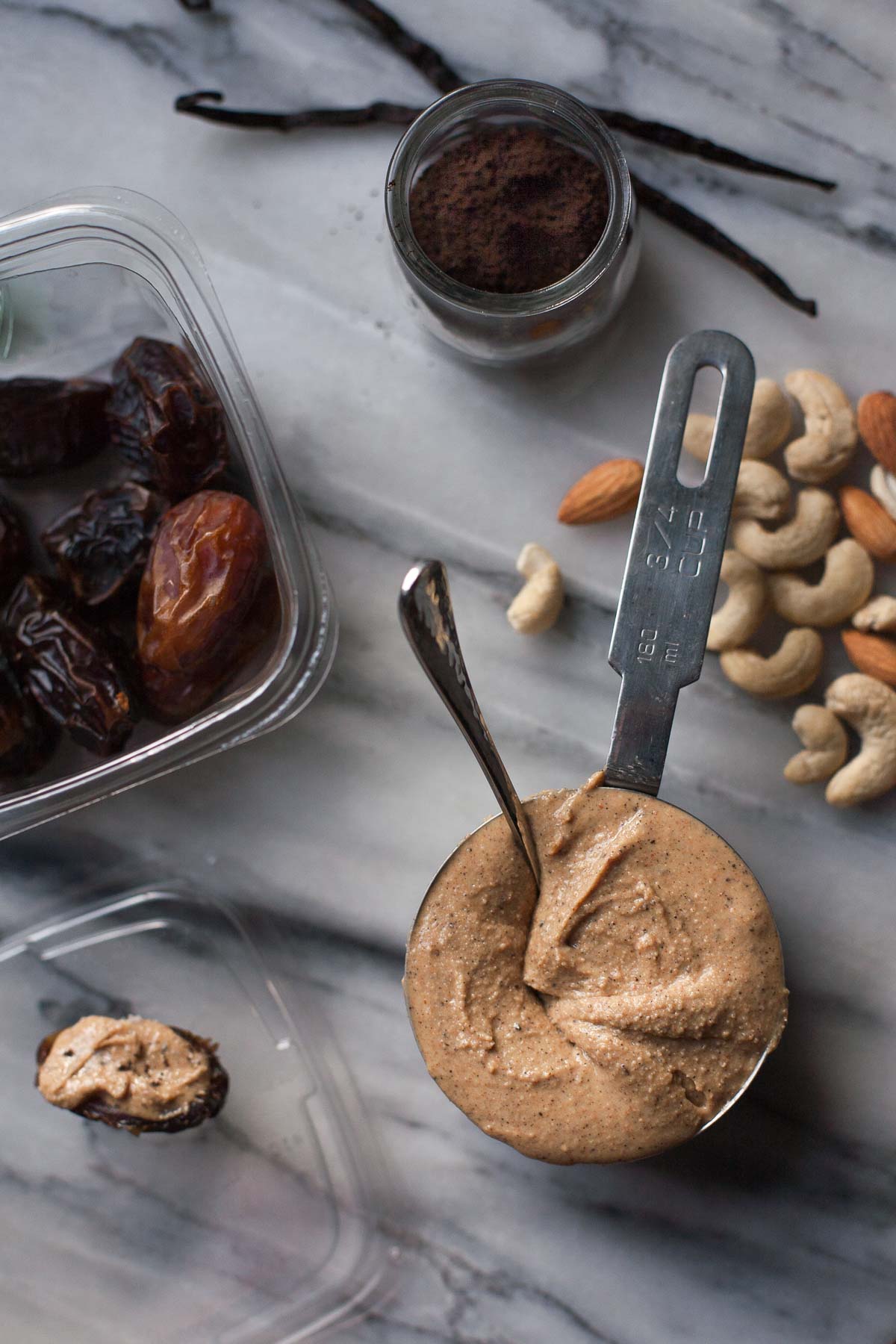 Hi everybody! My name is Becky and I blog over at A Calculated Whisk. I'm thrilled to be guest posting for Heather today—I love all the fun and nutritious recipes on her site, and am really excited to be adding this vanilla chai nut butter to the mix.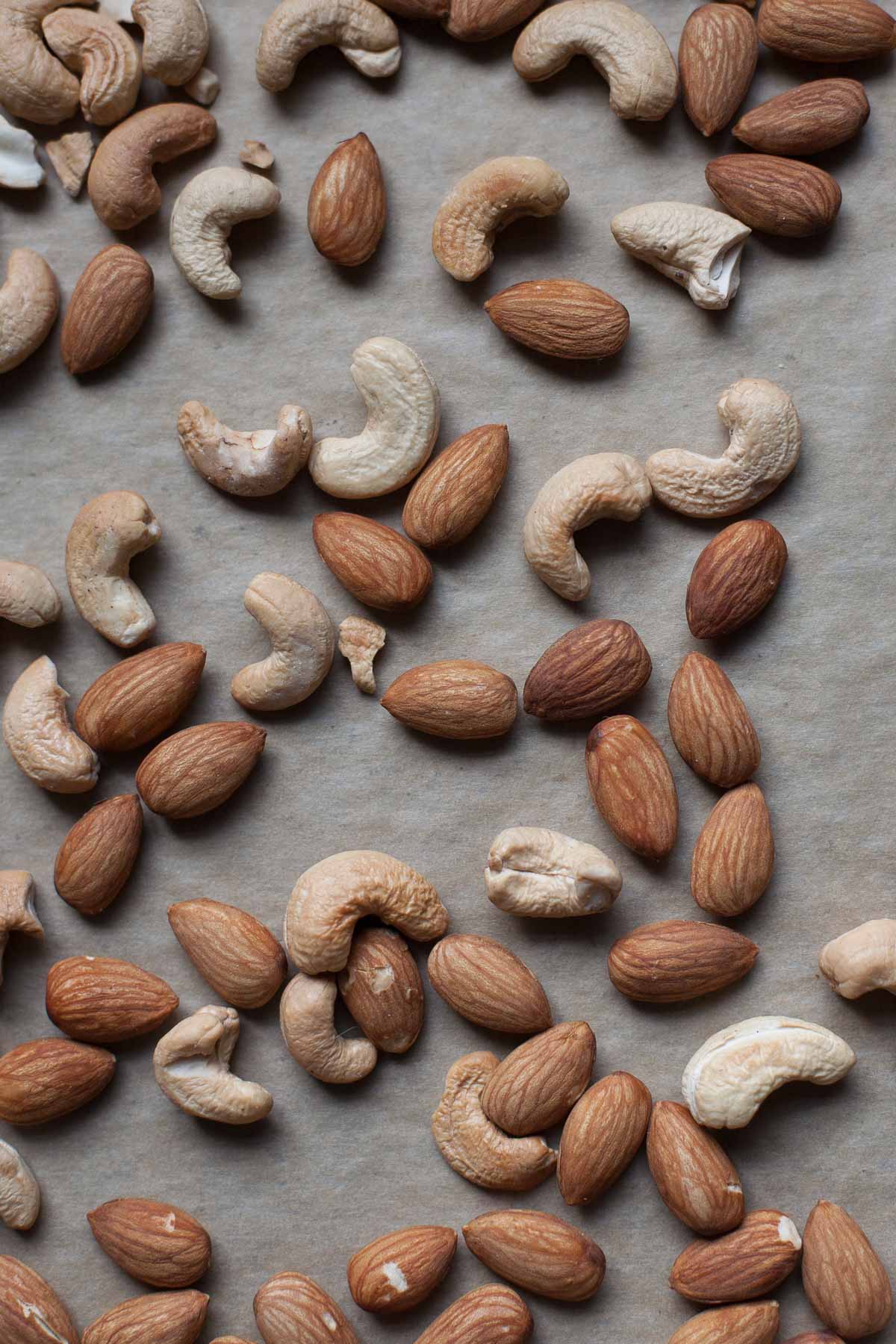 Have you made your own nut butter yet? I've been making my own almond butter for a while because it's easy and tastes so much fresher. Also, if you make it yourself you won't need to stir up a full jar from the store with a layer of oil on top—that is by far my least favorite part of using store-bought nut butter. Some of the oil always splashes onto my clothes, and then my clothes are stained and the nut butter STILL isn't very well mixed. Well, when you make your own nut butter at home, you won't have to worry about any of that. It'll be hot off the presses (or at least warm from the food processor) and ready to go.
For this nut butter I used a mix of roasted almonds and cashews since they go together so well, and added vanilla and chai spices to amp up the flavor even more. I knew the results would be good, but was surprised by just how good—I can't stop eating this stuff, by the spoonful all on its own and alongside pretty much anything else I can think of. The cardmom and vanilla make this nut butter taste quite sweet even though there are no sweeteners added, so it's a wonderful option for when you're craving dessert but don't want to risk a sugar high.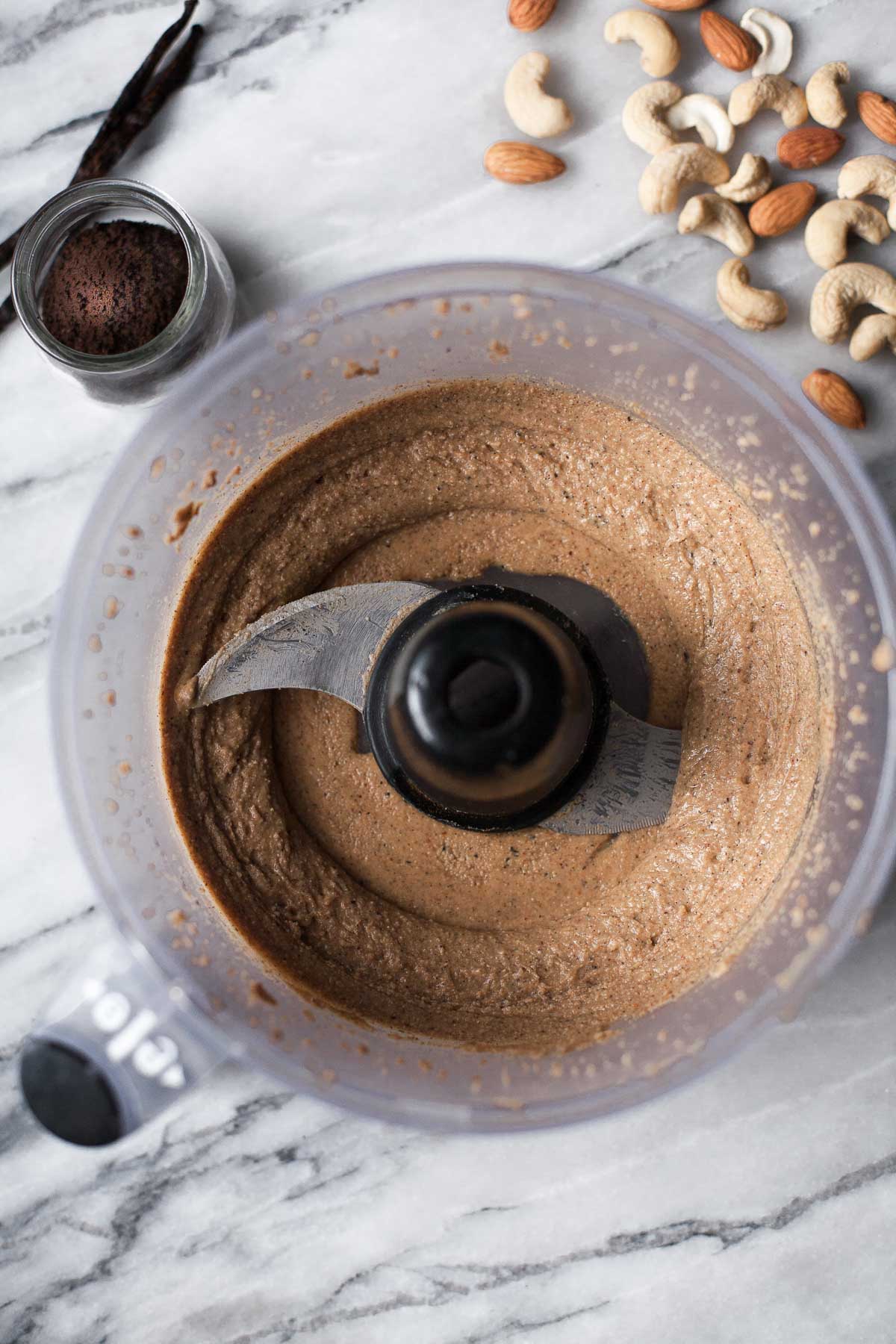 I like to dip apple slices or carrot sticks into this nut butter for snack, or stuff some into celery and top it with raisins for an exotic paleo version of ants on a log. I've also been having a spoonful of it before I make dinner to keep hunger at bay while I cook. And my very favorite way to enjoy this is to spoon a little bit into a halved and pitted Mejdool date and then sprinkle it with a tiny pinch of sea salt and a dusting of vanilla powder.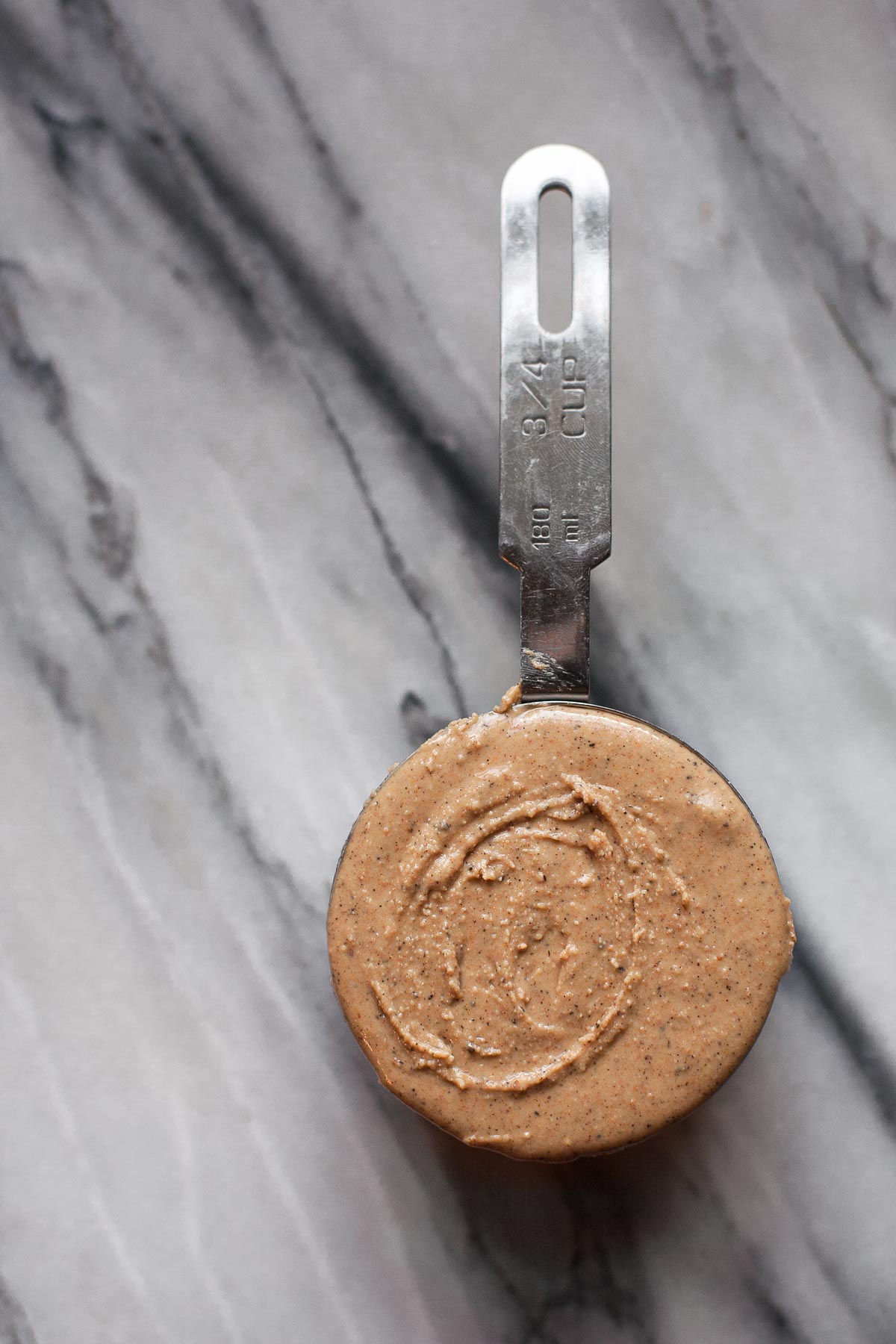 I'm doing a Whole30 this month, and one of the hardest things for me has been finding little snacks that taste and feel like treats but still fit the program requirements. This vanilla chai nut butter has played a key role in making sure I don't feel deprived, and I know I'll keep making it again and again even once my Whole30 is over because its flavor and texture are completely addictive. I hope you give this easy recipe a try!

Vanilla Chai Nut Butter - guest post from Becky of A Calculated Whisk
Ingredients
4 ounces raw almonds (about 3/4 cup)
4 ounces raw cashews (about 3/4 cup)
Pinch of sea salt
3/4 teaspoon vanilla powder (or seeds scraped from 1 vanilla bean)
1/4 teaspoon ground cardamom
1/4 teaspoon ground cinnamon
1/8 teaspoon ground allspice
Instructions
Preheat the oven to 350°F and line a baking sheet with parchment paper. Spread the almonds and cashews out on the baking sheet and roast for 10-15 minutes, until browned.
Transfer the roasted nuts to the bowl of a food processor, add all the remaining ingredients, and process until very smooth.
Enjoy the nut butter with dates, apple slices, or carrot sticks, or spread on paleo bread or muffins if you're not doing a Whole30. Store leftover nut butter in a jar in the refrigerator; it's best used within a week or so.
Nutrition Information
Serving Size:
1 tablespoon
Calories:
109
Fat:
9.1 g
Saturated fat:
1.2 g
Unsaturated fat:
7.9 g
Trans fat:
0 g
Carbohydrates:
5.2 g
Sugar:
0.9 g
Sodium:
21 mg
Fiber:
1.5 g
Protein:
3.5 g
Cholesterol:
0 mg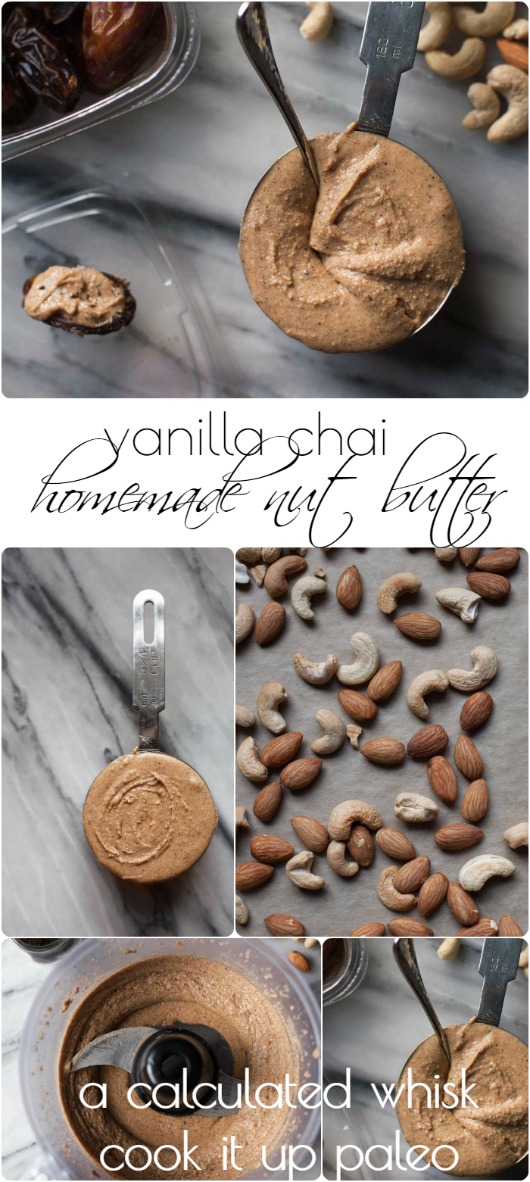 Blogger Bio: Becky is the author of the cookbook Paleo Planet, and also shares creative paleo and gluten-free recipes on her blog, A Calculated Whisk. Becky enjoys searing short ribs, chopping chocolate, photographing fruit, and salting desserts. She believes there is never enough bacon. When she's not cooking, Becky works with kids as a speech therapist. She lives in Chattanooga with her fiancé and his cat.  Find her on Facebook, Instagram, Pinterest, and Twitter.