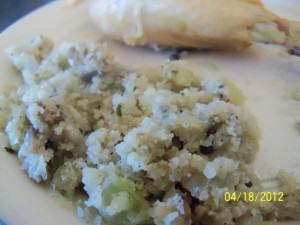 Ever miss rice? I know I do. But I've seen numerous paleo recipes that call for grated cauliflower in place of the rice and I tell you it's so similar it's eerie. This recipe was born out of a love for boxed Rice-a-Roni rice pilaf mixes. Mom used to make them before we became heath nuts. I remember once she made a homemade version seasoned with sage and I loved it sooooo much that I now attempted to recreate it in a paleo way. The results were quite to die for if I do say so myself, and the cooking time is much quicker than actual rice. This dish is perfect with any kind of poultry.
Cauliflower Rice Pilaf
Author:
Prep time:
Cook time:
Total time:
Ingredients
olive oil – for cooking
onion – 1/2, chopped
celery – 2 ribs
cauliflower – 1 head, grated
ground sage – 2 teaspoons
onion powder – 1/2 teaspoon
nutmeg – 1/4 teaspoon
dried parsley – 2 teaspoons
dried thyme – 1/2 teaspoon
salt – to taste
black pepper – to taste
mushrooms – 6, chopped
garlic – 2 cloves, minced
Instructions
Heat a large skillet over medium heat and add olive oil to coat bottom. Add the onion and celery and saute 3 minutes. Stir in the cauliflower and spices and saute 3-4 minutes. Add the mushrooms and saute until almost done. Then add the garlic and saute until everything is done and incorporated. Taste and add more salt before serving if needed.