When the weather warms up (finally!), I always start thinking about fresh produce.  I thought today that I should probably make a treat recipe for the blog, but well, I could only think about fresh produce.  Mom went to the farmer's market a couple of days ago and bought some beautiful beets that I really wanted to do something with.  (She also bought 2 large cucumbers, which I consumed all by myself over the span of 2 days.)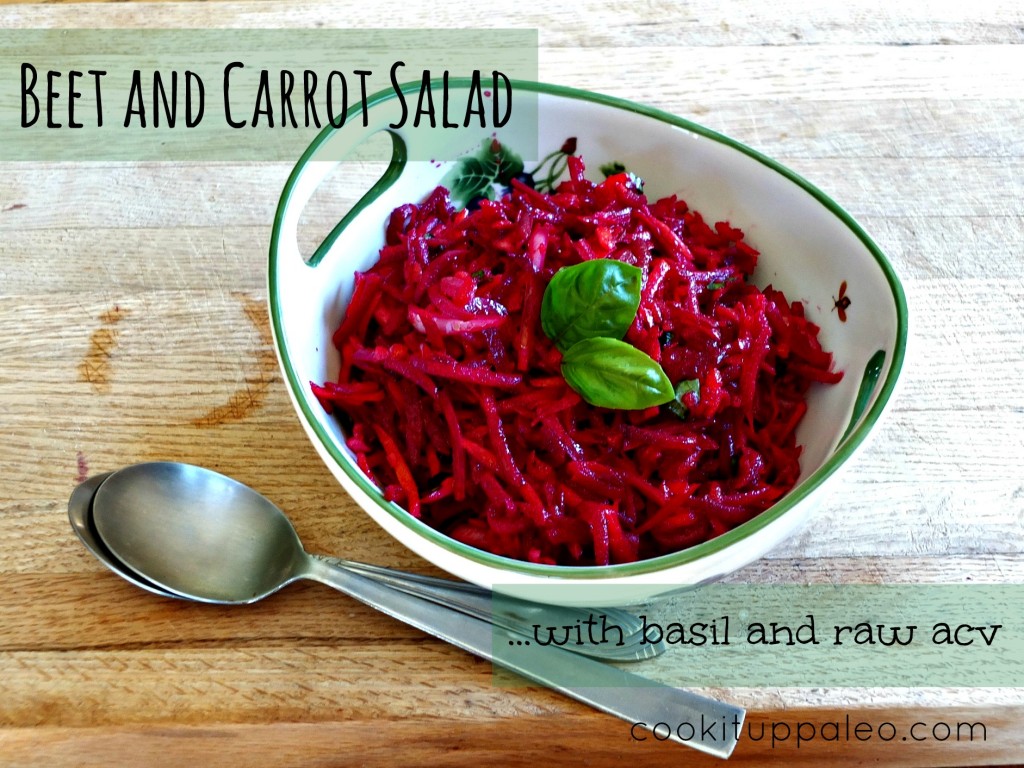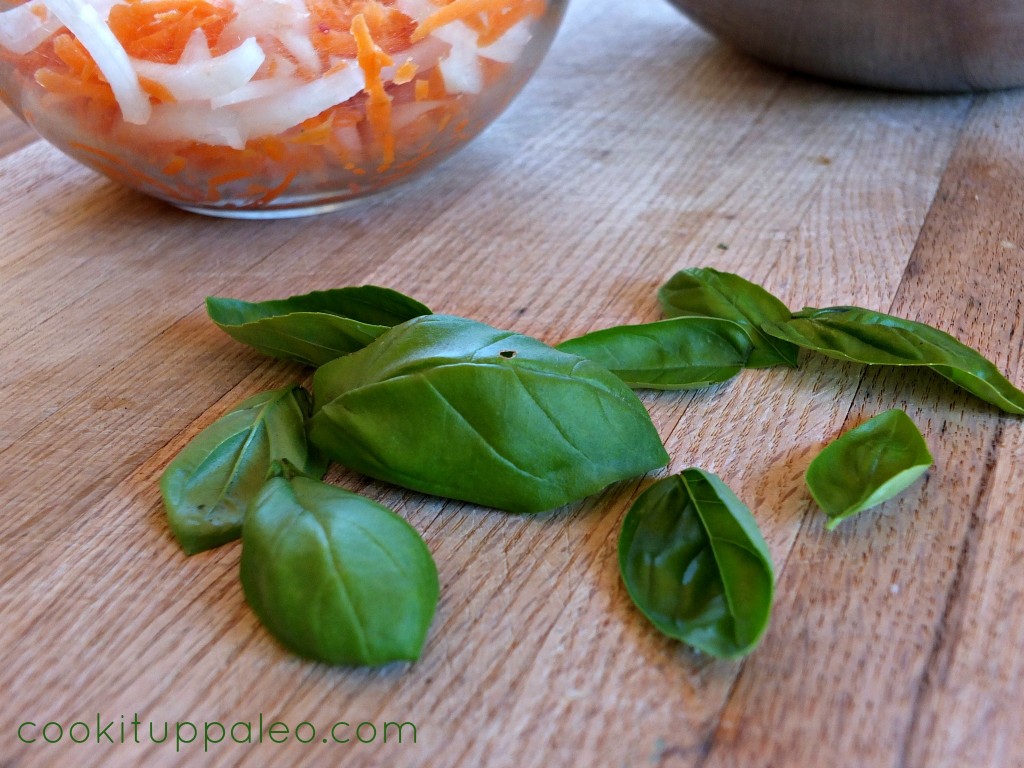 I also thought it would be fun to use a raw vinegar in this recipe.  We buy organic raw apple cider vinegar (with the "mother").  Raw apple cider vinegar is a prebiotic (feeds probiotics), and can help stimulate stomach acid production.  Eating this salad before a meal is a great way to prime digestion!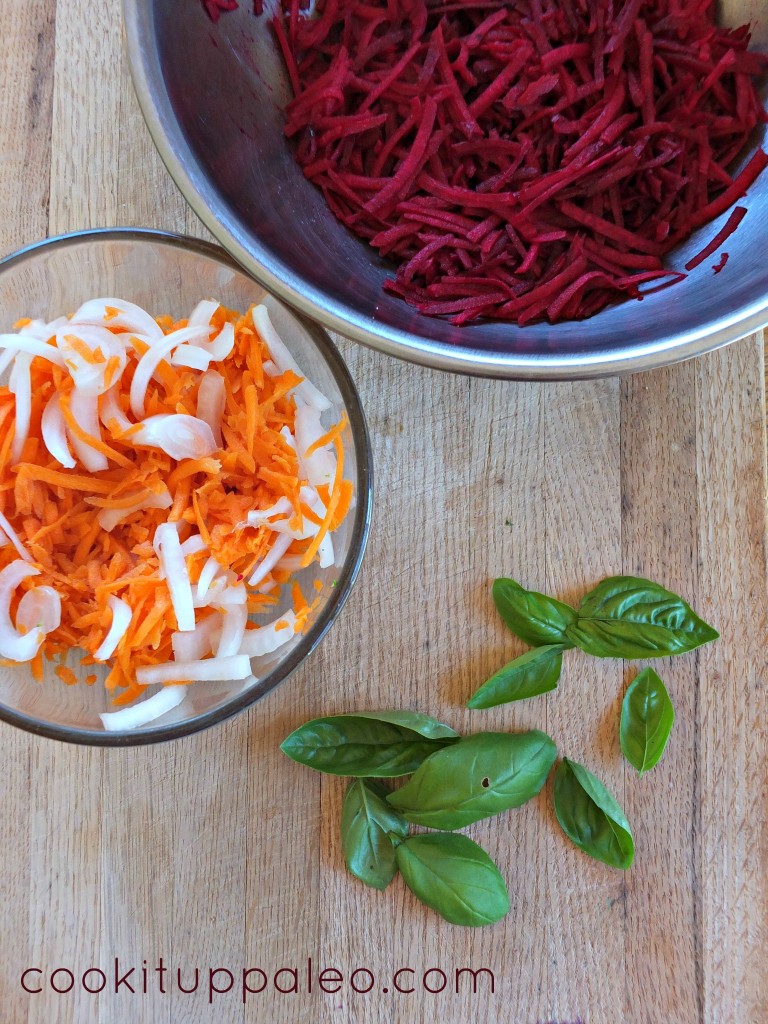 Now on to the deliciousness of this recipe: Suffice to say that my mom HATES beets.  It's very sad and unfortunate, because beets are very nutritious and delicious.  As she sampled this salad, she warned me of her beet aversion.  an hour later, she had eaten 3/4 of the bowl of salad.  Mission accomplished.
Recipe Notes:
Use fresh beets for this salad.  NOT canned beets! Get them as fresh as possible.
Balsamic vinegar would be a good sub for the acv if you don't have it on hand.
The reason that the carrots and beets are mixed separately in this recipe is that beets love to spread their pink juices everywhere, turning everything a delightful shade of fuchsia.  I wanted my carrots to stay a little bit orange.
A super-quick way to grate veggies is to use the grating/shredding attachment on a food processor.  Your life will be infinitely easier.
[Tweet "Use fresh produce by making this nutritious and delicious beet and carrot salad!"]'
Shared at Fat Tuesday, Pennywise Platter, Naturally Sweet Tuesday, Fight Back Friday, AIP Paleo Recipe Roundtable.
*Disclosure: I may receive compensation if you buy products through the links in my blog posts.  I do not link to products I would not personally buy and use myself.  Thank you for your support.
Beet and Carrot Salad with Basil and Raw ACV
Author:
Prep time:
Total time:
Ingredients
beet – 2 cups grated
carrot – 1-1/2 cups grated
onion – 1/2 cup sliced
apple – 2 tablespoons grated
fresh basil – 2-3 tablespoons minced
raw apple cider vinegar – 2 tablespoons
extra-virgin olive oil – 3 tablespoons
garlic – 1 clove, minced
salt – to taste
Instructions
Place the grated beets in a large bowl.
In another bowl, combine the carrots, onions, apple, and basil.
In a small bowl, whisk together the oil, vinegar, garlic, and salt. Pour half the dressing over the beets and half over the carrot mixture.
Carefully toss the beets and carrot mixture together.