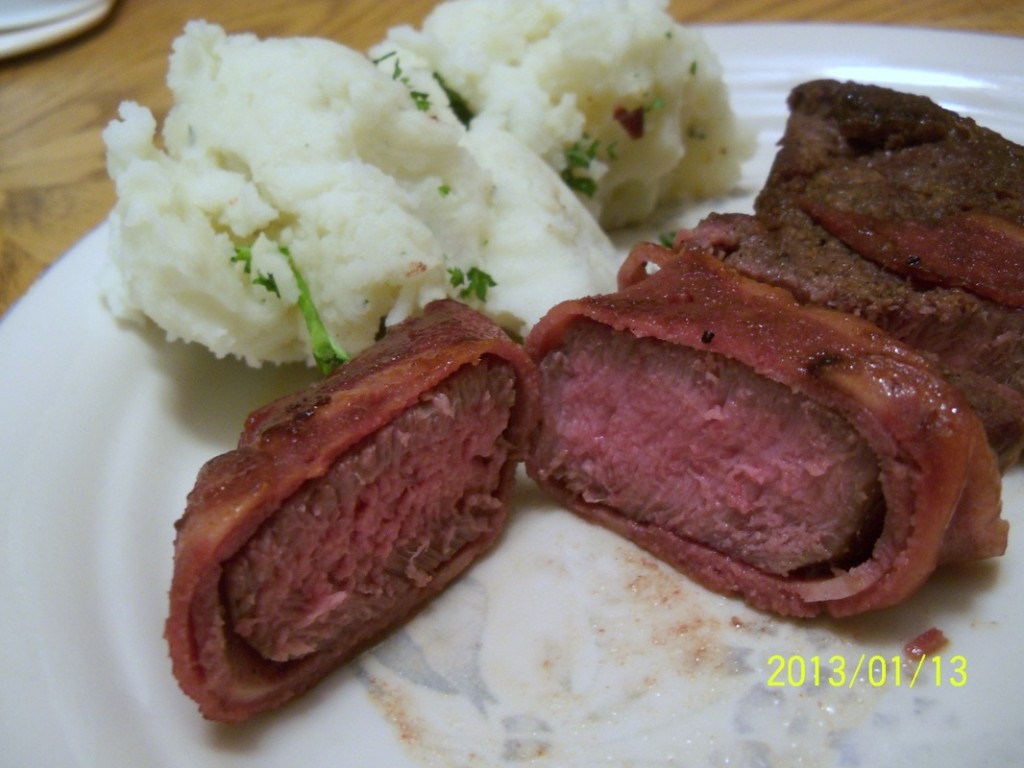 Ok…..so like I'm not trying to brag or anything but Dad says this is the best meal he's had in a long time! It all started this morning when Mom asked me if we should have bacon wrapped venison tonight; I always like my deer meat so I was all for it. Then I ended up making supper because Julia had karate class. So I did a quick Internet search, found this recipe, and got to work. Seriously, I was not expecting these to be this good; but they were so easy and they taste like restaurant quality! The smoky bacon lends lots of flavor to the dish, while keeping the steaks juicy. Oh and did I mention that that this recipe is 30 minutes start to finish?
Bacon Wrapped Steaks
Author:
Prep time:
Cook time:
Total time:
Ingredients
venison steaks – 2 pounds, 2-6 oz. each
Course salt – to taste
black pepper – to taste
bacon – 1 pound
fat of choice – for cooking
Instructions
Rinse the venison steaks. Squeeze dry with paper towels (squeeze HARD; you want to get out all the excess water). Sprinkle each side of the steaks with salt and pepper and rub it in a bit. Now wrap each steak with 1-2 slices bacon, depending on the size of the steak. Heat up a large skillet (get it nice and hot) and add some fat. Plunk in the bacon-wrapped steaks and let them sear about 3-4 minutes per side. Place in a buttered 9×13 in. baking dish and bake at 450 degrees Fahrenheit for about 6 minutes. Let rest 5 minutes before serving.