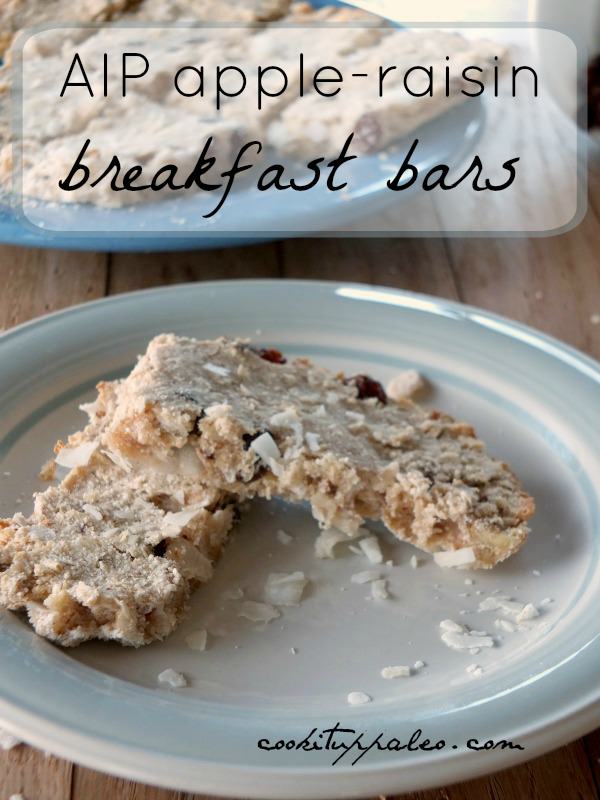 I have kind of a thing for bars.  I don't know what it is, but I just love the idea of being able to grab a delicious bar and eat it and be fueled.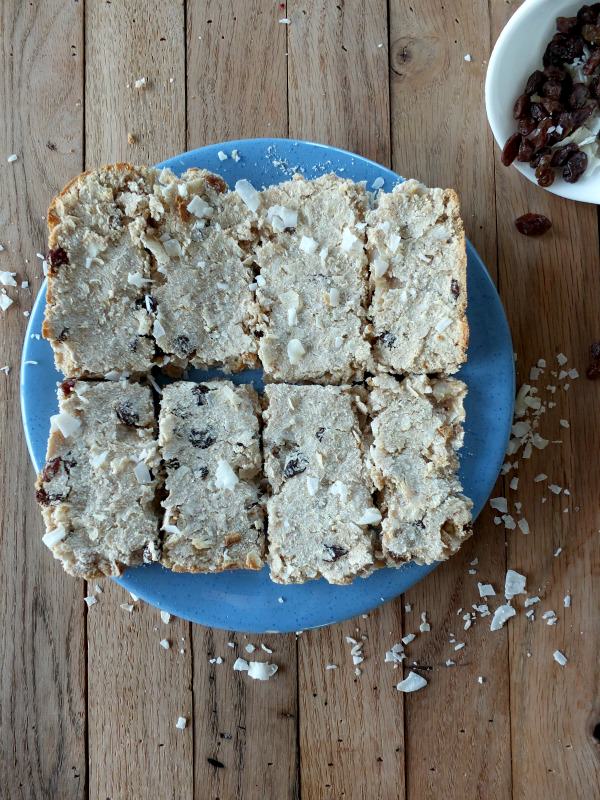 The problem is, most paleo-friendly bars are either not very good, or they are a big loaf of nuts and seeds.  I can eat nuts and seeds, but I try not to make them the center of a meal, and I know that a lot of people cannot eat nuts, and those on the AIP can't even have the seeds.  I knew I had to create an AIP breakfast bars recipe.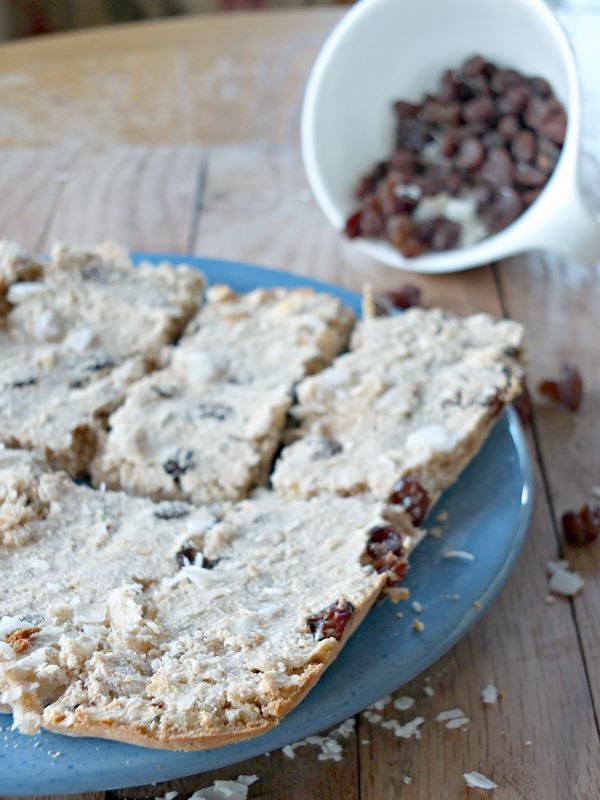 This AIP Breakfast Bars recipe is my solution. It's a cross between an oatmeal raisin cookie and a granola bar.  It has a bit of a chewy, cookie-ish texture, and though it's far from sweet as a cookie, it's delicious.  I made these for some non-paleo friends, and let's just say there were no leftovers!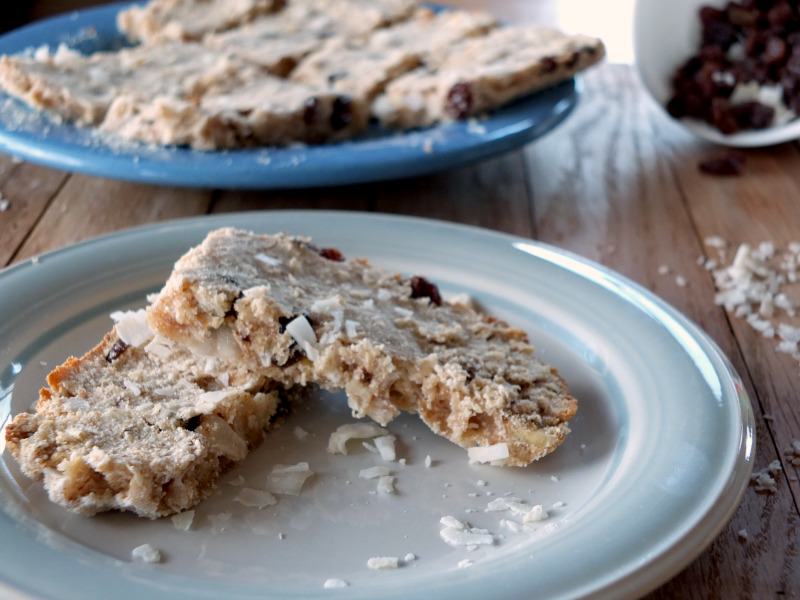 In order to make these AIP, I used tigernuts, which are actually little root veggies, but they taste like nuts.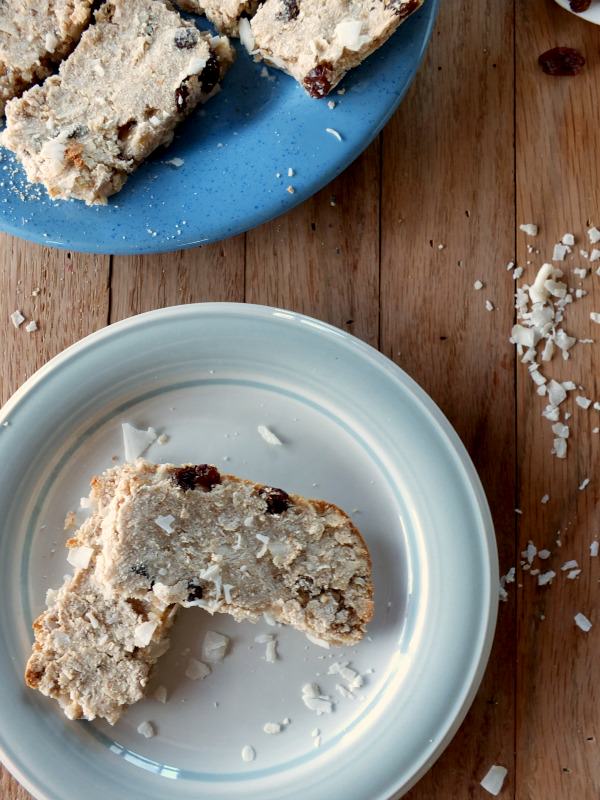 Shared at Paleo AIP Recipe Roundtable, Tasty Tuesday, Fat Tuesday, Allergy Free Wednesday, Gluten-Free Wednesday, Lou Lou Girls Fabulous Party
Applesauce Raisin Breakfast Bars (AIP)
Author:
Prep time:
Cook time:
Total time:
Ingredients
tigernuts – 1/2 cup
unsweetened coconut flakes – 1 cup
raisins – 1/4 cup
coconut flour – 3 tablespoons
cassava flour – 1/4 cup
ground cinnamon – 1 teaspoon
salt – 1/2 teaspoon
unsweetened applesauce – 1/2 cup
pure maple syrup – 3 tablespoons
coconut cream – 3 tablespoons
Instructions
Preheat oven to 375 degrees Fahrenheit and grease an 8″ by 8″ glass baking dish with some coconut oil.
Place the tigernuts in a small microwave-safe bowl and cover with water. Microwave for 2 minutes. Cool, drain, and chop finely.
Combine the tigernuts, coconut, raisins, coconut flour, cassava flour, cinnamon, and salt in a large mixing bowl. Mix well.
Stir in the applesauce, maple syrup, and coconut cream.
Press the mixture into the prepared pan and bake for 20 minutes.
Let cool a bit, cut into 8 bars, and serve.
Serving size:
1/8 of recipe
Calories:
199
Fat:
11.2 g
Saturated fat:
8.8 g
Unsaturated fat:
1.4 g
Trans fat:
0 g
Carbohydrates:
23.2 g
Sugar:
11.1 g
Sodium:
179 mg
Fiber:
5.8 g
Protein:
2.1 g
Cholesterol:
0 mg