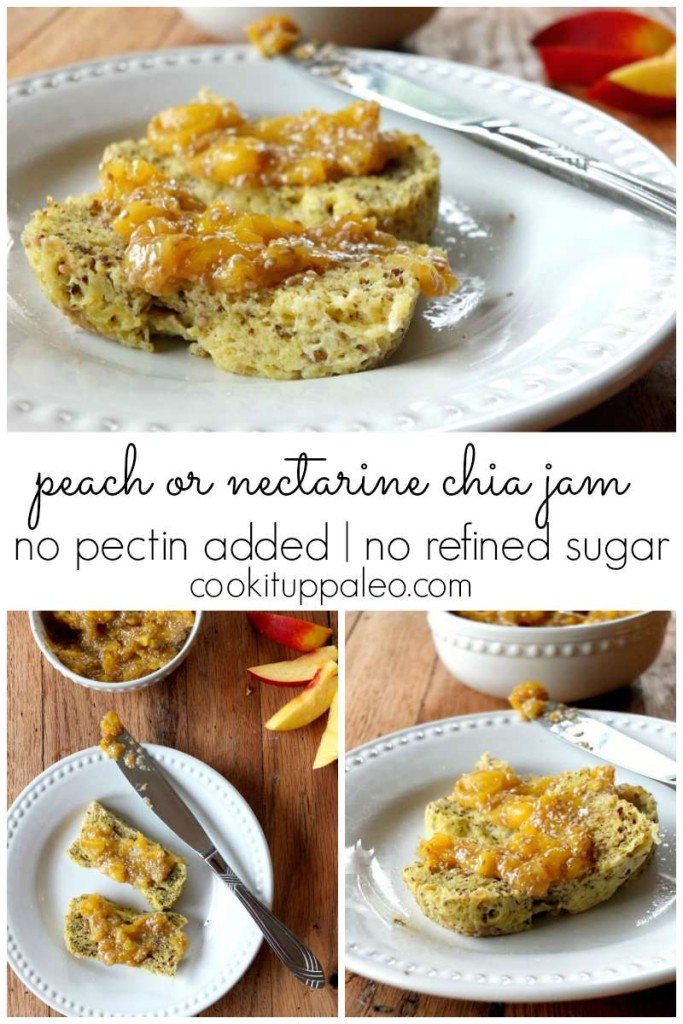 I know it's almost fall, but I am so not ready for it.  I actually love fall, but here in Wisconsin fall isn't a season; it's the opening act for winter.  Many of my family members and friends are heading off to college and high school this week, and I am starting to smell the crispness of fall in the air.  Last week was my "last hurrah of summer" week and I celebrated an awesome summer by making peach chia jam and going rock climbing!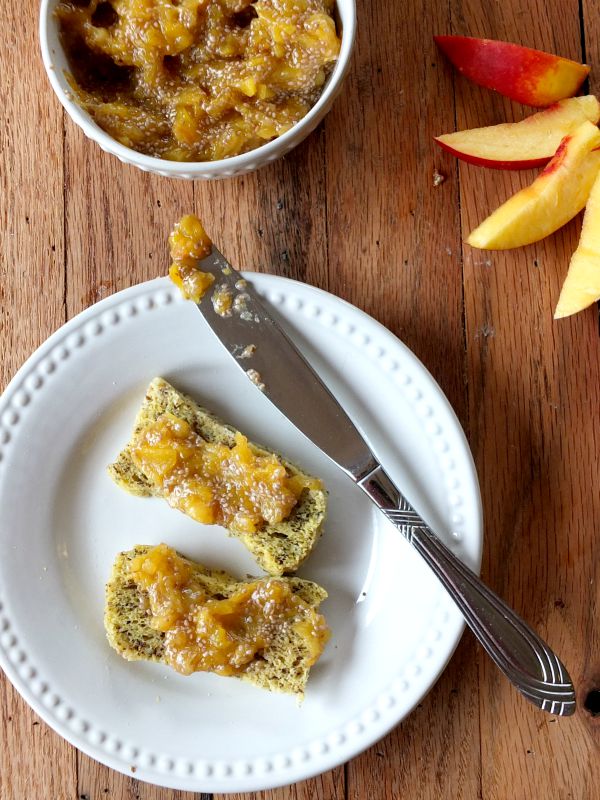 This might be the last truly "summer-y" recipe of the season, but make a batch of peach chia jam now to store in the fridge or freeze for school lunches!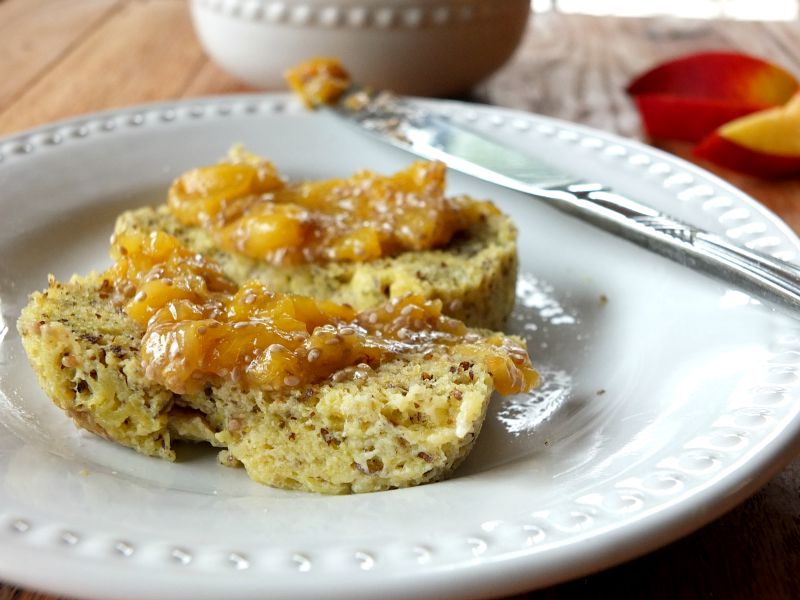 I've never made chia jam before this, and I'm not sure why I didn't; it's so incredibly easy and delicious! No pectin or sugar needed; and this recipe took me 20 minutes from start to finish!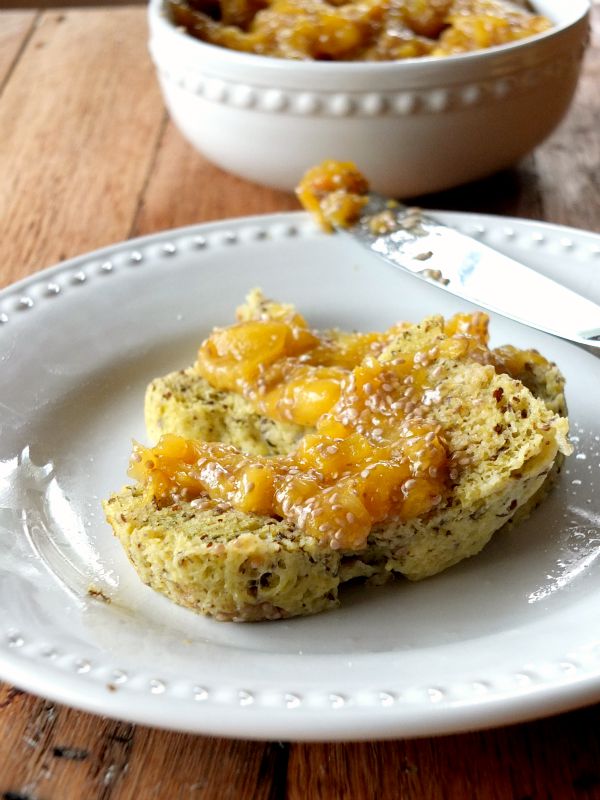 The peach chia jam is pictured spread on the Sandwich Bread from my upcoming cookbook Paleo Mug Muffins, which releases September 1, 2015!!!!! Which is tomorrow! So excited!!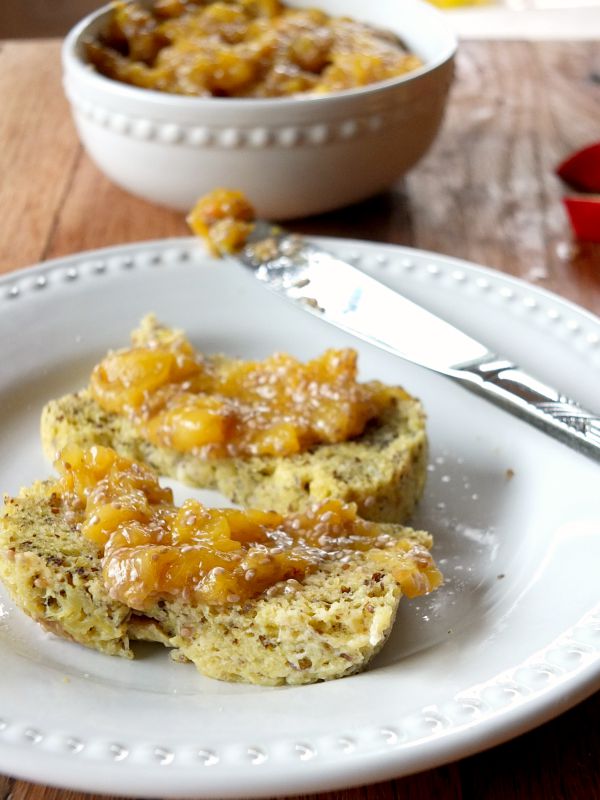 If you buy something through one of the links in my sidebars or posts, I may receive a small commission to support my blogging activities, at no extra cost to you. Thank you for your support 🙂 🙂 🙂
Note: Nutritional info calculated with stevia as the sweetener.
Where to find:
3 Ingredient Peach or Nectarine Chia Jam
Author:
Prep time:
Cook time:
Total time:
Ingredients
ripe peaches or nectarines – 2 pounds, peeled and chopped
liquid stevia extract or pure maple syrup – to taste
black or white chia seeds – 1/4 cup
Instructions
In a saucepan, combine the peaches or nectarines and stevia or maple syrup. Bring to a boil, reduce heat and simmer until soft. Mash around with a potato masher to create a sauce-like consistency.
Add the chia seeds and simmer for a minute.
Remove from heat and let sit a few minutes to thicken and cool.
Store in an airtight container in the refrigerator.